'Real Housewives of Orange County' Star Lydia McLaughlin Says Drama-Filled Reality Show Reaffirmed Christian Faith: 'I Don't Have Any Regrets'
NEW YORK — Former "Real Housewives of Orange County" cast member Lydia McLaughlin recently credited the hit Bravo TV series for reaffirming her Christian faith, despite her abruptly leaving after just one season.
The 33-year-old magazine entrepreneur made her mark on the world of reality TV in season 8 as the bubbly, devoutly Christian married mom of three, and despite being asked to return for another season, she walked away after being called to do so by the Holy Spirit.
"I just feel like it made my faith that much more real," McLaughlin told The Christian Post during an interview on Wednesday, adding, "I don't have any regrets about doing the show."
The former Bravo TV star recently debuted her new memoir Beyond Orange County: A Housewive's Guide to Faith & Happiness in which she speaks openly about living out her faith in a very secular industry. Despite initially having reservations about partaking in the drama-filled reality show, Scripture (namely the book of Jeremiah), would eventually lead her to sign up in a bid to honor her faith.
"I was in the middle of doing a Bible study when I got asked to do this show, and we were talking about Jeremiah and the scripture how he gets called out of the palace to go build a wall for his people," recalled McLaughlin. "And so I felt like God was just calling me to go build a wall, and that wall was like this show in a weird way and it just really spoke to me. And so, with that scripture, I'd kind of go back to it and lean in to it and know that this is for a reason and this is my ministry right now."
The entrepreneur, who often tried to play peacemaker on the dramatic series, instantly captivated viewers with her jovial disposition, traditional values and her close bond with her free-spirited mother, Judy. She never once shied away from proclaiming her faith on the show and even recalled reading the Bible before each taping.
"I'm always in the word, I think that it's important to ground myself in the morning when I have quiet time," she said. "That's just a part of my every day for my faith, just to grow and feed my soul. And that definitely didn't stop once I did the show. In fact, it was even more important, because all day long you are in such a crazy environment and its so dramatic; so it was important for me to equip myself before hand and know why I was there and what was really important."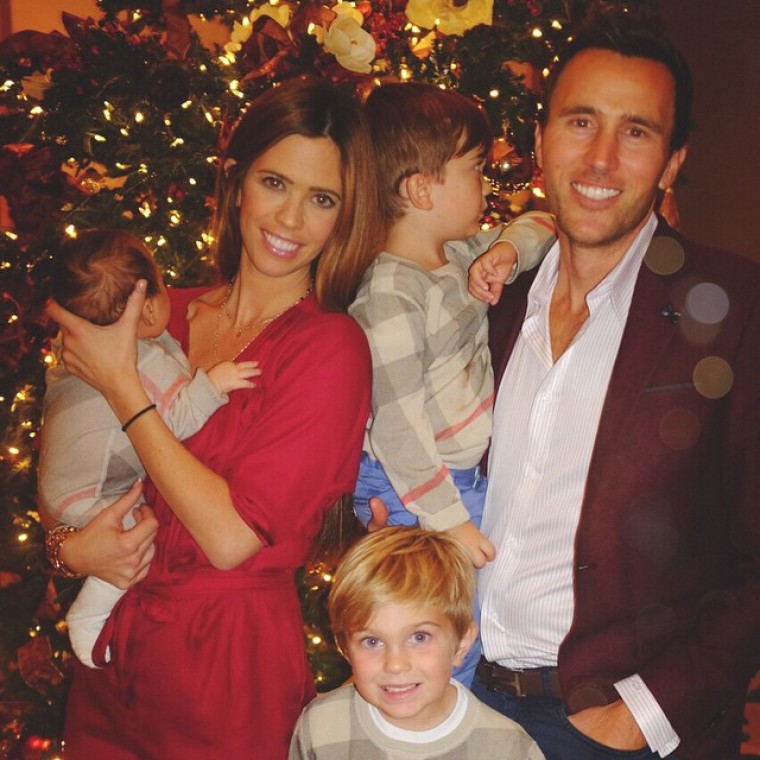 McLaughlin and her husband, Doug, 34, own Beverly Hills Lifestyle magazine and in addition she runs Lydia M. Jewelry and SKYLAB Modern Art. She said the reality TV show has been a blessing in many ways because it gave her a solid platform to share the message of Jesus with a broad audience.
"I feel like I've gotten to use the show … so it's cool to see God using my boldness and my faith to now get to inspire other people through this book and things," she shared. "I learned that [my faith] is real, in that it matters more than anything. I think that when I was little, I would always hear the story of the rich young ruler who had so many things that he didn't want to give it all up for God, and he kind of walked away from Jesus. You know Jesus says 'give it all up and follow me,' and he doesn't, he just walks away. And in the back of my mind I always kind of thought 'would I walk away from everything in my life for God?' And I feel like I did."
Despite leaving the show, McLaughlin has maintained friendships with her former costars Alexis Bellino and Gretchen Rossi, who both endorsed her memoir.
"When I got the book deal I sent them advanced copies so they would read and give me their inputs; so it's a genuine friendship," she said. "We have a special bond because we both have experienced 'Housewives' and they're both believers too."
The former reality star shared her hopes to uplift and inspire others through her memoir.
"I want them to be inspired, I want them to know that their faith is real and that there are other people in the world that are living their faith out loud too," she said of her fans. "To know that God created them to be unique and be special and just to encourage people to live their dream whatever that is."