Rebecca Robertson: Info on Willie, Korie Robertson's Daughter, Set to Be Unveiled on Duck Dynasty Season 5 Premiere Tonight
Rebecca Robertson: Info on Willie, Korie Robertson's Daughter, Set to Be Unveiled on Duck Dynasty Season 5 Premiere Tonight
Duck Dynasty returns tonight with the Season 5 premiere airing on the A&E network. Episode 1 will see the introduction of Rebecca Robertson, who has until now stayed behind the scenes as the Robertson family has become the nation's top reality TV program.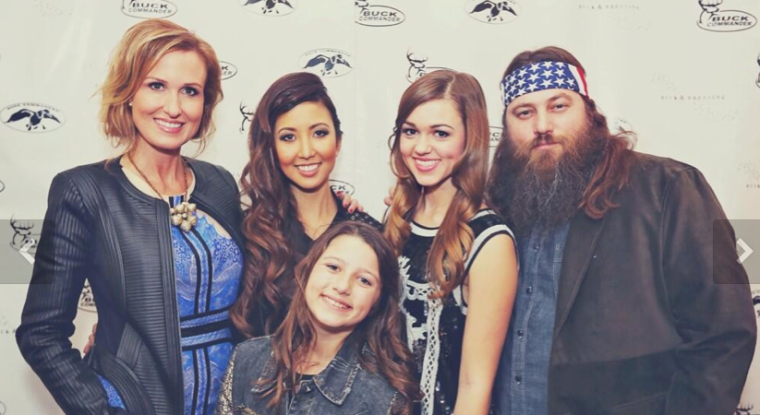 Tonight will in fact see the introduction of two new cast members; the first of whom will be Rebecca Robertson, who is the adopted foster daughter of Willie and Korie Robertson.
She is originally from Taiwan, but stayed with the Robertson family as an exchange student initially. However, after falling in love with her, the Robertson family took her in as one of their own.
A second newcomers to the cast, however, has been kept under wraps, and it is still unknown who the mysterious new cast member will be.
Season 5 will continue on from Season 4, which was hugely popular, drawing in 12 million viewers for its premiere – breaking all reality show premiere records at the time.
Fans will remember that in Season 4, the new cast members was Alan Robertson, who is a pastor. Alan is the eldest son of Phil and Kay Robertson, and was introduced as the only male Robertson without a beard.
Prior to being introduced officially on the show, Alan testified that he was hoping to use the opportunity on the show to share the word of God:
"What I do for our church - you see, it's a pretty good-sized church - impacts a lot of people, but because of my association with the show, I'll get to minister to a lot more people," Alan said according to the New York Post.
"Any person that's an evangelist, that's what you want to do, so I had to give this up for something possibly bigger.
The new season is set to be the most popular yet, as the family has been in the spotlight a lot recently building up to the new season. Phil Robertson was "indefinitely suspended" by A&E recently after he stated in an interview that he believed homosexuality is sin. He referred to the Bible, and made some comments that the family later admitted were coarse, but which they also said they generally supported.
As soon as Phil made the comments, GLAAD and other gay activist groups rallied to call for A&E to drop the Duck Dynasty show from the network. The network gave in soon after and suspended Phil Robertson.
However, that suspension caused an even greater outcry from fans of the show, with hundreds of thousands signing online petitions calling for his reinstatement, many of whom said they would boycott A&E for its treatment of Phil.
Just nine days later, the A&E network caved in and reinstated Phil Robertson, and confirmed the entire family would be back together when filming restarted in spring 2015.
Tonight's Season 5 premiere of Duck Dynasty will air at 10 p.m. ET on the A&E network, and can be watched online through live stream – details can be found by clicking here.