Redskins' RG III Calls on Football Fans to Help Disabled Veterans in Family of 3 Challenge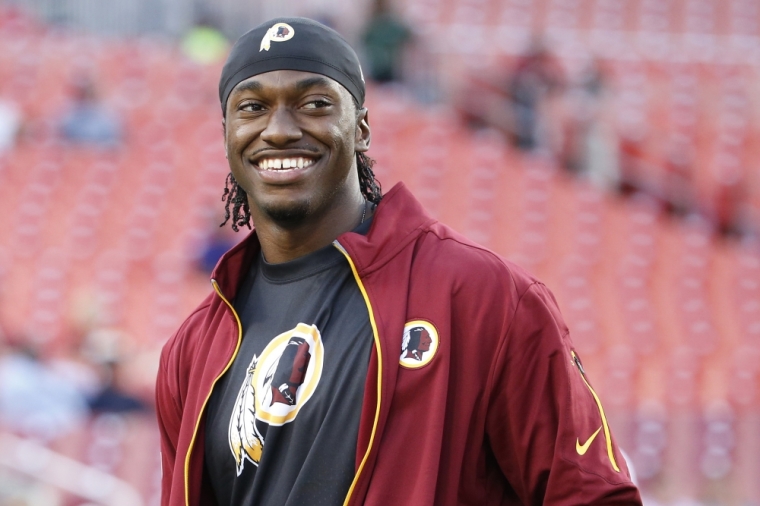 Robert Griffin III is utilizing his platform as an NFL athlete to help disabled veterans this Christmas.
Through his charity Family of 3, the 25-year-old former Heisman trophy winner is challenging people to help raise money for disabled veterans and their families this Christmas. Griffin took to the Pledge It website  to ask Baylor football fans to participate in a challenge that would result in money being raised for every point scored by Baylor at the Russell Athletic Bowl game.
"Supporting our veterans has been a cause near and dear to my heart throughout my entire life. This is why I'm excited to be launching the Points Challenge to support our disabled veterans," Wilson's pledge states. "Join the Baylor Bears as they score to support disabled veterans in Orlando at the 2016 Russell Athletic Bowl! By pledging a donation toward every point Baylor scores in the game, you can help support the Family of 3 Foundation's mission of helping a struggling disabled veteran and his family this Christmas."
While Griffin said people can pledge to donate for every point Baylor scores in the Russell Athletic Bowl, he also gave people options to make a one-time donation or share the campaign on their social media accounts. His wife, Rebecca Griffin, officially launched their charity, Family of 3, last January.
The organization seeks to assist three new families each year through financial and other means. The quarterback spoke more about his foundation on Redskins.com earlier this year.
"The foundation is in place to help people go catch their dreams and to show them that family is always there for each other," Griffin previously told Redskins.com.
"It's important to me because when you call somebody family, it means something," he told the website. "It means more to you and family has been a big part of my life. So the foundation we'll be working with will have ties to some aspect of my life in one way or another, and we want to be there for them in more ways than just money."
On his website, Griffin decided to auction off his old cast to contribute to his charity. An item description on the organization's website describes the item that people are bidding on before the auction ends on Feb 13, 2016.
"After dislocating his ankle in the Sept. 14 game against the Jacksonville Jaguars, Robert was forced to wear this cast," the item description on the Family of 3 website reads. "In a show of support for their teammate, the entire team signed the cast. Notable signatures include: Alfred Morris, DeAngelo Hall, DeSean Jackson, Pierre Garcon and many more."
The Family of 3 organization website offers people a way to "become a member of the family and make a difference," and the Griffins described ways to do just that in a statement to The Christian Post at the start of 2015.
"As we begin a New Year, we are filled with excitement as our mission to make a lasting, positive impact on the world is finally underway with the release of our new foundation website familyof3.org," the Griffins said in the statement to CP. "When you visit the website, you will find that there are many ways that you can become a member of the Family, and make a difference. You can do this through getting official Family of 3 wristbands, bidding on one of our unique auction items, placing a flat donation, and/or by just spreading the word as far as you can via social media."