99 Religious Groups to Congress: Oppose Trump Plan to Let Pastors Endorse Candidates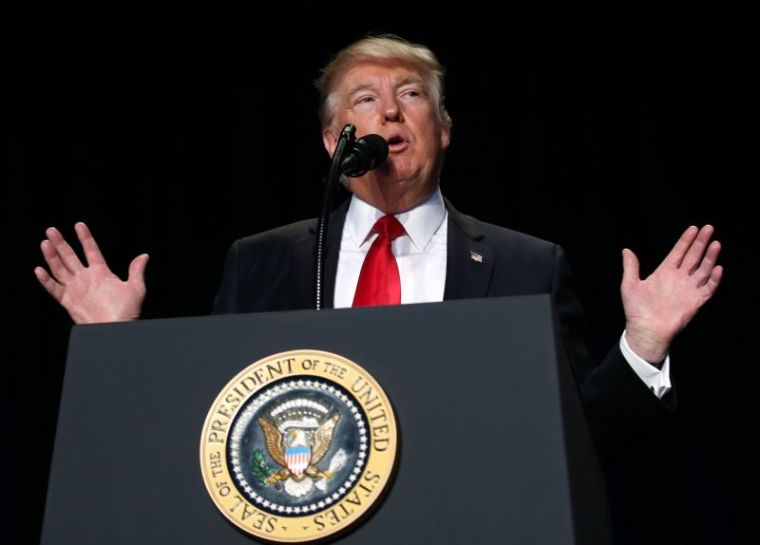 A coalition of 99 church groups and other religious organizations urged Congress not to repeal the controversial Johnson Amendment Tuesday, despite the repeal effort being one of President Donald Trump's signature campaign promises to evangelicals.
The Johnson Amendment, which is a piece of legislation prepared by former President Lyndon Johnson and passed by Congress in 1954, penalizes charitable organizations (including churches) with a loss of their tax-exempt status if those organizations publicly endorse or oppose political candidates.
"We, the 99 undersigned religious and denominational organizations strongly oppose any effort to weaken or eliminate protections that prohibit 501(c)(3) organizations, including houses of worship, from endorsing or opposing political candidates," the group of mostly liberal religious groups, that include the American Baptist Churches USA, Anti-Defamation League, Association of Welcoming and Affirming Baptists and the International Baptist Fellowship, said in a letter to Congress.
"Current law serves as a valuable safeguard for the integrity of our charitable sector and campaign finance system. Religious leaders often use their pulpits to address the moral and political issues of the day. They also can, in their personal capacities and without the resources of their houses of worship, endorse and oppose political candidates," it continued.
"Houses of worship can engage in public debate on any issue, host candidate forums, engage in voter registration drives, encourage people to vote, help transport people to the polls and even, with a few boundaries, lobby on specific legislation and invite candidates to speak. Tax-exempt houses of worship may not, however, endorse or oppose candidates or use their tax-exempt donations to contribute to candidates' campaigns. Current law simply limits groups from being both a tax-exempt ministry and a partisan political entity," the religious groups added.
At the National Prayer Breakfast in February, President Trump promised to "totally destroy" the Johnson Amendment.
"It was the great Thomas Jefferson who said, the God who gave us life, gave us liberty. Can the liberties of a nation be secure when we have removed a conviction that these liberties are the gift of God?" he asked.
"Among those freedoms is the right to worship according to our own beliefs. That is why I will get rid of and totally destroy the Johnson Amendment and allow our representatives of faith to speak freely and without fear of retribution. I will do that. Remember," Trump said to cheers and whistles.
He also pledged to gut the measure several times during his campaign, such as last August when he promised to unmuzzle the church and give Christians greater power with the removal of the Johnson Amendment.
"We'll get it out. We'll be able to terminate the Johnson amendment. And you'll have great power to do good things and religion will start going instead of this way (downward motion). Christianity, when you think of what's happening, when you look at the numbers. I talk about Sunday School, people don't even know what I'm talking about anymore. When you look instead of going this way (downward motion). You're gonna go this way," he said moving his hand upward.
"We're gonna bring it back because it's a good thing," Trump promised. "They treated you like it was a bad thing but it's a great thing, not a good thing. It's a great thing."
Despite the importance placed on the Johnson Amendment by President Trump, a 2015 Lifeway study found that 79 percent of Americans believe clergy should not endorse candidates during worship services.
And even though evangelicals were more likely to say pastors should be able to do endorse political candidates in the Lifeway study, almost 90 percent of evangelical leaders in a survey conducted by the National Association of Evangelicals in February opposed the idea. The organization has declined to say how many religious leaders participated in their survey.
"Evangelicals emphasize evangelism, and pastors often avoid controversies that might take priority over the gospel message," Leith Anderson, president of the NAE said. "Most pastors I know don't want to endorse politicians. They want to focus on teaching the Bible."
Alan Cureton, president of the University of Northwestern – St. Paul, argued, however, that, "Pastors must be free to say what they believe in and why, including politics. Censoring the pulpit is not in the country's best interest."
David Herzig, a Valparaiso University tax law professor told The Washington Post that in addition to being able to support candidates freely from the pulpit, churches would also be free to use their budgets to support campaigning which would turn them into Super PACs.
"Most people's concern is if you allow churches to freely allow political activity — churches, synagogues, temples, whatever the religious organization — now what you've done is you've turned those into Super PACs," Herzig explained.