Religious Left Just Now Getting Political, NYT Claims; Religious Conservatives Incredulous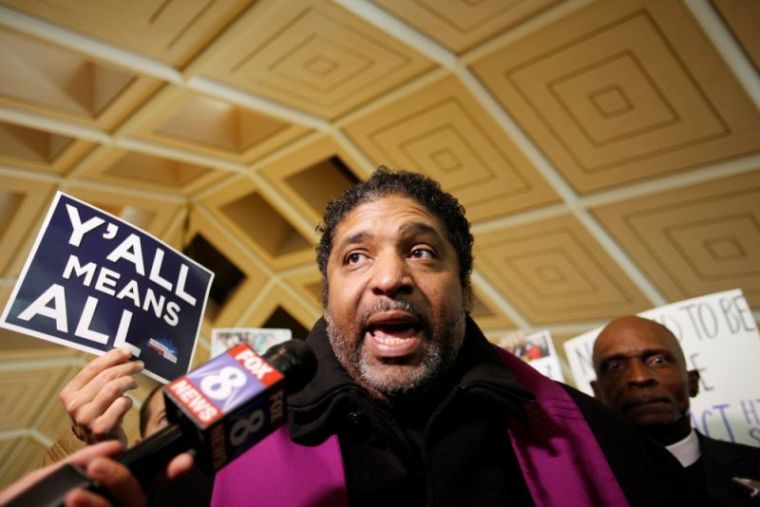 A Christian movement with a left-wing activist bent is underway, says The New York Times, its front page headline declaring that religious liberals have "sat out of politics for 40 years" but now intend to change the game. Noted Christian conservatives consider such a claim unfounded and ignorant of history.
In a Saturday cover story, The New York Times showcased the efforts of several liberal clergy whose profiles have risen recently particularly in the wake of the election of Donald Trump. The article highlights religiously-inspired leftist "resistance" demonstrations in several states about a range of issues.
"Across the country, religious leaders whose politics fall to the left of center, and who used to shun the political arena, are getting involved — and even recruiting political candidates — to fight back against President Trump's policies on immigration, health care, poverty and the environment," the article reads.
Featured prominently is Rev. William Barber of North Carolina whose Moral Mondays protests were instrumental in the narrow defeat of the state's former governor Pat McCrory in the 2016 election.
McCrory became the national face of laws dictating that transgender persons and everyone else must use restroom facilities according to their sex on their birth certificate. The bill he firmly backed in his state, known as HB2, was watered down with some modifications in March and the subject remains bitterly contested nationwide.
"When we see signs of a rising fascism," Barber said, "we know that we cannot be silent," who was a vocal opponent of HB2 and led protests against the legislation alongside Muslim and gay allies.
Barber claims his efforts reveal not a "left-versus-right movement," but one aiming to find the "moral center" in defense of a shared "humanity." Barber is reportedly loath to be called "liberal" or "left-leaning," and instead prefers to cast his work in moral terms as opposed to political language.
"We use the words that progressives have thrown away — morality, welfare, poor, faith — because those are soul words," he said.
The leftwing religious leaders want to reframe Christian activism and turn the political conversation away from hot-button issues like abortion that have historically motivated Christian conservatives, and transfer the attention to poverty and helping those in need.
The article also notes that a common cause uniting these liberal religious groups are the plight of immigrants and refugees, mentioning evangelical Vineyard pastor from Ohio Rich Nathan, who is thought to be more conservative on many issues but who has publicly decried President Trump's travel ban.
Yet noted Christian conservatives are simply not buying the line that the Religious Left has somehow been absent from the political landscape. Moreover, leftist clergy sometimes advocate for evil while using the name of Christ as cover and make few efforts to evangelize, they say.
"The 'religious' left has been deeply active in American politics for decades, frequently trotted out to justify the murder of children, the righteousness of blood thirsty leftwing totalitarians, and the affairs of Democrat politicians," wrote Erick Erickson in a Sunday essay in the Resurgent.
"These people are only religious to the extent they worship sexual sin and government. They serve as priests not for Jesus, but for Uncle Sam. They treat abortion as a sacrament and view sex as a religious experience absent a real God with a real purpose for procreation."
He added that he was not familiar with the author of The New York Times article but suggested that "history must have begun for her yesterday."
"The reality is many of these people have been heavily active in politics for a very long time, but now they want to pretend to be doing it in Jesus's name," Erickson said.
And as it happens, the activist Religious Left is actually much older than the Religious Right.
The American Religious Left's origin "dates back to the Social Gospel's emergence early in the 20th century, institutionalized by the Federal Council of Churches, precursor to the NCC, adopting its Social Creed in 1908, opening a century of continuous Mainline Protestant liberal political activism," noted Mark Tooley, president of the Washington-based Institute on Religion and Democracy in a Sunday post on the group's blog.
Christian conservatives were centered around "media savvy evangelical personalities with parachurch groups reliant on direct mail, not collection plate money," he said.
By contrast, liberal Christians were centered on a "once expansive but now much diminished Protestant and ecumenical church agencies ultimately reliant on church goers not necessarily supportive of their denomination's politics.
Yet a more important difference continues to distinguish religious conservatives from liberals.
"No matter how political," Tooley continued, religious conservatives "still typically emphasize their faith's unique truth claims and the need for gaining new spiritual adherents," whereas religious liberals "are more uncomfortable asserting theological truth claims and less focused on spiritual conversion."
Thus, according to their critics, religious liberals "seem more politically than spiritually focused and imply God's Kingdom is achieved through activism and legislation," he said.
But the sharp decline of the traditional religious left had fed the rise of the "nones," those who identify as religiously unaffiliated, Tooley added.
Erickson concluded: "No, [liberal religionists] have not sat out of politics for forty years. That is simply not true."