Remains of 40 Iraqi Christians With Their Crosses Found in Mass Grave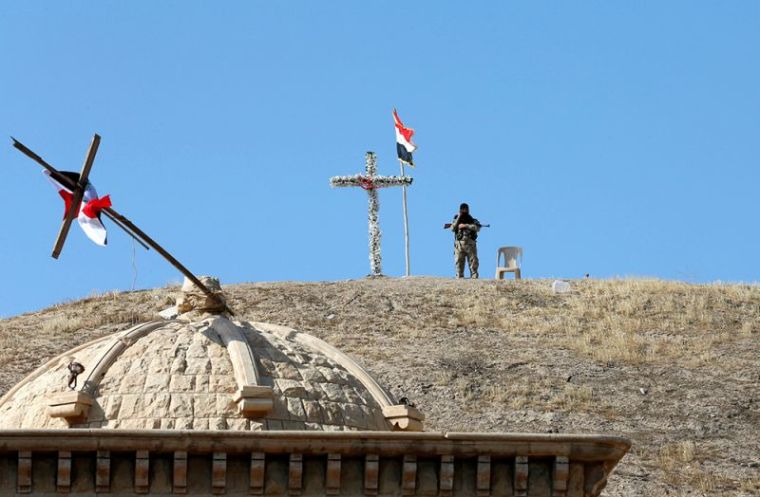 Iraqi security forces and pro-government militias have discovered mass graves near Mosul, which include bodies of 40 Christians who had small crosses with them when they were killed by Islamic State terrorists and then buried together, according to the Syriac Orthodox Church.
The mass grave was found in Iraq's Halila region, west of Mosul, by Iraqi security forces and Al-Hashd al-Shaabi, also known as Popular Mobilization Forces, an Iraqi state-sponsored umbrella organization composed of some 40 militias, the church said, according to Iraqi News.
"Most of the human remains were buried collectively. Some of them were for women and children. They had small Christian crosses with them," a church source was quoted as saying.
Islamic State, also known as IS, ISIS, ISIL or Daesh, captured Mosul, the second largest Iraqi city, in 2014 and held it until their defeat last July.
IS' violence displaced more than 125,000 Christians in Iraq's Nineveh region, which was also held by IS, and the community is now facing extinction.
Open Doors, a Christian ministry that operates in over 60 countries worldwide, and its partners have built nearly 700 homes for Christians in the region.
Iraqi Archbishop Bashar Warda of Erbil, who has been outspoken about the plight of Christians in his country, expressed concerns about the future of Christians while speaking at Georgetown University in Washington, D.C. last month. The attacks by IS left Christians "without shelter, without refuge, without work, without properties, without monasteries, without the ability to participate in any of the things that give our lives dignity," he said.
"So few of us are left, some estimate 200,000 Christians or less," he said of the total number of Christians in the country, down from 1.5 million in 2003. However, he added, "while it is true that our numbers are small, the Apostles were much smaller."
He said Iraqi Christians are reaching out to Islamic radicals with forgiveness.
"We forgive those who murdered us, who tortured us, who raped us, who sought to destroy everything about us. We forgive them in the name of Christ," Warda declared.
In December, U.S. Vice President Mike Pence met Warda to discuss how the U.S. government can best help the recovering Iraqi Christian community.
"I updated him (Pence) on the situation facing our people and expressed our hope that peace would soon come to Nineveh," Warda said in a statement at the time. "On behalf of our people, I expressed our gratitude for his promise of swift assistance to our communities who suffered genocide at the hands of ISIS. I also mentioned to the vice president the importance of the aid and support we have received from the Knights of Columbus in the United States, and Aid to the Church in Need in Europe."
In November, Pence had announced that the Trump administration was changing existing policy so that U.S. aid would go directly to those aiding Iraqi Christians without having to go through the U.N.