Remembering Whitney Houston: Scenes From the Singer's Life (PHOTOS)
Houston's Cause of Death Unknown; Reports Claim Prescription Drugs, Alcohol at Play
Whitney Houston, born Aug. 9, 1963 in Newark, N.J., to John and Cissy Houston, was found dead Saturday, Feb. 11, 2012, on the fourth floor of her hotel room at the Beverly Hilton in Beverly Hills, Calif. Houston, 48, touched many lives with her remarkable singing style, powerful voice and open personality. Here is a look at her life in photos.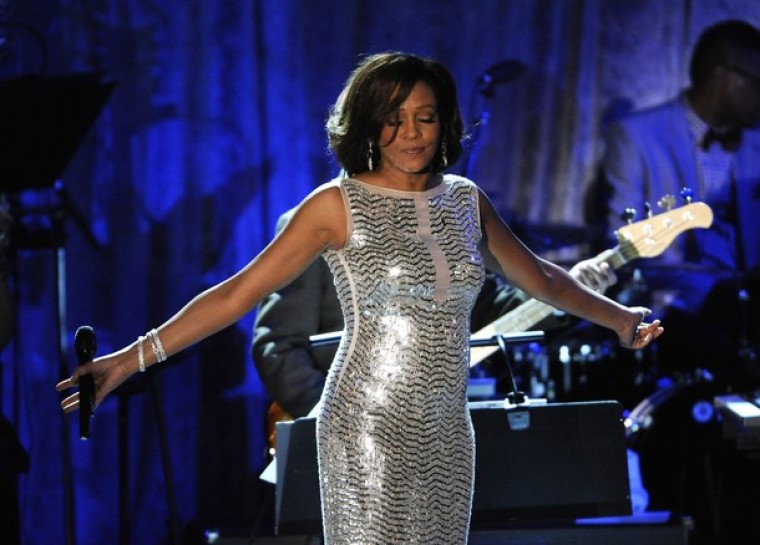 When Houston's ex-husband and the father of her only child Bobby Brown heard about her death, he reportedly broke down in tears. There were also reports that Whitney Houston's daughter, 18-year-old Bobbi Kristina, was shattered by the news and had to be taken to the hospital. Bobbi Kristina was reportedly not allowed to see her mother's body when she arrived at the Beverly Hilton, as police had cordoned off the singer's room. It was reported Monday that her father, Bobby Brown, was flying out to Los Angeles to be with her, disrupting his tour with his former groupmates, New Edition.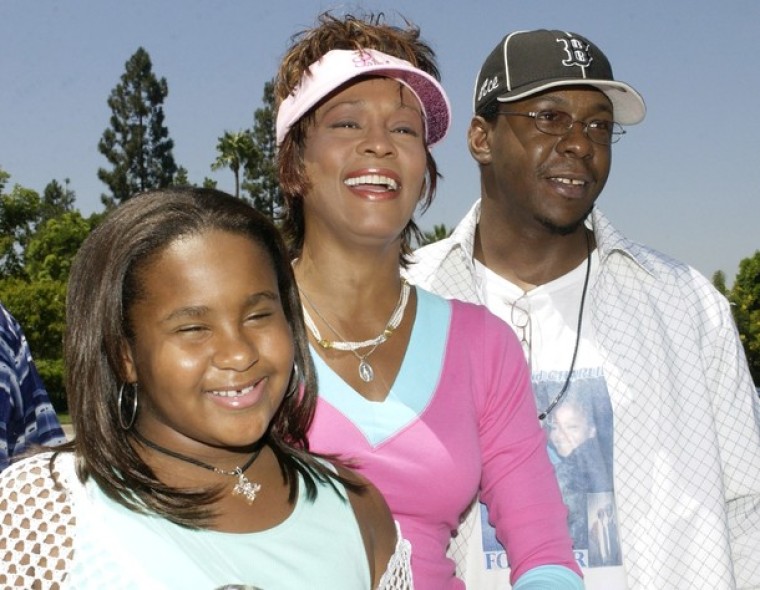 Houston was often seen with music artist Ray J, who had been photographed with Houston during the weekend of the 2012 Grammy Awards. According to reports, Ray J was in a panicked state when he discovered Houston had died at the Beverly Hilton. The two had reportedly been in an on-and-off relationship since Houston's 2007 divorce from Brown. According to TMZ, sources claim that Ray J was at home when he heard the news, and was turned away by authorities when he rushed to the Beverly Hilton hotel to try and see Houston. 
The Houstons made headlines in 2003 when, before their divorce, the couple visited Israel where they met with the Black Hebrews, a polygamist African-American community that emigrated to Israel in 1969. The couple also met with former Israeli Prime Minister Ariel Sharon. The Black Hebrews, considered a cult, also issued a statement amid Houston's death, with group leader Ben Ammi Ben-Israel, saying he viewed Houston as his "spiritual daughter."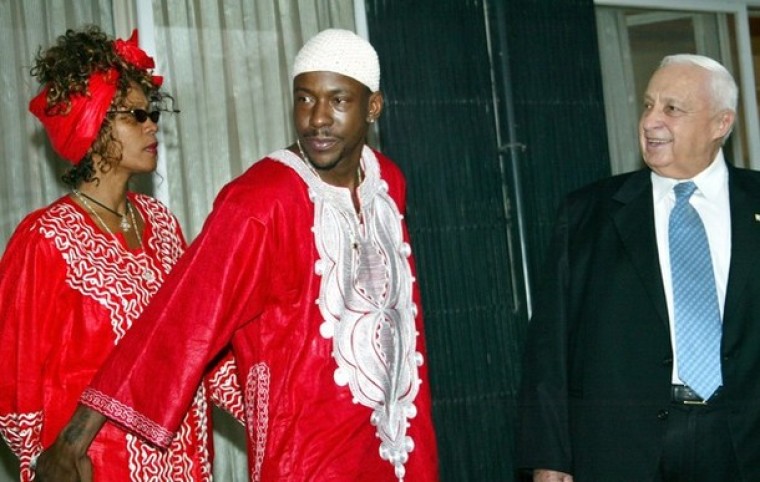 Houston was also baptized in the Jordan River during her pilgrimage to Israel.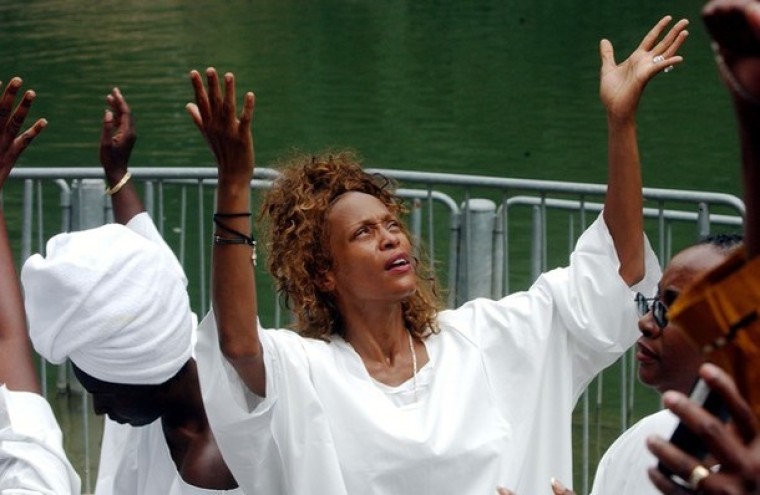 At the height of her career, Houston appeared at a London birthday concert in 1988 for former South African president Nelson Mandela, who was still in prison at the time. Also during the late 80s, Houston founded the Whitney Houston Foundation for Children, a nonprofit that provides global project funds for children in need. 
Mandela issued a statement Monday upon learning of Houston's death, expressing his "deepest condolences" to her family and friends. According to media reports, Houston was a stanch opponent of apartheid and boycotted agencies who supported the oppressive movement when she worked as a model (starting at the age of 15). Mandela and Houston met for a final time in Oct. 1994 during a gala hosted at the White House by then-President Bill Clinton.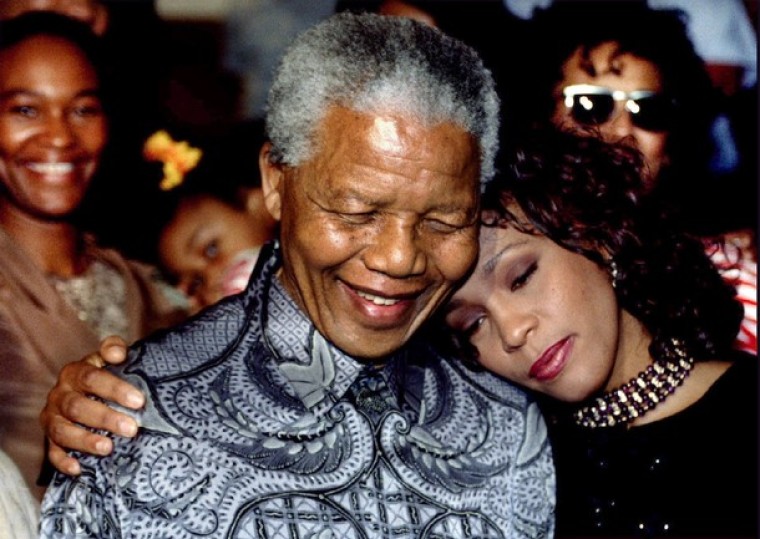 In 1992, Houston stared in the motion picture film "The Bodyguard" with actor Kevin Costner (the same year Houston and Brown got married after a three-year engagement). The movie earned $16,600,000 in its opening weekend in the U.S., while earning $410,900,000 worldwide. "The Bodyguard" attracted 16 nominations, including two Oscars; Houston won seven awards, including a Brit Award and an MTV Movie Award.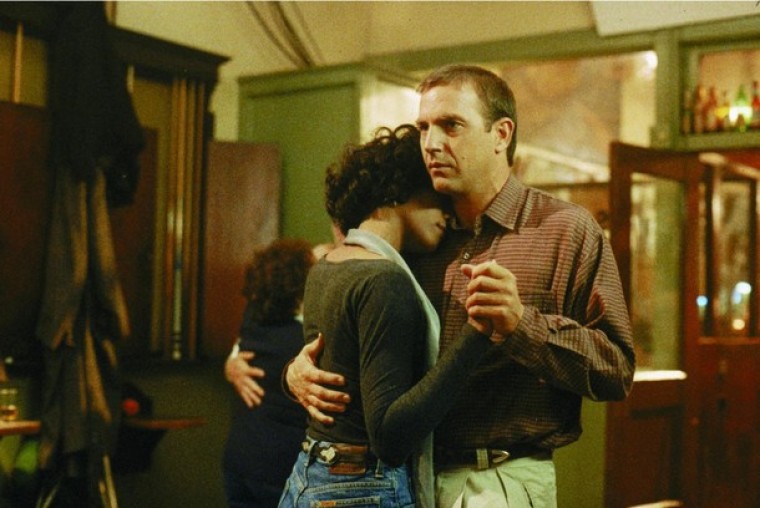 Houston started singing at a very early age and was influenced not only by cousin Dionne Warwick and godmother Aretha Franklin, but the singer was most inspired by her mother, Cissy Houston, who was the choir director at New Hope Baptist Church, where a young Whitney Houston got her start singing on the choir. Reports have indicated that Houston's funeral will likely be held at New Hope Baptist Church.