Reminder: President Barack Obama Was an Extremist Too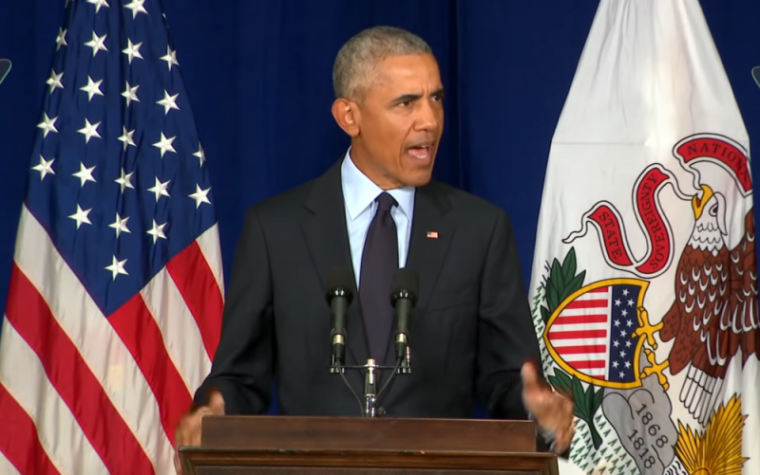 One of the legacies of President Donald Trump may be making President Barack Obama seem like a moderate by comparison. But let's not kid ourselves.
In a Friday speech, Obama decried the lack of bipartisanship, checks and balances, empathy and comity in politics today, seemingly oblivious to the irony of his words.
Much of Obama's analysis of the Trump administration and the current state of the Republican Party was on target, but also hypocritical given the source.
Today's divisive politics, Obama told University of Illinois at Urbana-Champaign students, is partly "manufactured by the powerful and the privileged who want to keep us divided and keep us angry and keep us cynical because that helps them maintain the status quo and keep their power and keep their privilege. ... It did not start with Donald Trump. He is a symptom, not the cause. He's just capitalizing on resentments that politicians have been fanning for years."
Increasing divisiveness, Obama continued, "made it harder to build consensus on issues. It made politicians less willing to compromise, which increased gridlock, which made people even more cynical about politics."
Exactly. And he was one of those politicians.
Obama was not bipartisan. In 2010, he appointed a bipartisan commission to come up with recommendations to tackle the crisis of our national debt and growth of entitlements, then ignored its recommendations. Congressional Republican leaders came close to a similar bipartisan "grand bargain" compromise in the summer of 2011, then Obama killed the deal.
While a U.S. senator, Obama voted against a compromise immigration bill because it didn't have everything he wanted. When he became president and his party had a filibuster-proof majority in Congress, he did nothing on immigration. After his party lost control of Congress, he blamed Republicans for not passing immigration reform.
Is it any wonder people are more cynical about politics?
"Appealing to tribe, appealing to fear, pitting one group against another, telling people that order and security will be restored if it weren't for those who don't look like us or don't sound like us or don't pray like we do, that's an old playbook," Obama said.
Yes. Obama used the same playbook, preferring to use issues like immigration, gun violence and racism to stoke fear and rile his base, rather than seek bipartisan solutions.
Regarding Trump's "cozying up to Russia," Obama said, "In a healthy democracy, there's some checks and balances on this kind of behavior, this kind of inconsistency, but right now there's none."
Correct. And checks and balances were often disregarded by Obama.
After Congress, the body closest to the will of the people, debated and rejected legislation for unauthorized immigrants who arrived as children, Obama implemented the basics of the bill anyway via executive order, which federal judges declared illegal. Obama's use of executive orders was even mocked by NBC's comedy show "Saturday Night Live."
In March, 2012, Obama was caught on a hot mic telling the president of Russia that after he wins re-election he would have "more flexibility" to give Russia what it wants. In Obama's second term, Russia used that flexibility to invade Ukraine. Obama did nothing. "Cozying up to Russia"? He would know.
"It should not be a partisan issue to say that we do not pressure the attorney general or the FBI to use the criminal justice system as a cudgel to punish our political opponents," Obama said.
Fair enough. It should also not be a partisan issue to say we shouldn't block the FBI from investigating our political allies or use the IRS to punish our political opponents.
"I complained plenty about Fox News — but you never heard me threaten to shut them down, or call them enemies of the people," he said. 
Good. However, the Obama Justice Department did target journalists using the Espionage Act more than all previous presidents combined, claimed Fox News reporter James Rosen was a "criminal co-conspirator" and prosecuted New York Times reporter James Risen for refusing to name their sources, seized the phone records of The Associated Press, and Attorney General Eric Holder committed perjury in testimony to Congress about these actions.
Obama also angrily harangued reporters in off-the-record profanity-laced tirades for reporting on White House scandals.
Jill Abramson, the executive editor of The New York Times at the time, who had covered every president since Reagan, said the Obama White House was the most secretive she had ever seen. Expressing her concerns about Obama, she said, "the process of news gathering is being criminalized."
"It shouldn't be Democratic or Republican to say we don't target certain groups of people based on what they look like or how they pray," Obama continued.
True. Which is why Obama shouldn't have targeted a group of nuns who wanted to abide by their faith convictions as they served the elderly poor, required a Catholic organization to support abortion in order to continue serving the victims of sex trafficking, and forced Christian employers and nonprofits to choose between their faith convictions or staying in business.
"I get into arguments with progressive friends about what the current political movement requires. There are well-meaning folks passionate about social justice, who think things have gotten so bad, the lines have been so starkly drawn, that we have to fight fire with fire, we have to do the same things to the Republicans that they do to us, adopt their tactics, say whatever works, make up stuff about the other side. I don't agree with that," Obama said.
Really? "If you like your health care plan, you can keep it," Obama said often about his healthcare plan, "Obamacare." When Republicans pointed out that wasn't true, Obama claimed those Republicans were lying about his bill. Most of the public bought Obama's charge and Obamacare passed. "If you like your health care plan, you can keep it," was Politifact's "Lie of the Year," in 2013.
During the 2012 election, Obama ran an issue-less campaign, preferring instead to demonize his opponent, Mitt Romney, even implying Romney was responsible for a woman's death.
Democrats can't win over voters "if we immediately disregard what others have to say from the start because they're not like us ... That doesn't work if you want a healthy democracy," Obama continued. "We can't do that if we traffic in absolutes when it comes to policy. You know, to make democracy work we have to be able to get inside the reality of people who are different, have different experiences, come from different backgrounds."
Correct. This is why it was wrong for Obama to attempt to implement his preferred bathroom policy for transgender students for all schools, even private schools, nationwide.
The U.S. is a deliberative democracy, where we work out difficult issues through debates and elections. Education, in particular, has historically been the domain of state and local governments, where localities can be sensitive to the needs and mores of communities.
Obama's bathroom directive showed that he had no patience for compromise or deliberation. All schools were told to obey him or they would be punished.
"I am here to tell you," Obama said, "that even if you don't agree with me or Democrats on policy, even if you believe in more Libertarian economic theories, even if you are an evangelical and our position on certain social issues is a bridge too far, even if you think my assessment of immigration is mistaken and that Democrats aren't serious enough about immigration enforcement, I'm here to tell you that you should still be concerned with our current course and should still want to see a restoration of honesty and decency and lawfulness in our government."
Agreed. But the Trump presidency shouldn't cloud our judgment of the Obama presidency.