Republican Congresswoman Slams Pro-Life Leaders as 'Abhorrent and Childish' After Backlash for Stalling 20-Week Abortion Ban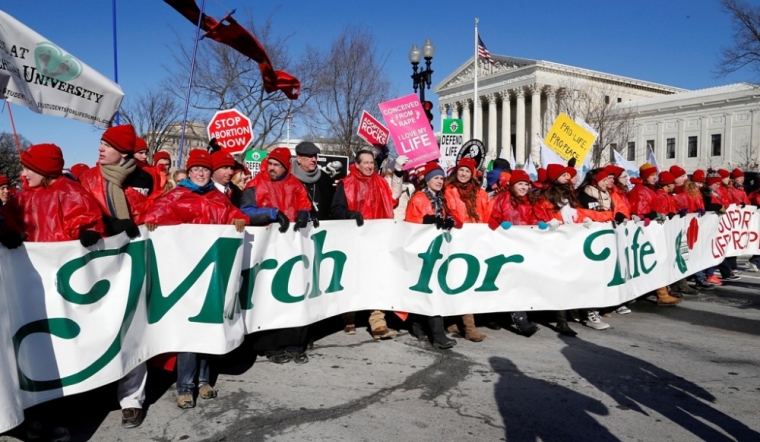 Congresswoman Renee Ellmers, R-North Carolina, accused pro-life groups who criticized her for leading an effort to stall a vote on a pro-life bill of "abhorrent and childish behaviors."
The Republican-controlled U.S. House of Representatives had planned to vote on a 20-week abortion ban, called the Pain Capable Unborn Child Protection Act, on the same day as the March for Life. Republican leaders decided to delay that vote after some Republican congresswomen objected to a provision requiring women seeking the rape exemption to report her rapist to the police.
The same provision was in a 20-week ban that passed the House in 2013. Ellmers voted in favor of that bill and did not object to the rape provision at that time.
Ellmers wrote about her opposition to the provision in a blog post on her website.
"While we must continue to provide a voice for the voiceless, we must also show compassion to women when they are in the midst of a crisis, especially victims of rape — and it is my belief that the mandatory police reporting provision relating to rape within the bill would have hindered our ability to do that," she wrote.
Pro-lifers were concerned that removing the provision would make the 20-week abortion ban difficult to enforce. A woman could still receive an abortion after 20 weeks gestation simply by stating that she was raped.
Generally, pro-lifers do not believe that a life conceived through rape has less worth than a life conceived through consensual sex. The rape exception is viewed as an acceptable compromise to get some restrictions on abortion.
Ellmers wrote that she does believe that a life conceived through rape "is truly a gift from God" and she hopes that women who get pregnant after being raped would choose life. She goes on to imply, however, that her position demonstrates compassion to women who have been raped and those who disagree with her lack compassion.
The post is titled, "Pro-life and Compassionate," and the word "compassion" appears six times in the 550 word statement.
"We need," she continued, "to empower women with courage to face this crisis and provide them with the knowledge that there are other support systems ready and available to show an outpouring of love and a flood of compassion.
"The God I serve has reinforced the need for compassion from one human to another in all circumstances — and I believe compassion is the only way to change hearts."
She also expressed her disappointment in Republican leaders and pro-life groups.
"Additionally, I am appalled by the abhorrent and childish behaviors from some of the leaders of the outside groups," she wrote.
And later she wrote that it is "unimaginable to me why some outside parties would seek to target strong, pro-life conservative women and men who are serving in Congress. We all believe in a Higher Power. We all believe we've been blessed and that we have an obligation to do what is right for our country and the future of our children."
One of Ellmers critics was Russell Moore, president of the Southern Baptist's Ethics and Religious Liberty Commission, who called the decision an "act of moral cowardice."
"If the House Republicans cannot pass something as basic as restricting the abortion of five-month, pain-capable unborn children, what can they get done?
"The Republicans in Congress should come and explain this atrocity to the hundreds of thousands of people gathering here in the nation's capital to march for life. The congressional Republicans seem to think that pro-lifers will be satisfied with Ronald Reagan rhetoric and Nancy Pelosi results. They are quite wrong," he said.