'Republican Cuts Kill,' Liberal Video Accuses; NIH Director, Evangelical Dr. Francis Collins Says Budget Cuts Hampered Discovery of Ebola Vaccine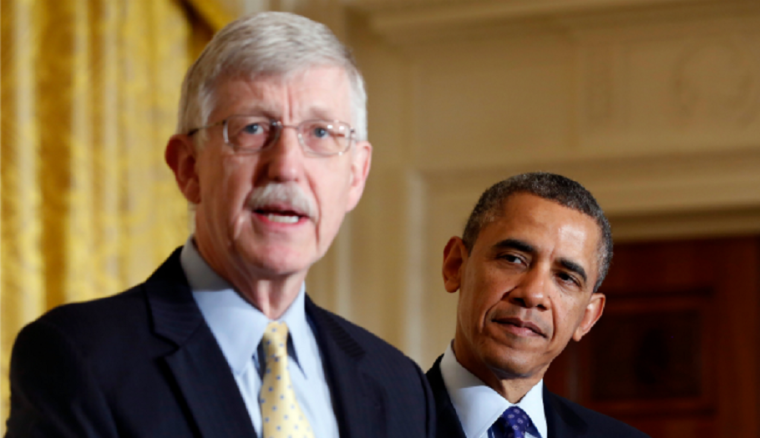 America's response to the deadly Ebola virus took a political turn on the weekend when progressive policy organization, The Agenda Project Action Fund, blamed the current outbreak of the virus on budget cuts supported by Republicans. Director of the National Institutes of Health Dr. Francis Collins, an evangelical, also declared on Friday that budget cuts hurt the agency and seriously hampered the development of an Ebola vaccine.
A one-minute video produced by the Agenda project and posted to YouTube Sunday called 'Republican Cuts Kill' mixes chilling footage of the Ebola outbreak with clips of Sen. Mitch McConnell, R-Ky; Sen. Pat Roberts, R-Kan.; Sen. Rand Paul, R-Ky., and Republicans in some of the most competitive races around the country calling for more spending cuts. The demands are also juxtaposed with testimony from top Centers for Disease Control and Prevention and NIH officials explaining how the budget cuts hampered their ability to address the virus that is currently sweeping across West Africa and fueling panic across the U.S.
"To accomplish our mission we tell Americans the truth — about elected officials, multi-national corporations, political parties, public policy and corruption. We aggressively challenge individuals and institutions of power that prevent public policy from serving the American people, and refute hegemonic ideas that act as the intellectual rationalization for policies that do not serve the American people," explained the Agenda Project on their website.
Editor of reason.com Nick Gillespie argued in an op-ed Monday however that the facts do not support the "blame the Republicans" campaign for the Ebola outbreak.
"You can argue that the United States needs to be constantly and massively increasing its spending on everything and that every time spending doesn't go up in a lockstep fashion (and faster than inflation, as it did throughout the Bush years) that you're killing people. You can also argue that the topline budget figures for various agencies don't matter, but then you're really talking about the ways in which bureaucracies, especially in the budget sector, misallocate resources. The one thing you really can't do is say that the federal government, which is not actually controlled by the Republicans (just saying), has been slashing its spending on anything," wrote Gillespie after highlighting the trajectory of government spending on health.
Nevertheless, in an interview with The Huffington Post on Friday, Dr. Collins, a respected evangelical revealed that that had it not been for budget cuts suffered by the NIH over the last 10 years, an Ebola vaccine as well as therapeutic drugs would have likely been ready to respond to the current epidemic.
"NIH has been working on Ebola vaccines since 2001. It's not like we suddenly woke up and thought, 'Oh my gosh, we should have something ready here," Collins told The Huffington Post. "Frankly, if we had not gone through our 10-year slide in research support, we probably would have had a vaccine in time for this that would've gone through clinical trials and would have been ready."
Collins explained that the agency's money woes also caused work on therapeutics to fight Ebola to be placed on "a slower track than would've been ideal, or that would have happened if we had been on a stable research support trajectory."
"We would have been a year or two ahead of where we are, which would have made all the difference," he told The Huffington Post.
Dr. Collins said he spends most of his days now focused almost exclusively on Ebola but noted that his agency isn't close to a breakthrough.
The NIH's budget in FY 2013 was $29.31 billion but Democratic lawmakers have been pushing legislation to increase funding to $46.2 billion by 2021. The future of the legislation however is questionable.
Right now, explained Dr. Collins, the NIH is simply "cutting corners" to produce an Ebola vaccine on its current budget and in a best-case scenario could have it ready for clinical trials in December. They wouldn't know if it worked however until February or March of 2015. And by then, things will likely be worse.
"If we wait that long to solve this, we will have basically failed with the more traditional measures of contact-tracing to get this epidemic under control," said Collins.
Having the Ebola vaccine would be like an insurance policy if the virus runs amok, said Dr. Collins.
The NIH is now working on a promising fifth-generation vaccine that has only been tested on monkeys. Canada is also working on a second vaccine but recipients on that vaccine have developed fever symptoms which make it problematic because fever is a symptom of Ebola.
Collins wants to conduct a trial using these two vaccines on involving 30,000 people according to The Huffington Post. Things however could still go bad.
"Sometimes vaccines not only don't work, they make things worse," said Collins. "Look at the HIV step trial, where that vaccine not only did not protect HIV, it increased susceptibility because it did something to the immune system that made it more vulnerable. That could happen here too."