Republicans Better Off If Roy Moore Loses, David French Says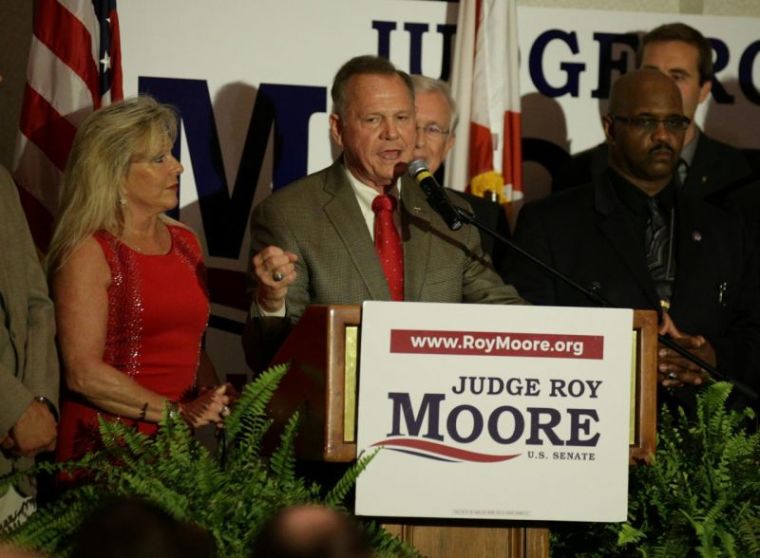 Speaking on CBS News' "Face the Nation," National Review senior writer David French said it would be good for the Republicans if GOP candidate for U.S. Senate Roy Moore, who has been accused of sexual misconduct by several women, loses.
"It's clearly better if Roy Moore loses," French told CBS News host John Dickerson. "I mean, for a couple of reasons … it would be very important party hygiene."
Earlier this month, a woman named Leigh Corfman accused Moore of initiating sexual encounters with her when she was 14. Three other women came forward, alleging Moore attempted to date them when they were between the ages of 16 and 18 and he was in his early 30s, though they clarified that he did not force them into any sort of sexual contact. Also, an Alabama resident, Beverly Young Nelson, alleged that Moore groped her and tried to force her to perform oral sex when she was just 16.
Both Bannon and Moore need to lose, French added. "And those who are connected right now … What … many people are forgetting is the blow that this would be not just to the Roy Moore side of the GOP, which needs to lose, but also to the Steve Bannon enterprise of trying to destroy the GOP as we know it. He needs to be discredited. And if he helps lose a Senate seat in one of the brightest, reddest states in the nation, why would anyone listen to Steve Bannon ever again? And so that's, I think, an incredibly important potential moment of party hygiene. But we don't know if that's going to happen yet."
Testifying in a recent hearing on sexual harassment before the House Administration Committee, Rep. Jackie Speier, a Democrat from California, and Barbara Comstock, a Virginia Republican, revealed that two current members of Congress, one Republican and one Democrat, have been accused of sexual harassment, and that the House has paid out millions in harassment settlements over more than a decade.
President Trump has also been accused earlier of sexual misconduct.
"Look, we have to grapple with the fact that it looks like two of the last four presidents of the United States have committed some form of sexual assault," French said. "And that's dreadful. I'm the last person to say that what Donald Trump has been credibly accused of doing by more than a dozen people should be swept under the rug. The problem we have here on that is only the tiniest percentage of Donald Trump voters believed those allegations are true. It's not that they said, 'Yeah, they're true and I'm voting for him anyway.' You look at the polling, they just flat-out, don't believe it."
Alabama is expected to hold a special election on Dec. 12 to fill the Senate seat vacated by Attorney General Jeff Sessions. Many GOP senators and some Christian leaders have called on Moore to drop out.
National Review has also urged Moore to drop out. "There is almost certainly no way to independently confirm them, and Moore denies them strenuously. But the allegations are credible. There are four women who spoke on the record," the editors wrote. "Roy Moore is not a worthy standard-bearer for the Republican party, and his vulnerabilities are now endangering what should be a completely safe Senate seat."
Soon after the accusations were made, Moore issued a statement, denying the accusations that were first published in The Washington Post.
"It seems that in the political arena, to say that something is not true is simply not good enough. So let me be clear," Moore wrote. "I have never provided alcohol to minors, and I have never engaged in sexual misconduct. As a father of a daughter and a grandfather of five granddaughters, I condemn the actions of any man who engages in sexual misconduct not just against minors but against any woman."
In his recent column, French wrote that he keeps hearing these words from Evangelicals: "We've got no choice. The Democrats are after our liberties."
He continued, "I'm sorry Evangelicals, but your lack of faith is far more dangerous to the Church than any senator, any president, or any justice of the Supreme Court. Do you really have so little trust in God that you believe it's justifiable — no, necessary — to ally with, defend, and even embrace corrupt men if you think it will save the Church?"
Sen. Al Franken, a Democrat from Minnesota, has also been accused of sexual misconduct. Last week, Los Angeles talk show host Leeann Tweeden wrote a blog describing how Franken gave her an unwanted kiss and put his hands on her breasts when she was asleep during a return flight from a 2006 USO tour in the Middle East.
"You knew exactly what you were doing. You forcibly kissed me without my consent, grabbed my breasts while I was sleeping and had someone take a photo of you doing it, knowing I would see it later, and be ashamed," Tweeden wrote on KABC.