Republicans Concerned They Might Lose Big in Midterm Elections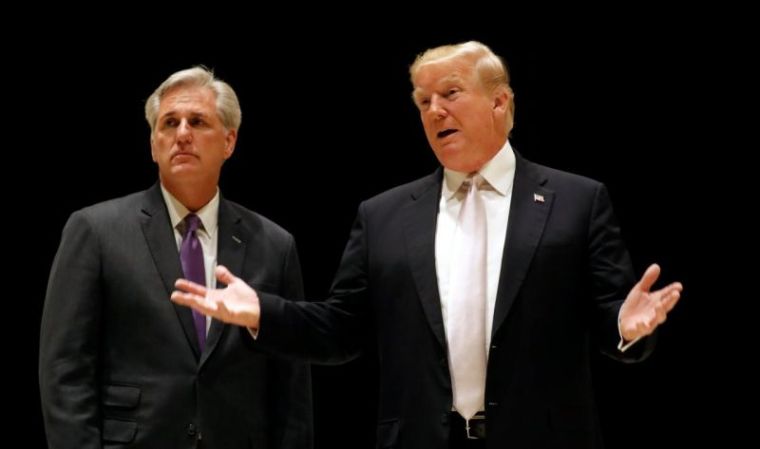 At least 30 Republicans have announced they would not seek reelection in the House of Representatives amid fears that the GOP could lose the midterm elections in November, according to reports.
Three of the 30 Republicans announced their retirements last week, according to NBC News, which pointed out that among the retirement districts, there are five that Democrat Hillary Clinton won and three more that she lost by fewer than eight points in the last presidential race, and that in each one of those districts, the winning Republican candidate got 60 percent or less of the vote in 2016. Republicans currently have a 46-seat majority.
House Majority Leader Kevin McCarthy, a Republican from California, recently gave a presentation to President Donald Trump about the difficult midterm landscape, The Washington Post reported.
McCarthy warned the president about the chances of Republicans either losing the House or keeping control while losing some seats.
However, Sen. John Cornyn, a Republican from Texas, was quoted as saying, "Who knows what 2018 will be like? Nobody called 2016, right? Everybody thought Hillary Clinton was going to get elected and that Chuck Schumer was going to be the majority leader. And none of that turned out to be true."
Trump has pledged a robust schedule of fundraising and campaign travel in the coming months, the Post reported, quoting White House officials.
Some have attributed a possible Democratic electoral wave in November at least partly to President Trump's continual insensitive remarks.
The last week ended with some Republicans seeking to distance themselves from Trump's remarks about Haiti, El Salvador and African nations.
"Why are we having all these people from s---hole countries come here?" Trump asked during a meeting at the Oval Office in the White House with several Republicans and Democrats during immigration negotiations, according to the Post, which also reported that the president said he would prefer people from countries like Norway to come to America instead.
Rep. Mia Love, a Republican from Utah who is of Haitian descent and faces a strong Democratic challenge this year, criticized Trump. "The president must apologize to both the American people and the nations he so wantonly maligned," Love said.
"This behavior is unacceptable from the leader of our nation," she added, according to The New York Times. She said her parents "never took a thing" from the government while achieving the American dream.
Jeb Bush, a Roman Catholic and former Governor of Florida, also reacted. "For every one step forward @POTUS takes when it comes to judgement and good, coherent policy decisions, he inexplicably and without fail takes ten steps back. I hope today's comments were just a crass and flippant mistake, and do not reflect the hateful racism they imply," he wrote on Twitter.
Trump responded to the criticism, tweeting, "Never said anything derogatory about Haitians other than Haiti is, obviously, a very poor and troubled country."
Some Republicans are hopeful due to Trump's economic achievements.
The president's deregulation and tax cut policies have resulted in the stock markets hitting record highs with the Dow Jones Industrial Average jumping past 25,000 for the first time ever earlier this month, among other economic indicators.