Republicans Need a 'More Brown Policy Agenda,' Bishop Harry Jackson Says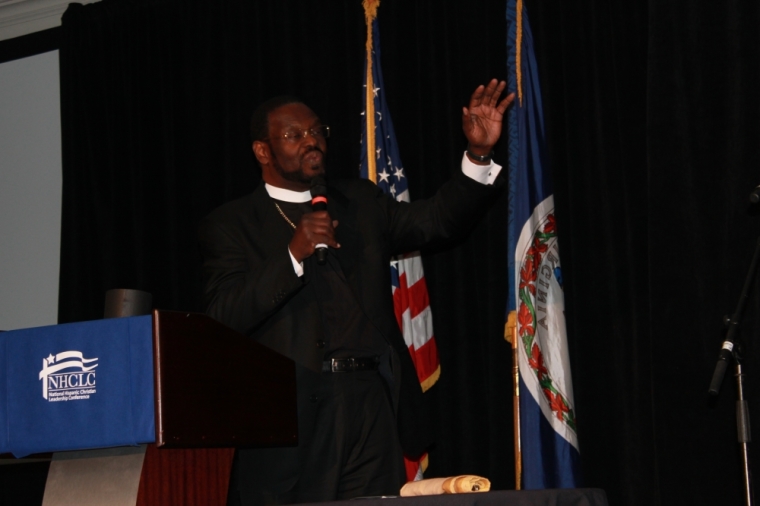 Bishop Harry R. Jackson Jr. shared the woes of African Americans whose loyalty to the Democratic Party hampers their political leverage. Republicans should reach out to blacks and Hispanics through faith-based policies on the family and urban development, he argued
"If you have one party that owns you, it's hard to get the greatest advantage," Jackson, senior pastor of Hope Christian Church and founding president of High Impact Leadership Coalition, told The Christian Post this week. Jackson insisted that Republicans can't win "by just touching a few Hispanics – they need a more brown policy agenda."
In order to pick up minorities, the GOP should emphasize faith issues, Jackson argued. He criticized the Mitt Romney campaign for failing to explain how the candidate's Mormon values resemble those of most Christians across the country. Romney missed a great opportunity by not capitalizing on his agreement with blacks on the marriage issue, or with Roman Catholics on pro-life issues, the pastor claimed.
Jackson mentioned five Republicans who could effectively reach out to the African American community: Mike Huckabee, Rick Perry, Chris Christie, John Kasich, and Mike Pence. Christie, the pastor explained, has proven himself in a Democratic state and can connect to "Hispanics, blacks, and this multiracial group of immigrants that are in the New York, New Jersey, D.C. area."
The pastor acknowledged Kasich would be a "dark horse" in the 2016 presidential primary – "he may not be on the news, but I think that he's got something going." Jackson praised Kasich's efforts in Ohio, mentioned the governor's six-year Fox News show, and commented on his business experience as an investment partner and managing director of Lehman Brothers.
Jackson suggested Kentucky Senator Rand Paul, a common figure in 2016 discussions who has reached out to the black community, should prove his support for African Americans by raising money for business development in an economically-challenged area of Kentucky. "If Rand Paul says, 'this part of Louisville is ghetto, I'm going to raise the money for business development,' that project could demonstrate the concrete benefits free market policies can bring to struggling minorities.
While Republicans need to reach out to minorities, the Democratic Party also struggles, Jackson argued. "Politically, you have bipolar disorder in the Democratic Party," he said. While the grassroots Democrats are strong in faith, "at the national level, because of the influence of finance and special interest groups and lobbying, you have all these crazy public policy emphases that are almost anti-Christian."
The pastor recalled a recent meeting he attended at the National Association for the Advancement of Colored People (NAACP) which confirmed this division. When Jackson outlined his speech – "the NAACP is dead at this point" – to the chair of religious outreach, the other man replied, "yeah, we need to hear that."
At that meeting, the NAACP awarded members who had served the community. Jackson described "little grandmothers" standing up and declaring their love for God as in a black church. "I give honor to God, He's the head of my life, and I don't know what I would have done without the Lord, and thank God for this award you're giving me for community service," the pastor paraphrased.
"I'll never vote an agenda that is pro-death and anti-family," Jackson explained. Nevertheless, many faith-focused African Americans hear Republicans like Mitt Romney and say "that guy talks right but I think he hates me." This tension keeps the black community loyal to the Democrats, despite their opposition to gay marriage and abortion.
Without a clear Republican demonstration that free market policies can help minorities, the GOP leaves African Americans "in a no-win, no-choice situation," Jackson said.
As for Hispanics, the group proves much more diverse than most realize, the pastor noted. While Puerto Ricans "feel like Puerto Rico was the 51st state in a sense," and identify with African Americans, Cubans "have been used to owning things in Florida and they're very Republican and entrepreneurial." Colombians and Argentinians, by contrast, are of European descent and fit into the group of "white Hispanics."
The key to uniting these groups, along with attracting African Americans, is "a biblically-consistent moral base of family policy and economic development" from either party, Jackson said.