RFK Jr. says he opposes allowing men to compete in women's sports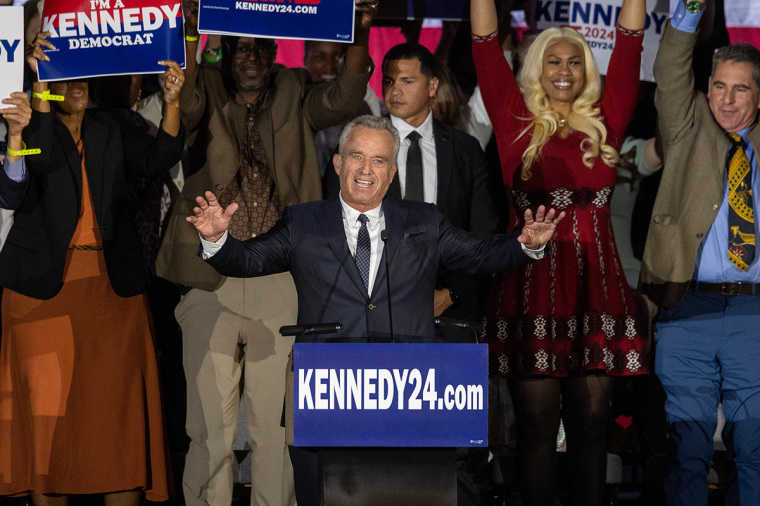 A Democratic presidential candidate has expressed opposition to allowing men who identify as female to compete in women's sports, putting him at odds with the majority of elected officials in his party. 
Robert F. Kennedy Jr., who launched a primary challenge to President Joe Biden last month, weighed in on the issue of whether men should be allowed to compete on women's sports teams in an appearance on CNN's "Smerconish" Saturday. When asked for his views about "trans sports participation" in a lightning round at the conclusion of the interview, Kennedy declared: "I am against people participating in women's sports … who are biologically male. I think women have worked too hard to … develop women's sports over the past 30 years. I watched it happen, and I don't think this is fair."
Kennedy's comments about women's sports come after every Democrat in the United States House voted against a bill that would have banned trans-identified male athletes from competing on women's sports teams. While the measure passed the Republican-controlled House on a party-line vote, it remains unlikely to pass in the Senate, given that Democrats control the upper chamber and the White House. 
Democrats and other critics of policies requiring trans-identified athletes to compete on sports teams that correspond with their biological sex as opposed to their chosen sexual identity — whatever that might be at any given time — characterize the efforts as discriminatory and harmful to trans-identified athletes. Supporters, meanwhile, point to the biological differences between men and women that give male athletes an advantage over women athletes. 
As noted by USA Powerlifting, men have "increased body and muscle mass, bone density, bone structure, and connective tissue," all factors that give them an advantage over their biologically female counterparts. A study published in the British Journal of Sports Medicine in December 2020 found that males maintain an advantage in athletics even after two years of taking feminizing hormones.
Real-world examples of trans-identified male athletes breaking records in women's sports have dominated national headlines in recent years. Most notably, trans-identified University of Pennsylvania swimmer Lia (Will) Thomas, who competed on the men's swimming team for three seasons, set a new record while competing in the 200-yard freestyle at the Ivy League women's swimming and diving championship last year. 
These concerns have prompted 21 Republican-controlled states to pass laws requiring trans-identified athletes to compete on sports teams that align with their biological sex. States that have enacted such measures include: Alabama, Arizona, Arkansas, Florida, Idaho, Indiana, Iowa, Kansas, Kentucky, Louisiana, Mississippi, Montana, North Dakota, Oklahoma, South Carolina, South Dakota, Tennessee, Texas, Utah, West Virginia and Wyoming. 
As states work to take actions that they view as protective of women's sports, the Biden administration has submitted a new rule to the Federal Register prohibiting states from enacting blanket bans on trans-identified athletes' participation in women's sports.
One state, Oklahoma, has already signaled that it will not comply with the rule when it's slated to take effect later this month. 
The RealClearPolitics average of polls measuring voters' intentions in the Democratic presidential primary, based on surveys taken between April 21-25, shows Kennedy securing an average of 20% in a hypothetical matchup with Biden and progressive Marianne Williamson. Kennedy remains far behind the president, who has 66% support. Williamson, who previously sought the Democratic nomination for president in 2020, has 8.5% support. 
In his appearance on "Smerconish," Kennedy also suggested that Biden has an obligation to debate him regardless of his position in the polls. According to the Green Papers, which keeps track of the presidential nominating process for both Republicans and Democrats, the first Democratic presidential primary is slated to be held in South Carolina on Feb. 3. 
Kennedy's emergence into the 2024 presidential race comes amid widespread discontent toward the prospect of Biden running for a second term. A poll conducted by The Associated Press-NORC Center for Public Research from April 13-17 found that 26% of Americans and 47% of Democrats want Biden to run again.