Rich Wilkerson Jr. Talks Ministry Challenges and What's Missing With Today's Generation (Video)
NEW YORK — Rich Wilkerson, Jr., the Miami pastor who earned instant celebrity status earlier this year when it was revealed that he had officiated Kanye West and Kim Kardashian's wedding, recently commented on some of the challenges he faces as a Millennial in Christian ministry and his concerns for today's youth.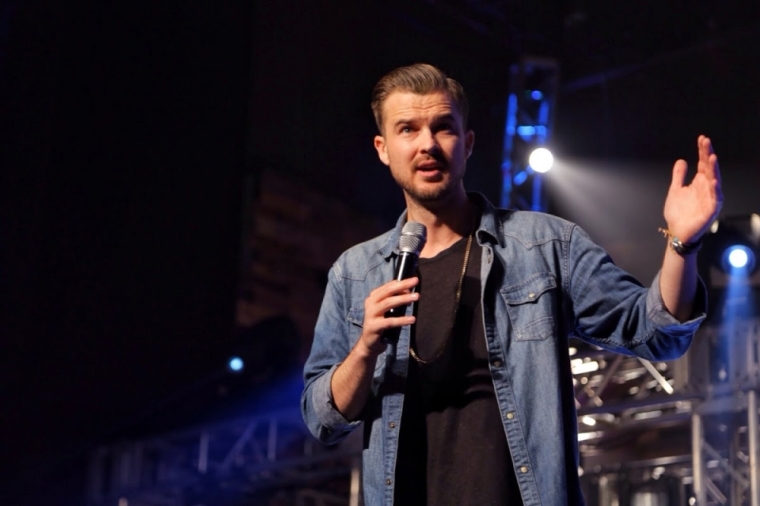 Wilkerson, Jr. serves as an associate pastor at his father's Trinity Church in Miami and leads, along with his wife, DawnCheré, the young adult ministry called The Rendezvous (or The Vous). The Wilkersons reportedly serve upwards of 1,500 students and young adults through The Vous. According to Wilkerson, "young adult" might include anyone from age 18-35.
In addition to preparing to launch The Vous as a church of its own, Oxygen revealed in September an upcoming reality show revolving around the life and ministry of the Miami, Florida, pastors titled "The Wilkersons."
Before the church plant and Oxygen reality show were announced, however, Wilkerson, 30, sat down for a "CP Newsroom" discussion with The Christian Post and shared some of the common issues he believes young adults face in today's culture, and some of the challenges he personally faces in ministry.
Below is an excerpted transcript of Wilkerson's remarks, followed by a video of his "CP Newsroom" discussion.
 CP: What are some challenges you face as a young Christian leader, maybe within the church and outside of the church?
Wilkerson: I think right now with this generation, it's always trying, in my opinion, to present Jesus, the Gospel, but then also wanting to see people walk out commitment and discipline. I think a lot of the different facts and statistics that are surrounding us, especially at home in Miami where I'm at, in our immediate neighborhood about 70 percent of the kids have grown up in a single-parent home. Right where we're living at, there's about 50 percent who don't graduate high school. I think a lot of these challenges end up creating really a lack of commitment, a lack of discipline sometimes. So I think just the consistency that you're trying to see happen, maybe in the years past was always there seems to sometimes be missing with this generation.
However, I do think that the Gospel and its relevancy, is not just a behavior modification message but rather it's a heart-transformation message. And when the heart gets changed from the inside-out, I we see all sorts of fruit in people's lives.
CP: What are some of the issues the young people you serve grapple with?
Wilkerson: I think every city and every place has its own set of challenges that you've got to deal with. But I believe the church is there to meet the needs of the people. The moment we stop meeting needs is the moment we stop being the church. Jesus himself said, 'I've come not for the healthy but for the sick.' So we want to touch people where they are. With our church we've always had kind of a three-fold mission statement. It's to win the lost, help the poor and really teach the abundant life. For us, we have all sorts of different programs, ministries, that we are specific in reaching different needs.
One of my favorite ministries that we have back home is this ministry called Children of Inmates where we've got so many kids right now that you don't think about it that their parents have been incarcerated. Maybe their parents did something that's justifiable of the consequence, but these children did nothing. So many kids are growing up right now with parents, maybe in some cases both parents, not in the home because they're in prison. So we started a program that's actually funded by the government, they subsidize some of it, where we do youth mentoring programs. About once a month or every other month they end up going to the prison, taking the kids to see their parents. It's kind of a cool partnership where the church is stepping in the gap in a moment where someone seems to be having a void or something missing. The list goes on and on from different programs…
I just think anywhere that you can see a need and then fill it, it's amazing. I think people always go, 'I want to do ministry, I want to do ministry.' And they think ministry is just one side where you (get behind a pulpit), let me preach or teach. Really, ministry begins where a need a is. If someone's saying, 'I want to get into ministry.' Pretty easy — find a need, and fill it."
Watch Wilkerson's "CP Newsroom" discussion in the video below, where he suggests Christians are to blame for the misconception that Jesus is "weak, irrelevant and weird" and cautions his peers against neglecting to honor the generation that came before them.