Richard Land Inauguration as Southern Evangelical Seminary President Includes Call to Excellence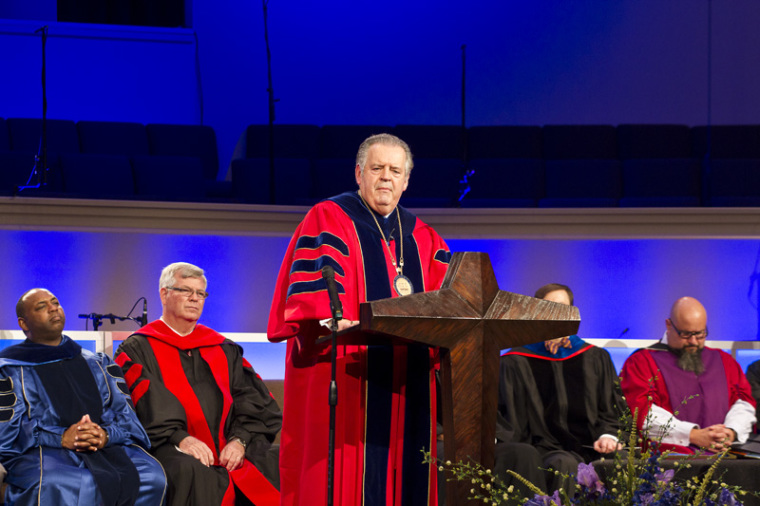 CHARLOTTE, North Carolina – The Southern Evangelical Seminary warmly welcomed Dr. Richard Land, former longtime president of the Southern Baptist Convention's Ethics & Religious Liberty Commission, during his inauguration held at First Baptist Church Indian Trail Thursday evening.
After receiving accolades and charges from such notable theologians as Craig Mitchell, Greg Thornbury, Ergun Caner, Josh McDowell, and Norman Geisler, Land told The Christian Post that the event was very humbling.
"You don't come to an event or to a place like this without owing a tremendous debt of gratitude to many, many people starting with my parents, and the church workers who invested in an unruly child in a church a longtime ago in Houston, Texas," said Land, during an emotional evening for the staunch defender of the Christian faith. "My dad was saved in a Billy Graham crusade and I got raised in a Christian home."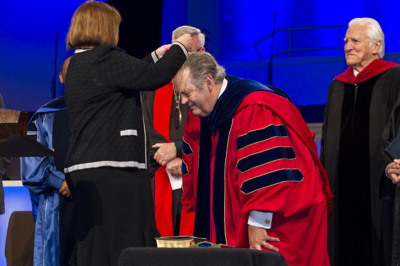 Land, who is the fouth president at SES, said that the mixture of people that spoke during his inauguration, including former students and former colleagues was "just a very humbling experience." Land stressed that the ceremony was designed to honor Jesus Christ.
"We are here to serve Jesus Christ and serve in His kingdom," he said. "We're here to be used by Him to enlarge His kingdom."
During his "Presidential Response" speech, Land said it was important for SES to strive for excellence.
He quoted legendary football coach Vince Lombardi, who said, "Gentlemen, we are going to relentlessly chase perfection, knowing full well we will not catch it. . . . But we are going to relentlessly chase it because in the process we will catch excellence. I am not remotely interested in just being good."
Land added, "I'm not interested in us here at Southern Evangelical Seminary being just good. I don't think Jesus put us here on earth to be just good."
He reiterated his thoughts on what SES should be doing for those that attend, expressed during his speech. "As I said, we're here to train green berets, paratroopers, and SEALs for God's army. Occupation troops need not apply," Land told CP.
The event took place on the eve of SES's annual Apologetics Conference which is partnering with Ravi Zacharias International Ministries to deliver what promises to be an exciting series of presentations by many prominent apologists starting Friday.
Land, who is also the executive editor of The Christian Post, said that over the years, it has become increasingly clear to him that the way you spell evangelism, discipleship, missions, and Christian education in the 21st century is "apologetics."
"For over 20 years, SES has admirably maintained a dual commitment to evangelism and apologetics," he wrote recently. "I look forward to strengthening that commitment in the years to come and to making SES THE place to go for the apologetics training needed to fulfill God's calling, to equip the saints, to reach the lost, and to edify the saved."
He explained, "Our nation and our churches desperately need revival, awakening, and reformation. People need to have solid answers to their honest questions. Hundreds of SES graduates are already proclaiming and defending the Christian faith from the pulpit, on campus and the mission field, and in the chaplaincy and corporate America.
"My goal is to join with the SES family to produce an ever increasing number of graduates who will be the green berets and paratroopers of God's army, and who will be used by him to win tremendous victories for Christ and his kingdom," he writes. "I also fervently believe that online education is the future. SES and I are committed to providing the kind of quality, practical education you need wherever you are in the world."
Land said he can think of no better place to be involved in teaching this generation and the next than at SES.
SES's 20th annual conference on Christian Apologetics is the nation's longest running apologetics conference, and Land said he looks forward to serving alongside, "as we seek to serve God together through SES, trusting that our best days are ahead of us – and we will give our heavenly Father all the glory.
On the Web, http://conference.ses.edu/.