Rick Warren: Christians Need Grace, Not Good Works, to Get Into Heaven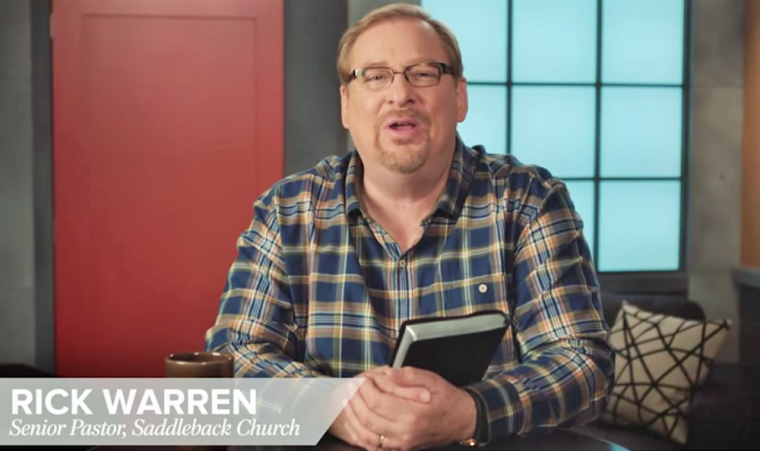 The only way for Christians to get into Heaven is through God's grace, Pastor Rick Warren explains in a message posted on his Daily Hope website Monday.
While some Christians might think good works or dedication to their faith guarantees automatic entry into the afterlife, Warren argues that no person has "a chance of getting into Heaven by [their] own effort."
"You'll never be good enough to get into a perfect place. You stopped being perfect a long time ago," Warren, who is the senior pastor of Saddleback Church in Orange County, California, adds.
The megachurch pastor goes on to say that the requirement of grace is what sets Christianity apart from all other religions.
Warren writes that while "you can summarize every other religion with the word 'do,'" Christians are different in that they do not have to "earn their way" to God.
"The Bible gives an opposite plan. The Bible says you get into Heaven by accepting what has already been done for you — that Jesus died on the cross 2,000 years ago for you," Warren explains, adding, "everything that needs to be done has already been done. Jesus did everything. It's a free gift."
"Your only part in salvation is simply to accept that it was done for you. That's grace. And it's God's gift to you," the pastor continues. "You may be given a Rolls Royce someday. You may be given a million dollars. But there's no greater gift than the grace of God."
Warren echoed a similar sentiment during an August devotional, calling on Christians to accept God's grace.
"If you went home today and found a gift on your table, but you left it there for the next year, unopened, that would be pretty dumb. A gift is worthless unless you accept it. You must accept God's grace through his Son, Jesus Christ," the megachurch pastor wrote.
While Christians are rewarded infinite gifts when they accept God's grace, they must take the first step and trust in God, giving up their past doubts and mistrust caused by painful relationships and rejection.
 "There is one person who will never reject you, and his name is Jesus Christ. He's saying to you, 'Come home.' Have you been secretly overwhelmed by that shame in your life? You can get rid of it today," Warren emphasized. "The more you understand the grace of God, the more you fall in love with God and the more you want to draw closer to Jesus — because it's almost impossible to not love somebody who loves you that much."
Warren again referenced Jesus' eternal gift of salvation in an April 2015 post, saying "Jesus Christ is the only way for you to get into Heaven because he paid the price of admission. On the cross, he paid for your sins."
"Grace is free, no doubt about that. But it is not cheap. It cost Jesus Christ his life," Warren continued, adding that grace is all-forgiving. Grace says, 'You're forgiven. Here's how to get back on track. Let's get going in the right direction.'"