Rick Warren: Christians Don't Earn What They Deserve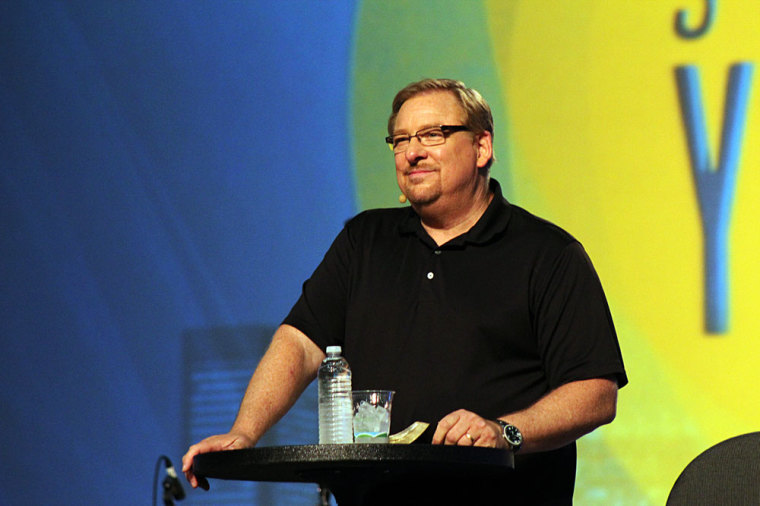 Contrary to what some may think, Christians do not earn what they deserve, says Pastor Rick Warren.
Warren, who is the senior pastor of Saddleback Church in Orange County, California, wrote in his Sunday devotional that while Christians may think their rewards in life are a product of their own hard work, everything is a gift from God.
The megachurch pastor cites 1 Corinthians 15:10, which states that all of a person's attributes and gifts are a result of God's grace and kindness.
While it is the "American way" to believe that "you get what you earn in life" through sweat and effort, in reality all of these gifts are a product of God's kindness.
Although "God wants us to work at our jobs as if we are working for Him," God does not in fact decide which gifts we may receive based on our performance.
"The Bible tells us that everything God does in our lives — every blessing we have, every gift we receive — comes through His grace," Warren explains.
Through His infinite grace, God gives us "what we don't deserve," the megachurch pastor says.
"Every breath you have is a gift from God. He doesn't owe you the next breath you take. It's purely a gift from Him," Warren continues. "We're saved by grace. God blesses us by grace. God teaches us by grace. God uses us by grace. God takes us to Heaven by grace."
Ultimately, Christians need God's grace in their life, and they don't have to do anything to "earn" it; rather, it's a gift God gave us when Jesus died on the cross for our sins. All Christians need to do to receive God's grace is accept Him into their hearts.
Warren has spoken on the importance of grace before, writing in a May 2014 devotional that there is a connection between God's mercy and feelings of fear.
When Christians understand God's grace, Warren writes, there's no reason to feel fear because they can trust that God is watching over them and will bring something good out of a bad situation.
"When you understand God's grace and mercy, there's no need to fear the future. God isn't trying to get even with you. Jesus shouldered the penalty for everything you've ever done wrong or will do wrong. He paid for it on the cross. So when a bad thing happens, you don't have to think, 'God's getting even with me,'" Warren explains, adding that "Mercy, like goodness, follows us in life."
"God is constantly picking up our messes," Warren adds.
Just as God has given Christians the gift of grace, so should Christians in turn respond with grace, Warren says in a November 2015 post.
Instead of responding to a bad situation with a vengeful attitude, God encourages Christians to be graceful and practice forgiveness.
"When you're mistreated, the proper reaction isn't to blow up or clam up. Both are irresponsible. Instead God calls us to respond to slights with calmness, love, and truth," Warren advises. "Here's the bottom line: Trust God to settle the score. He has much better resources to do that than you do."