Rick Warren Identifies 'Unhealthiest Emotion' Christians Experience, How to Overcome It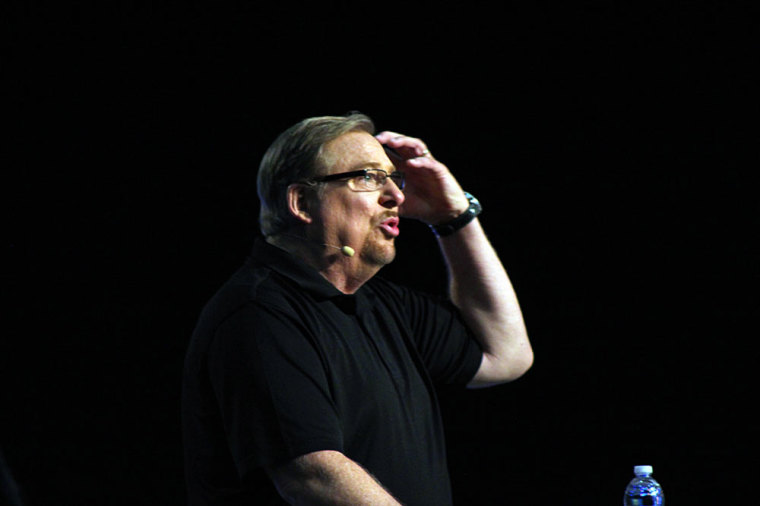 Pastor Rick Warren of Saddleback Church in California has said that resentment is the "unhealthiest emotion there is" and identified three reasons Christians should forgive those who have sinned against them.
Warren, author of "The Purpose Driven Life," said in a devotional this week that many people are walking around with deep wounds, pain, and resentment resulting from a past insult or injury.
"You say, 'Why in the world should I forgive that person who hurt me so much? You have no idea how much they hurt me. Why should I offer grace to that person?'" he said, offering three reasons believers should forgive others.
First, Warren reminded readers that Christians are called to be gracious and forgive others "because God has been gracious to you."
"You will never have to forgive anyone else more than Jesus Christ has already forgiven you," he contended. "Remember that you haven't always gotten what you deserved, either. God has been gracious with you. Now choose to be gracious with others."
Second, it's important to forgive others because the alternative is bitterness, the pastor said.
"Scientists tell us that resentment is the unhealthiest emotion there is," he pointed out. "It always hurts you more than anybody else! Resentment will not change the past, and it won't solve the problem. It doesn't even make you feel better. In fact, it makes you feel worse."
Finally, Warren encouraged believers to show grace and forgive others because God "wants you to do it."
"Jesus says we cannot receive what we are unwilling to give," he warned. "If you say, 'I could never forgive that person,' then I hope you never sin. If you just don't feel like doing it, do it anyway, because it's the right thing to do."
Sometimes, people have a difficult time forgiving others because they don't feel forgiven themselves, Warren said, offering a prayer of "liberation and freedom" for such circumstances.
"No matter what you've done or where you've been, you can have a place in God's forever family ready and waiting for you," he concluded. "The invitation is wide open. Just believe and receive."
In an op-ed published by The Christian Post, Ronnie Floyd, senior pastor of Cross Church in Northwest Arkansas, and a past president of the Southern Baptist Convention, lamented that in today's "explosive culture," conflict is "just one click or thoughtless response away."
"There is no easy way to resolve conflict, but there are some actions we can take to confront it and live through it," he said, advising readers to take responsibility for their actions, choose to forgive and let go, and resolve to live as peacemakers.
"We can learn, practice, and teach what the Scripture says about forgiveness," he wrote. "Our offenses against God are far greater than anyone's offenses against us. Jesus Christ forgives us from all our offenses against God and we should forgive the offenses that others may have committed toward us. Let it go."
"When we practice forgiveness, we can become conduits of reconciliation with and for others," Floyd concluded. "Because unresolved conflict is so damaging, we as believers should be catalysts to help others."