Rick Warren on Homosexuality: 'Not Everything Natural Is Good for Me'
Saddleback Church Pastor Doesn't Believe 'Attraction Is a Sin' But That Some Actions Are
Evangelical Christian pastor Rick Warren appeared on CNN's "Piers Morgan Tonight" Tuesday to promote the re-release and 10th anniversary of his book, Purpose Driven Life. During the discussion, Warren was asked to comment on how the minister embraces gay and lesbian friends while opposing same-sex marriage.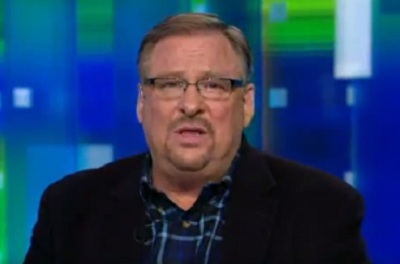 "Do you personally believe that gay people are born gay? Or, do they become gay? Are they made gay?" Morgan asked Warren on the Nov. 27 airing of his show, "Piers Morgan Tonight."
"You know what -- I think the jury's still out on that. It wouldn't bother me if there was a 'gay gene' found," Warren responded, later adding that he welcomed the discussion because he believes everyone should be treated with dignity and love.
"Here's what we know about life: I have all kinds of natural feelings in my life and it doesn't necessarily mean that I should act on every feeling. Sometimes I get angry and I feel like punching a guy in the nose. It doesn't mean I act on it. Sometimes I feel attracted to women who are not my wife. I don't act on it," the megachurch pastor continued.
"Just because I have a feeling doesn't make it right. Not everything natural is good for me."
Warren concluded his remarks on the topic by saying that he has chosen the Bible as the ultimate authority in his life, and "the Bible clearly states that I am in control of my actions."
The famed pastor, who leads a weekly congregation of 20,000 people at Saddleback Church in Lake Forest, Calif., is currently making the media rounds to promote the re-release of his book, Purpose Driven Life, on its 10th anniversary of publication.
The Saddleback Church pastor also appeared on "CBS The Morning" on Tuesday to speak about the book and was also questioned about his views on same-sex marriage.
"Gay marriage is a very personal question," Warren told hosts Charlie Rose and Norah O'Donnell.
"I have biblical views regarding what marriage is about. I am not in favor of redefining marriage, I'm not. It's not illegal to have a gay relationship, so it's not a big issue to me," the minister added.
During his promotional tour, Warren has sought to exemplify the main message of his book, Purpose Driven Life, which he says is to explain God's reasoning behind giving humans life on earth.
"This book helps readers understand God's incredible plan for their lives. Warren enables them to see the big picture of what life is all about and begin to live the life God created them to live," the book's description reads on its official website.
Watch a CNN YouTube video of Rick Warren's interview with PIers Morgan: