Rick Warren says Saddleback Church disagrees with 'only 1 word' in SBC doctrine: men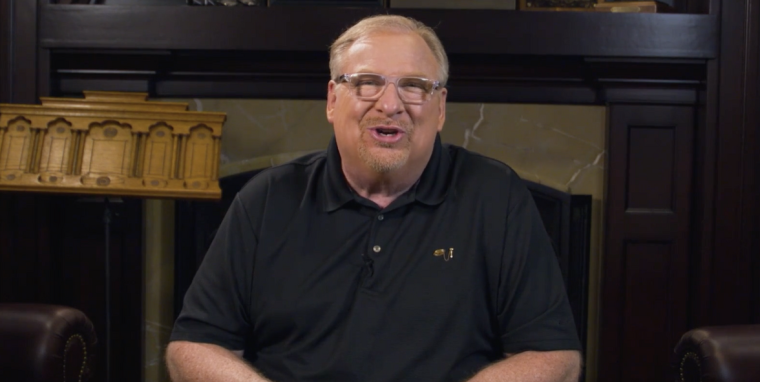 Ahead of the Southern Baptist Convention annual meeting in New Orleans this week, Saddleback Church founder Rick Warren stressed that he agrees with all of the denomination's beliefs — except for its stance on women pastors. 
"The SBC Constitution was changed in 2015 after 170yrs of Baptist cooperation. Now churches must be 'CLOSELY' identified with our confession. NOT 'completely' Our BF&M2000 is 4,032 words. We disagree with only 1 word: men. We're 99.9999999999% in agreement! Is that CLOSE ENOUGH?" Warren tweeted on Sunday.
"I'm not making this stuff up," he added on Monday. "This is the history of the SBC: After growing for 80 YEARS without any Confession of faith, Southern Baptists grew for another 90 years with a 'Consensus of Opinion' Confession which was never used to exclude churches. It was a 'Guide for Interpretation' ... the Founders never intended for our Convention to be defined or unified by a man-made compilation of doctrinal statements. The Bible itself was enough."
Warren's tweet came just before he is scheduled to appear before thousands of Southern Baptists at their Annual Meeting held in New Orleans, Louisiana, this week and appeal the SBC's decision to cut ties with Saddleback Church due to "the church continuing to have a female teaching pastor functioning in the office of a pastor."
The move came after Pastor Andy Wood, who succeeded retiring Warren at Saddleback, listed his wife, Stacie, as a "pastor" in his biography on the prominent California megachurch's website in October 2022. And on May 7, Katie Edwards, one of the three women ordained at Saddleback in 2021, was announced as the Lake Forest campus pastor.
Launched in 1980 by Warren, Saddleback Church had grown to become the second-largest Southern Baptist church in the U.S. with 57,000 members, planting numerous churches in the U.S. and four campuses overseas. 
Since retiring as Saddleback's leader a year ago, Warren has openly discussed how his views on the role of women in the Church have changed over the years, often drawing criticism from more conservative leaders within the SBC. 
The denomination holds to the belief that the office of pastor is limited to men as qualified by Scripture, as outlined in its Faith and Message Statement. 
Earlier this month, Warren launched a website in which he addresses what he sees as challenges within the SBC and makes arguments for women pastors.
In his first video, Warren said he changed his views after three years of scriptural study and now believes women can serve in any role in the church, including as pastors. 
He weighed in on complementarianism, the theological framework that says women have distinct roles in the family and church and are forbidden from holding certain offices in the church, and egalitarianism, which contends that Scripture does not warrant such restrictions.
"There are biblical alternatives to both complementarianism and egalitarianism," he said. "And while both of those positions have strengths, they both, in my opinion, have unbiblical weaknesses, and they ignore important Bible verses. So actually, I'm neither. I'm neither one of them, I reject them both. Now, if you're honest, you'll have to admit that Paul often says things about women in Scripture that appeared to contradict each other. So tell me what you want to believe … and I'll show you the verses you have to ignore or rationalize away."
In an earlier tweet on Sunday, Warren published an open letter to Christian women apologizing for holding them back "from using the spiritual gifts and leadership skills that the Holy Spirit had sovereignly placed in them." He said his "biggest regret" in 53 years of ministry is that he "didn't do my own personal exegesis sooner on the four passages used to restrict women."
"Shame on me," he wrote, adding that he felt compelled to "repent" for his earlier teaching regarding the role of women in the church after "reading over 100 books on the early church and the history of the Great Commission."
Warren said he doesn't "expect to win" the appeal in New Orleans, nor does he expect to "change the mind of any angry fundamentalist."
"They are responsible to God, not to me. I'm doing this as an act of obedience to the Holy Spirit," he wrote. 
"Regardless of attacks and the vote result, I want a clear conscience before my Master ... that I repented, and that this sinner did what he asked me to do. With that, I am completely content to let Him be the judge and evaluator of my life and ministry. We must live for an Audience of One."
In addition to Saddleback, the SBC cut ties with four other churches due to their stance on women in church leadership: Calvary Baptist Church in Jackson, Mississippi; Fern Creek Baptist Church in Louisville, Kentucky; New Faith Mission Ministry in Griffin, Georgia; and St. Timothy's Christian Baptist Church in Baltimore, Maryland.
Fern Creek Baptist Church, which has been led by the Rev. Linda Barnes Popham since 1993, also plans to appeal the decision at this week's meeting.