Rihanna Oprah Interview: Singer Cries Over Chris Brown 'I Lost My Best Friend' (VIDEO)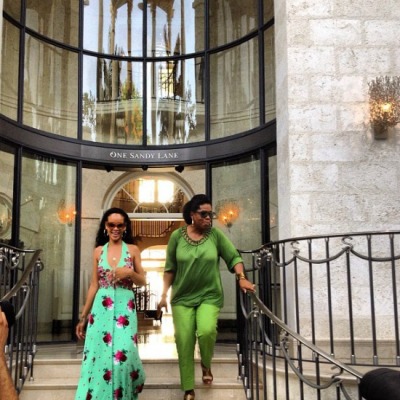 Rihanna candidly answered questions regarding her relationship with Chris Brown and where it stands today during a recent interview with Oprah Winfrey.
The Bajan singer, real name Robyn Fenty, recounted the struggles that she faced after being savagely beaten by Brown, 23, during their now infamous 2009 domestic violence assault incident.
"It was embarrassing, it was humiliating... I lost my best friend," a tearful Rihanna told Winfrey. "I was resentful, I held a grudge, I was dark!"
The video below offers a snippet of Rihanna's highly anticipated interview for "Oprah's Next Chapter," in which it has been claimed that no topic was off limits.
"Do you think that Chris Brown is a true love for you?" Winfrey asks the "Where Have You Been" singer in one clip. "Where does your relationship with him stand today?" she goes on to ask.
Rihanna's responses to those questions, which will be shown when the full interview airs on August 19, appear to stun Winfrey who says "I would have never thought that...you just shocked me!"
The 24-year-old global singing sensation is often both criticized and praised for her "good girl gone bad" image, but according to Winfrey, who admitted to having preconceived ideas about Rihanna prior to their meeting, she was "vulnerable" and "emotional" throughout the interview.
"I went there with my own ideas about who she was from watching her videos and listening to her music. I thought she was gonna be kind of a bada--, a kind of hard edged, rocker, pop woman. Nothing could have been farther from the truth," Winfrey said in the snippet released on her website.
"She pushes the edge a lot, and there's a reason for that ... she was thoughtful ... She was very emotional ... She was vulnerable," she added
The renowned talk show host traveled to Rihanna's native home of Barbados for the exclusive interview, and at one point the pair visit her childhood home in the island capital of Bridgetown. Rihanna cried throughout different parts of their discussion.
"I am super duper terrified of the pedestal that comes with fame. It's amazing how lonely you can feel," a humble Rihanna told Winfrey.
At one point Rihanna turns away from Winfrey saying, "I hate this part." She then proceeds to cry while grasping a tissue.