Rob Bell: In Modern World, God Is Becoming Irrelevant Like Oldsmobiles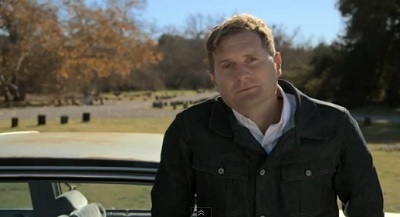 In a recent YouTube video promoting his new book What We Talk About When We Talk About God, former Mars Hill Bible Church Pastor Rob Bell compares God to an Oldsmobile, saying that traditional Christian teachings in a modern world are losing relevance.
Bell begins the three-minute video by describing the Oldsmobile he drove when he was 20 years old, which he and his friends nicknamed "the sled." Bell goes on to lament that Oldsmobile factories shut down because the automotive company "couldn't keep up with the times."
"[Oldsmobile] has become more and more something of the past, not the future," Bell says. "For a growing number of people in our modern world, God is a bit like Oldsmobiles."
"Things have changed; we have more information and technology than ever. We're interacting with a broader, more diverse range of people than ever, and the tribal God, the only one many people have ever heard of, appears more and more small, and narrow, and irrelevant, and in some cases just plain mean, and other times not that intelligent."
Bell gives examples of Christian leaders teaching controversial topics, such as the beliefs that only men should lead the church, all homosexual people go the hell, and that God created the earth in six days.
"This is a problem," Bell asserts.
"Is God going to be left behind like Oldsmobiles? I don't think so, because I believe there are other ways, better ways of talking about God, understanding God, because I believe God is with us, and for us."
"I believe God is actually ahead of us, calling us, drawing us, and inviting us, pulling us all," he adds.
The message Bell conveys in the video coincides with the message of his new book, What We Talk About When We Talk About God, which, according to HarperOne publishers, explains why "both culture and the church resist talking about God, and shows how we can reconnect with the God who is pulling us forward into a better future."
Bell will begin the tour for his new book in Grand Rapids, Mich., just minutes away from his previous congregation at Mars Hill Bible Church, which he founded in 1999.
As Bell told The New Yorker in November, a fallout with his congregation regarding his previous book, Love Wins: A Book About Heaven, Hell, and the Fate of Every Person Who Ever Lived caused him and his wife to leave the Grandville, Mich.-based church in "search for a more forgiving faith."
In Love Wins, Bell questioned the existence of an eternal hell and the evangelical teaching that only those who believe in Jesus Christ go to heaven.
Although Love Wins became a New York Times Best Seller, it also received a rash of criticism from those arguing that Bell was embracing heresy by rejecting the notion of hell.
Bell lost 3,000 members of his congregation, and last year he and his wife decided to leave the congregation and move to California, where Bell now holds seminars for Christian leaders and is currently in the process of creating a '"faith-inflected talk show" with producer Carlton Cruse.
Along with Love Wins, Bell is also the author of Velvet Elvis, also a New York Times Best Seller, and the former church leader was named one of the 100 Most Influential People in the World by Time magazine in 2011.
Bell will be holding a live streaming event on March 12 to usher in the official release of his book.
The event, which will be broadcast nationwide via Bell's official website, will be held at the Powerhouse Arena in Brooklyn, N.Y.