Rob Bell-Founded Mars Hill Church Gets New Pastor From NYC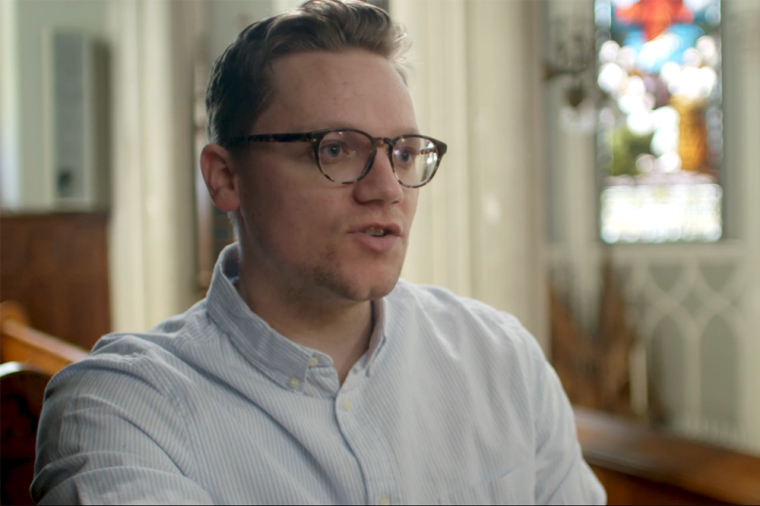 Five months after Pastor Rob Bell's successor at Mars Hill Bible Church in Grandville, Michigan, announced he was leaving, the megachurch has affirmed its third lead pastor, AJ Sherrill, from New York City.
After an "in-depth, prayerful" search, "our Lead Pastor Search Team and our Elder Team have unanimously affirmed AJ Sherrill to fill the role of Lead Pastor at Mars Hill," the church says on its website, adding that Sherrrill is likely to begin his new role by early September.
Sherrill lives in New York City with his family and has served as the Parish Pastor at Trinity Grace Church Chelsea for the past five years.
"I think Mars Hill's a very creative place. There's a lot of permission to risk," the new pastor says in a video posted on the church's website. "I grew up in several different traditions and have gleaned and learned a lot from those traditions, but the narrative focus (of Mars Hill) always reminds me of the tactile, fleshy part of how God has actually moved in story, and how God is actually moving in our story, to call us to a greater story where we find our fulfillment not in our own independent narratives but being grafted into something much bigger."
He then recalls, "I remember the first time I walked into Mars Hill and just saw all these kids and was like my daughter could flourish here. We have been longing for quite awhile for a permanent place to be."
Sherrill has over 15 years of ministry leadership experience and holds multiple degrees, including Bachelors in Marketing from University of Central Florida, Masters from Reformed Theological Seminary, Master of Theology from Columbia Theological Seminary, and has his Doctor of Ministry from Fuller Theological Seminary.
"We feel strongly that AJ brings the unique gifts, passion and heart that Mars Hill needs to live into the next chapter of our story," Erinn Jacques, the chairwoman of the Mars Hill Elder Board, wrote in a message to church members, according to mLive.com. "AJ has a pastoral heart, and a rich and historical understanding of the Bible. He is an innovative and creative teacher, and shares our narrative theology, mission and vision."
Before Sherrill, Kent Dobson assumed the teaching pastor position at the 12,000-member megachurch after Bell, who received acclaim and criticism for his book, Love Wins, left the congregation and moved to California in 2012. Dobson announced last November that he is leaving the church.
"This past year has been different for me. It's been a hard year for a lot of reasons," he told in November. "It's been a hard year just with my job here. My place here has not felt right, that's the way I would put it. Like I was wearing someone else's suit that didn't quite fit and I tried to get it tailored and maybe I had shoulder pads from the '90s or something, I don't know."