Robert H. Schuller's Daughter Starts GoFundMe Campaign to Pay for Late-Pastor's Funeral, Legacy Website
Robert H. Schuller's Daughter Starts GoFundMe Campaign to Pay for Late-Pastor's Funeral, Legacy Website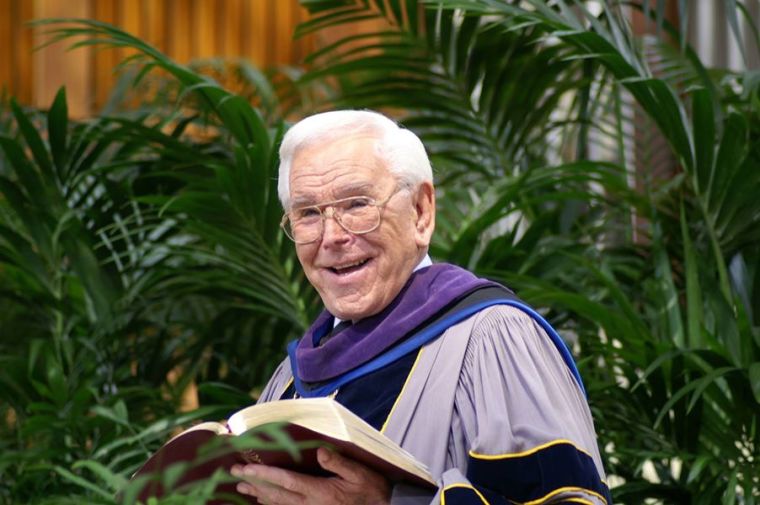 An online fundraising campaign asking for $30,000 to cover the costs for the funeral of Crystal Cathedral founder the Rev. Robert H. Schuller has been created by his daughter, who wants to use a portion of the funds to start a legacy website to honor her late-father.
Earlier this month following the death of Schuller, the televangelist's daughter, Carol Schuller Milner, started a GoFundMe campaign to cover funeral expenses.
"This gofundme account, if funded in full, will provide a budget for all this plus a video production and a first phase website of drschuller.org — the official website sanctioned by Robert H. Schuller and his estate, helping to tell the story and legacy of Robert H. Schuller," wrote Milner on the GoFundMe page.
"Schuller gave over 60 years of his life teaching others to 'believe in the God who believes in you!' And 'if you can dream it you can do it!' Let's join together for a glorious goodbye to Schuller and a faith-filled hello to our own dreams."
In 1951, Schuller and his wife founded the Crystal Cathedral church in Garden Grove, Orange County, California. Schuller also hosted the popular "Hour of Power" broadcast.
Over a half century later Schuller's megachurch congregation had suffered declines in membership and funding, leading him to file bankruptcy in 2010.
The Crystal Cathedral building itself was sold to the Roman Catholic Diocese of Orange for $57.5 million, and eventually renamed the Christ Cathedral in 2012.
Over the last few years, the Schullers became embroiled in legal actions surrounding the financial compensation they received from Crystal Cathedral Ministries.
On April 2, the 88-year-old Schuller died. His funeral was held April 20 at the former Crystal Cathedral building.
With a stated goal of $30,000, as of Tuesday morning the GoFundMe campaign by Milner has raised about $6,600 from over 40 separate donors.
Many of the donations listed on the site were anonymously provided and ranged from $100 to $300. Two of the donations were $1,000 each, tying for the highest single amounts provided.
The website the campaign speaks of funding, drschuller.org, presently leads to a two-page website with the URL http://www.roberthschuller.com/ and is copyrighted by Legend Hill Media.
The "About" page for the small site includes an official statement from the Schuller estate regarding details on the funeral.