Robert Jeffress on Tebow Controversy: We're Not Going to Kneel to Political Correctness (VIDEO)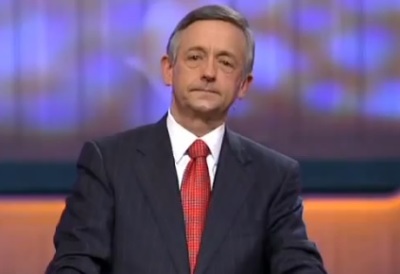 In his most recent sermon at First Baptist Church in Dallas, Texas, Pastor Robert Jeffress spoke on the recent controversy involving his church and NFL quarterback Tim Tebow, who last week announced that he was canceling his upcoming appearance at the Texas megachurch.
Jeffress, who has been described by some in the media as "anti-gay" for preaching the biblical teaching on homosexuality, ultimately said that the recent Tebow controversy has recommitted him to "God and the congregation," and the extensive media coverage has provided him with the opportunity to share the Gospel.
"We are not going to kneel to political correctness and convenience. We're going to stand up and boldly proclaim the grace of God and the truth of God, without compromise, so help me God that is my commitment," Jeffress told his congregation, which responded with applause.
The well-known pastor went on to say that although the media has portrayed only the negative effects of the Tebow cancellation, he has also received a widespread amount of support from congregations throughout the country in the form of kind phone calls and donations.
"I am grateful for men of God like these who are willing to stand up and act like men rather than wimping out when it gets a little controversial and an inconvenient thing to stand for the truth," Jeffress said. "God bless men like that."
Jeffress then appeared to reference Tebow, although he did not mention the New York Jets quarterback by name.
"There are some people who would say, 'God's given me a different ministry. God has called me to go out and preach about the love of God … I'm not called to preach about sin and talk about controversial things. I've been called to talk about the love of God.' And they're sincere when they say that," Jeffress said.
"But they are sincerely wrong. The fact is you cannot talk about the love of God. The love of God has no meaning whatsoever unless you understand the judgment of God that all of us deserve," he added.
Jeffress added that the Bible teaches both bad news and good news, the bad news being all humans are born with sin, and the good news being that God forgives all sins.
Last Thursday, Tebow took to Twitter to announce that he was canceling his scheduled appearance to speak at First Baptist in April.
"While I was looking forward to sharing a message of hope and Christ's unconditional love with the faithful members of the historic First Baptist Church of Dallas in April, due to new information that has been brought to my attention, I have decided to cancel my upcoming appearance. I will continue to use the platform God has blessed me with to bring Faith, Hope and Love to all those needing a brighter day. Thank you for all of your love and support. God Bless!" Tebow tweeted.
Some media outlets argued that Tebow chose to cancel due to Jeffress' previous comments regarding homosexuality and other religions, such as Mormons, Muslims, Jews, and Catholics.
Jeffress publicly refuted the claims that he ran a "hate-spewing" ministry, telling local radio show 106.7 The Fan's Holden and Danny:
"We have been mischaracterized and misquoted as being a hate-spewing church."
"For us to simply say that Jesus Christ offers salvation to anyone who believes in him, and that sex should be between a man and woman and marriage, that that should be considered hate speech, I don't understand that. It really shows you not that the Word of God has changed, but society has changed," Jeffress added.
In his sermon on Sunday, Jeffress assured his congregation that in no way had this recent controversy overshadowed the ministry's plans to open a new $130 million campus on March 31.
"I want to assure you today, God is still on his throne, and I want to assure you that this is not going to diminish one bit the excitement we have in going into our campus that God has planned for us," Jeffress told his congregation.