Robert Morris' Gateway Church Helps Save 4,600 Lives With Record-Breaking Blood Donations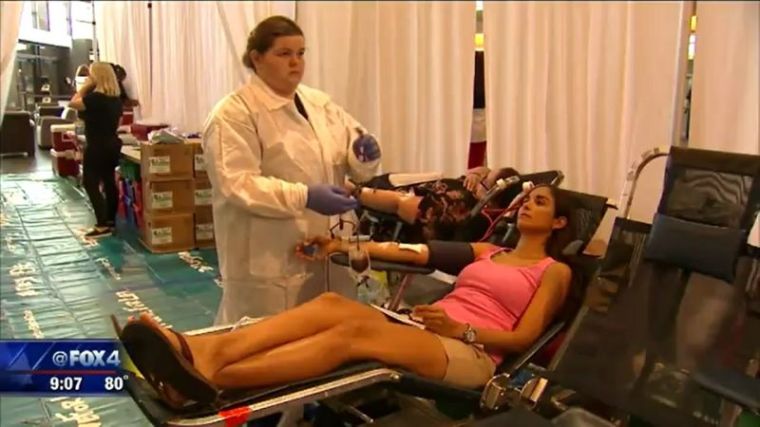 Not long after Pastor Robert Morris' near-death experience, members of Gateway Church in Southlake, Texas, took part in a record-breaking blood donation drive that would save over 4,600 lives.
Since Morris' return to the pulpit on June 2, almost two months after he nearly died due to internal bleeding, he has been encouraging his megachurch to donate blood to help others, stressing, "Someone giving blood is what saved my life."
More than 1,500 people responded at Gateway Church's six campuses since then, with Carter BloodCare revealing that enough blood was collected to save at least 4,600 lives.
"This consistency and over six weeks' time is remarkable," said Linda Goelzer, director of public relations at Carter BloodCare, according to Fox 4 News.
"We have been able to help some other community blood centers when we're usually at the point of asking others."
Goelzer told The Christian Post that of all church blood drives Carter BloodCare has been involved with, Gateway Church holds the record for the duration of the drive as well as the large response.
"Gateway held six weeks of blood drives — on Saturday and Sunday — at each of their six campus locations. In addition to the drives held at each church location, the 'corporate' office held a drive. That makes 13 blood drives total," she said.
According to Goelzer, the megachurch had originally intended to hold a blood drive in April, when Morris was first hospitalized with internal bleeding. But the event was held in June "because there is a greater need for blood in the summer," she explained.
"They took it further and said they wanted to host a drive at each of their campuses and that they would do it on Saturday and Sunday because they have services both days."
Morris passed out in April while he was with his wife in a remote property about 1-1/2 hours away from the Dallas-Fort Worth metroplex, with paramedics discovering that he was bleeding internally.
As a helicpoter was flying him to a hospital, the 56-year-old church leader said that he had "an encounter with the Lord."
"I didn't go to Heaven but the Lord's presence filled the helicopter and I felt like I was about to go to Heaven," Morris said.
He recalled telling God, "If this is it I'm ready to come but I'd like to stay for my family. And I just don't think you're finished with me yet on earth (in terms of ministry work)."
He says that it was then that God told him, "I'm not."
Doctors at the hospital that treated the pastor found that he had lost half his blood, and that he had a hematoma the size of a cantaloupe.
As he was treated and recovered from his near-death experience, Morris realized the importance of blood donations, and asked church members to get involved in drives.
Phil Buchanan, one of the donors, said about the record-breaking results, "It makes me feel amazing that we're able to pull together as a body of believers and do this for the community."
Carter BloodCare noted that the extra blood will also help a shortage reported by the American Red Cross, which came about as a result of fewer blood donations over the Fourth of July holiday week.
When he returned to the pulpit last month, Morris said that beyond the medical problems he has had to fight, he is also faced a spiritual battle.
"There are people that blame everything on the devil but we are not like that. We are grounded in the Word, most of you are very mature believers but I think that we have a tendency to be too logical sometimes and not realize that the enemy's at work and we keep looking for the logical explanation," the pastor said at the time.
"Jesus Himself told us that Satan comes only to steal, kill and destroy. I think he was trying to kill me."