Roma Downey Tells Sean Hannity Her 'Heart Sank' to Hear People Talk About Satan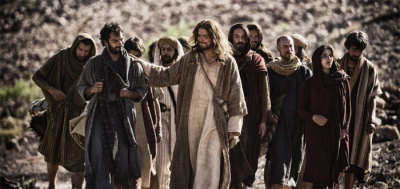 Roma Downey, co-creator of History Channel's "The Bible" miniseries, which has an estimated viewing audience of 80 million people, told Fox News' Sean Hannity on Wednesday that her "heart sank" when she awoke to the news that everyone was talking about Satan the Monday after Jesus made his first appearance on screen.
In her interview with Hannity to promote the final episode of "The Bible," which will broadcast on Easter Sunday, Downey reasserted her opinion about the Satan character and said he looks "nothing like [Obama]."
Downey said she believes "bad news gets all the news," and assured Hannity that there was never any intent to make the character look like the 44th president of the United States. She told Hannity the episodes were screened for months and they also held pre-screenings, and no one ever mentioned that Satan resembles the president.
"I will be honest," Hannity said. "I was sitting next to my wife and we were watching, and as soon as that picture came up, we looked at each other and said, 'that looks like Obama.'"
Appearing a bit uncomfortable discussing the controversy, Downey said she was hopeful that everyone would be talking about Jesus. "My heart sank to wake up that morning and everybody was talking about Satan."
Hannity also asked Downey, who believes miracles were taking place on the set during filming, to share a few of the stories with his viewing audience.
She explained that prior to filming particular scenes, especially the crucifixion sequence, they asked everyone on set to pray "that it would be safe and go off smoothly."
"We had a man on the set whose job it was to clear snakes and scorpions," she said. "And maybe he cleared one or two a day," from the back of the set. On the morning the crucifixion sequence was filmed he cleared 48 snakes from the foot of the cross."
Downey added that she believes "the real miracle has been how people are responding" to the number one series on cable television. "People's lives are being touched. People are excited. People are in conversation everywhere about the Bible, around the water cooler, and more importantly, around the kitchen table."
She noted that the miniseries gives parents an "entry point" to talk about faith and God with their children and family members.
"I think people are hungry for hope, they're hungry for purpose, they're hungry for God," she said. "Clearly, the central message in the Bible is a story of love and hope and redemption."
Downey, who plays the role of Mary, Jesus' mother, in "The Bible," said she "hopes families will join together and experience the miracle of Easter" on Sunday.