Rudy Giuliani Changes Tone in Op-Ed: 'I Didn't Mean to Question Obama's Motives or Content of His Heart'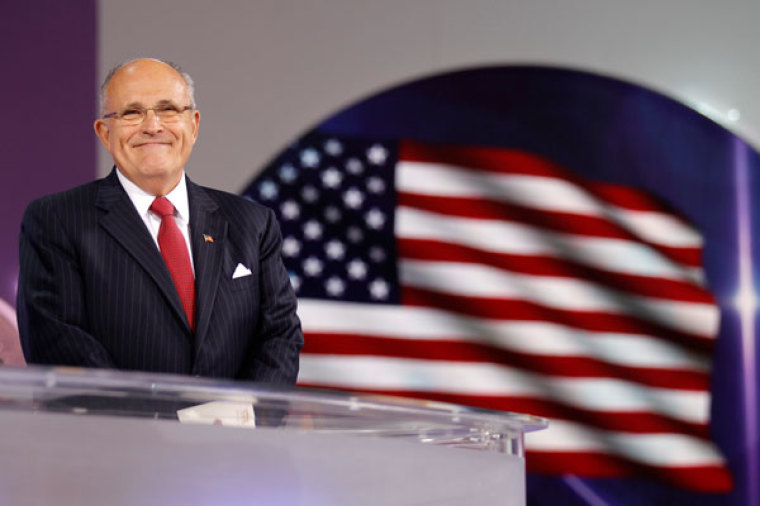 Former New York mayor Rudy Giuliani issued a statement somewhat apologizing for his remarks about President Barack Obama's lack of love for America, saying that he never meant to question the president's "motives or the content of his heart."
"My blunt language suggesting that the president doesn't love American notwithstanding, I didn't intend to question President Obama's motives or the content of his heart. My intended focus really was the effect his words and his actions have on the morale of the country, and how that effect may damage his performance," Giuliani wrote in a Wall Street Journal op-ed on Sunday.
Giuliani came under fire for saying that Obama did not have love for America or its citizens during a speech at a dinner in Manhattan last Wednesday. He said that he received death threats over his remarks, but CNN was not able to confirm that allegation.
"I do not believe, and I know this is a horrible thing to say, but I do not believe that the president loves America. He does not love you. And he doesn't love me. He wasn't brought up the way you were brought up and I was brought up through love of this country," the former mayor said.
He then went on "The Kelly File" the following evening to defend his remarks and pointedly said that he did not want to apologize for his opinion.
"I want to repeat it," Giuliani said. "The reality is, from all that I can see of this president, all that I've heard of him, he apologizes for America, he criticizes America. This is an American president I've never seen before."
However, Giuliani seemingly softened his stance in the op-ed, noting that he did not bear the president ill will and even complimented Obama for his "inspiring" journey to the White House.
"Obviously, I cannot read President Obama's mind or heart, and to the extent that my words suggested otherwise, it was not my intention … I bear him no ill will, and in fact think that his personal journey is inspiring and a testament to much of what makes this country great," Giuliani wrote.
His words launched a national discussion about Obama's love of country. Presidential hopeful Scott Walker, who was at the dinner where Giuliani made his comments, told the press that he "honestly" didn't know whether Obama loved the country or not. Another presidential hopeful, Marco Rubio, agreed with Giuliani's assessment, while Jeb Bush said in a statement that he didn't "question President Obama's motives" but his "disastrous policies."