'Run Ben Run', Super PAC Formed to 'Draft' 'Gifted Hands' Neurosurgeon Benjamin Carson for President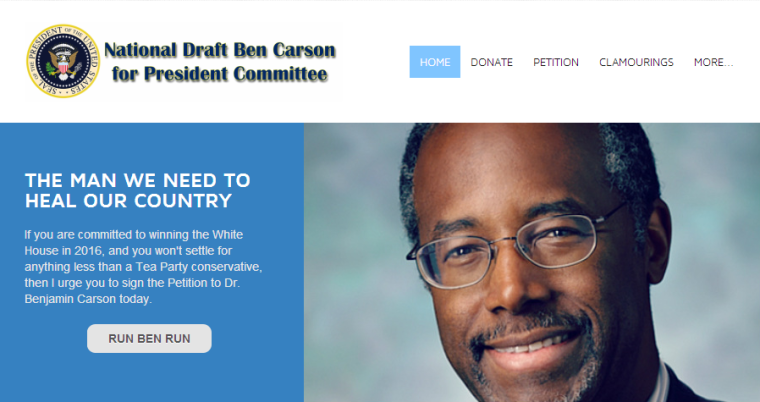 A super PAC charging that no 2016 Republican presidential ticket can win without him on it, recently registered with the Federal Election Commission to encourage retired rock star pediatric neurosurgeon, Benjamin Carson, to run for president.
Billed the "National Draft Ben Carson for President Committee," John Philip Sousa IV, the great-grandson of the "Stars and Stripes Forever" composer, is listed as its national chairman. The PAC is also collecting signatures on its website, RunBenRun.org, seeking to convince Carson to throw his hat into the presidential fray for 2016.
Branding Carson as "the man we need to heal our country," the website announces on its homepage that: "If you are committed to winning the White House in 2016, and you won't settle for anything less than a Tea Party conservative, then I urge you to sign the Petition to Dr. Benjamin Carson today."
In making the case to potential Carson supporters, Sousa charges in a letter on the website that: "If you and I don't back a sure winner like Ben Carson, they (Democrats) will divide and conquer, and the result will be another loser like McCain or Romney."
"Please don't get me wrong," he continued in qualifying his comment. "I have no personal animosity for Senator McCain or Mitt Romney. They are both decent, well-intentioned men, but if we continue to nominate men like them, why should we expect to win on Election Day?"
"I am convinced that Ben Carson can win. In fact, I am convinced that no 2016 Republican ticket can win without Ben Carson on it," declares the PAC's campaign director Vernon Robinson. "Only Ben Carson can get enough black votes to keep the Democrats from winning the White House."
Vouching for Carson's conservative roots as "bone deep," Robinson also touted Carson's courage.
"Ben Carson believes in the America of our founders. They believed that men who served in public office should see it as public service. That's the way Ben sees and it's why he wants to be drafted. Ben Carson doesn't need to be President. But, he has made it clear he is willing to serve," noted Robinson.
The text of the petition to Carson on the PAC's website notes: "You said that if the American people were still 'clamoring' for you to run for president, you would seriously consider doing so. Well, I'm clamoring for you to run for president of the United States."
"…Today, America needs a president who is committed to the U.S. Constitution, who has solutions for our debt crisis, and who will bring harmony to our nation. I believe you are that person. Please become a candidate for president of the United States. You can count on my support and prayers," it adds.
Asked about the efforts of the super PAC in a Fox News interview, however, Carson replied: "I love John Philip Sousa music. But I am not going to interfere one way or another, as I've said before. I believe that God will make it clear to me if that's something that I'm supposed to do. It's not something I particularly want to do. I find life outside of politics much more appealing."