Russell Brand Once Believed He Was 'Second Jesus'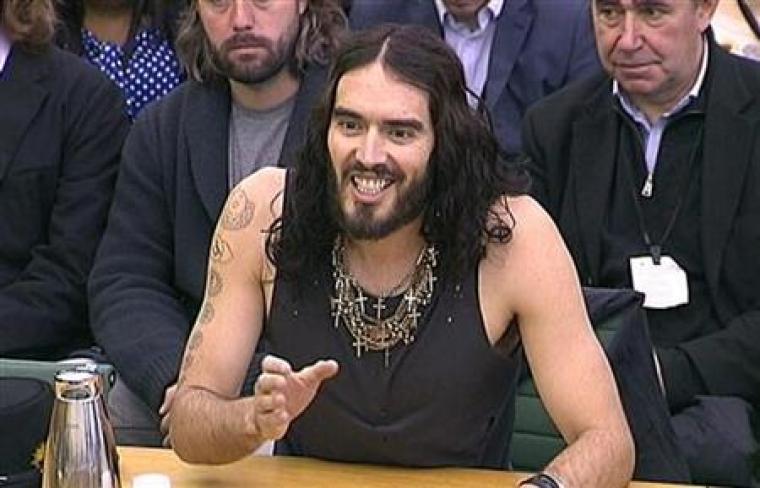 Years after presenting his 2013 stand-up comedy special "Messiah Complex" to the world, the ever eccentric Russell Brand's latest project reveals that he once believed he was actually Jesus Christ.
Brand, the 40-year-old British actor, is the subject of filmmaker Ondi Timoner's new documentary entitled "Brand: A Second Coming." In the film, which is now being boycotted by Brand, his friends and family, the comedian's mother Barbara is shown talking about how her son had a messiah complex at a young age.
Timoner quoted Barbara Brand in the Daily Mail: 'Russell came into my bedroom and he said that he was the second Jesus. He was very upset that I didn't believe him. … But that's not a normal thing for a son to say, is it?'
While Brand has yet to make public claims that he is the second coming of Jesus Christ, "Messiah Complex" spends plenty of time discussing the Saviour. Before a performance at the Sands Bethlehem Event Center in Pennsylvania during the run of that show, Brand spoke about the impact that Jesus has on people.
"It's an interesting space he occupies culturally," the comedian said in a lehighvalleylive.com report. "He really alters, depending on who is using him as a sign."
In "Messiah Complex," Brand speaks about other historical figures, including Che Guevara, Gandhi, and Malcolm X. The comedian said that Jesus was the most fascinating of them all and labeled Him "an ultra-liberal, possibly communist, anti-wealth and pro-revolution" when speaking to Leighvalley Live.
Last year, Brand denied having a messiah complex when he spoke to late night talk show host and fellow comedian Jimmy Fallon.
"Oh no, that's where you think you might be Jesus, ohhhh, no, I don't have a messiah complex," Brand told "The Tonight Show" host before explaining his "Messiah Complex" show. "I talk about people like Malcolm X, Che Guevara, Gandhi and Jesus, and what made them such splendid fellows."
Brand went on to explain what he thought about each figure who became subjects of his show.
"Gandhi, he was nice. Malcolm X, what a good guy, Che Guevara, all worked very hard and did some great things for ordinary people, encouraged ordinary people to rise up and face corruption wherever they found it," Brand previously told Fallon. "So that's a good thing in these corrupt times."
Although he did not speak negatively about Jesus to Fallon, Brand has publicly questioned if the Bible is actually the infallible Word of God.
When speaking to members of the Westboro Baptist Church on his former FX talk show "Brand X," Brand said he believed the Bible was more of a symbolic text than the divine Word of God.
"Have you considered that the Bible, like all religious doctrine, may be allegorical and symbolic to direct us towards one holy entity of love as opposed to a specific … text to direct the behavior of human beings?" Brand said on his show in 2012. "The Bible wasn't specifically written by a cosmic entity! It was written by people! The Holy Spirit ain't got a pen!"