Russell Moore Says Planned Parenthood Videos 'Shock the American Conscience,' Expose 'How Deep the Darkness' Goes
Russell Moore Says Planned Parenthood Videos 'Shock the American Conscience,' Expose 'How Deep the Darkness' Goes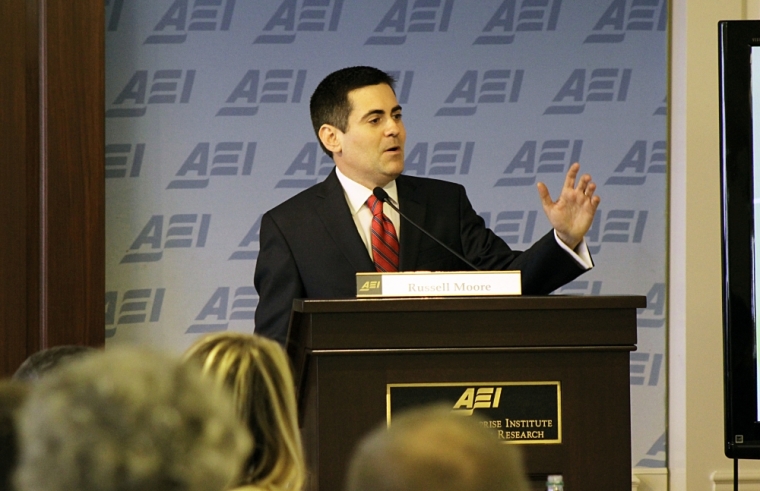 Russell Moore, president of the Southern Baptist Convention's Ethics & Religious Liberty Commission, has said that the Planned Parenthood videos exposing employees discussing the sell of aborted babies' body parts have "shocked the conscience" of those who have seen them, and expose "how deep the darkness" of the abortion industry goes.
"The Planned Parenthood videos have shocked the conscience of those who are watching them," Moore said in a video for The Gospel Coalition.
"[The videos] are telling the American conscience 'this is what you're doing to innocent, vulnerable, unborn neighbors.'"
Moore said he hopes the outcome of the public outrage directed at Planned Parenthood is not only that the organization will lose funding, but also that "we start to change and form conscience to do away with the violence of abortion. Where we will care for women in crisis pregnancies in non-violent ways, and in which we will learn to welcome children as the blessings that come from God."
He also said that he hopes "we will learn to recognize how deep the darkness is here. This is a spiritual situation," he said, and then paraphrased part of John 1:5, saying "but the light has come into the darkness, but the darkness has not, the darkness cannot, the darkness will not overcome it."
Back in July, Moore wrote that he initially assumed the video of a Planned Parenthood doctor discussing the sell of aborted babies' body parts was a hoax, but then was left "speechless" after pro-life leaders confirmed the accuracy of the video.
"If this does not shock the conscience, what will?" Moore asked in the July article. "It is not only that infants, in their mother's wombs, are deprived of their lives, but also that their corpses are desecrated for profit. This is not only murderous; it is murderous in the most ghoulish way imaginable."
Other conservative figures, such as ordained Southern Baptist minister and GOP presidential candidate Mike Huckabee have also expressed their shock at the Planned Parenthood revelations.
"Planned Parenthood has proven to be a repulsive, revolting, stomach-churning enterprise that should be prosecuted to the fullest extent of the law. Destroying innocent human life and harvesting human organs is beyond barbaric — it is unimaginably immoral, grotesque, and evil," Huckabee said in July.
As many as six videos from anti-abortion group The Center for Medical Progress have been released featuring Planned Parenthood workers discussing harvesting babies' organs and tissue.
Eric Ferrero, vice president of communication for Planned Parenthood Federation of America, has argued that the videos are distorted and do not present an accurate picture of the organization's practices.
"Planned Parenthood follows all laws — period. This latest video is part of a fraud intended to deceive the public and advance an extreme political agenda, and nothing on this video substantiates false claims from anti-abortion activists," Ferrero said in a statement on Wednesday.