Russell Wilson Spends Memorial Day in Mexico With Ciara and Son Future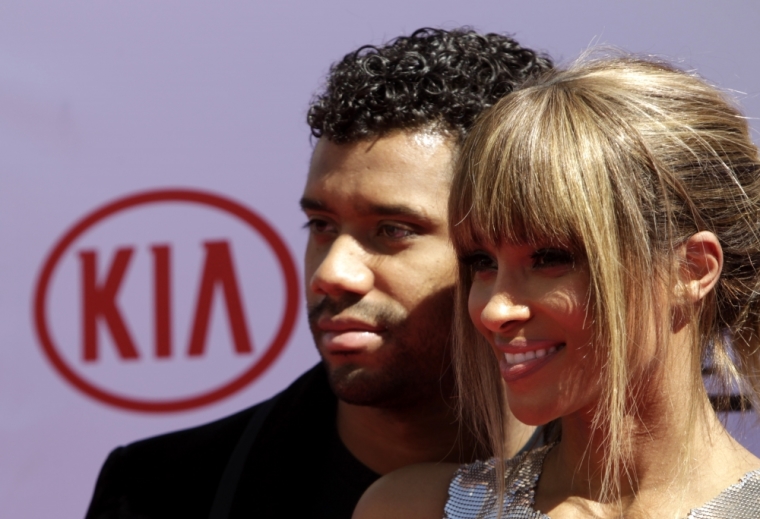 Seattle Seahawks quarterback Russell Wilson says he is blessed to have spent time with his new family on Memorial Day.
Wilson, 27, flew to Mexico with his R&B singer fiance Ciara Harris and her 2-year-old son, Future Zahir Wilburn, for a Memorial Day weekend getaway.
"Blessed and Grateful for these two," Wilson captioned a Twitter photograph of his family. "Best Memorial Day Weekend #FamilyTime."
Ciara, 30, also took to her social media accounts to post images of the trio on vacation where they enjoyed playing golf and basketball. It should come as no surprise that Ciara and Wilson decided to take the toddler along for their vacation.
Although the 2-year-old is the son of rapper Future, whose real name is Nayvadius DeMun Wilburn, Wilson has grown close to the young boy over the past year. On Mother's Day he wrote a special note about his affinity for the toddler and his mother.
"Watching him grow over the past year and a half has been the most fulfilling and special things I've ever been around. He gets the purest and the sweetest love from you and to watch you be the woman and mom you are ALL the time," Wilson commented on Ciara's Instagram message.
"… No matter what the circumstances or situation … good or bad … brings me so much joy and most importantly him. He is so blessed to have you hold him and hug him and love him with so much pure and real love that he will have no limits to what God has in store for him."
Wilson ended his message giving glory to God.
"You both bring me pure joy and I can't wait to see him grow more and more into the loving, caring, kind-hearted man that he will be ... 2 years old! Wow," he wrote. "God is good!"
The Christian athlete proposed to his R&B star girlfriend back in March. When they announced their engagement on social media last month, Ciara glorified God for 27-year-old Wilson whom she believes is Heaven sent.
"I feel complete. God Is Good," Ciara tweeted Friday. "Grateful For You @DangRussWilson. You Are Heaven sent. I'm Looking Forward to Spending Forever With You."
When they initially began dating last year, the entertainer and athlete spoke about taking a vow of celibacy until marriage. During a public conversation at The Rock Church in San Diego, California, last July, Wilson revealed that he and Ciara would not be having sex before marriage after the athlete had a conversation with God.
As the May covergirl of Essence magazine, Ciara revealed that she prayed for God to send her a man like Wilson before they began dating.
"I remember telling my friend the kind of guy I wanted: a God-fearing man with a very fun spirit who loves kids and would really, truly care for me," the 30-year-old singer recalled as the May covergirl of Essence magazine. "I was very specific because I do believe you can have it all."