Russell Wilson, Comedian Joel McHale Pull Boeing 737 in Competition to Raise $24K for Seattle Children's Hospital
Russell Wilson, Comedian Joel McHale Pull Boeing 737 in Competition to Raise $24K for Seattle Children's Hospital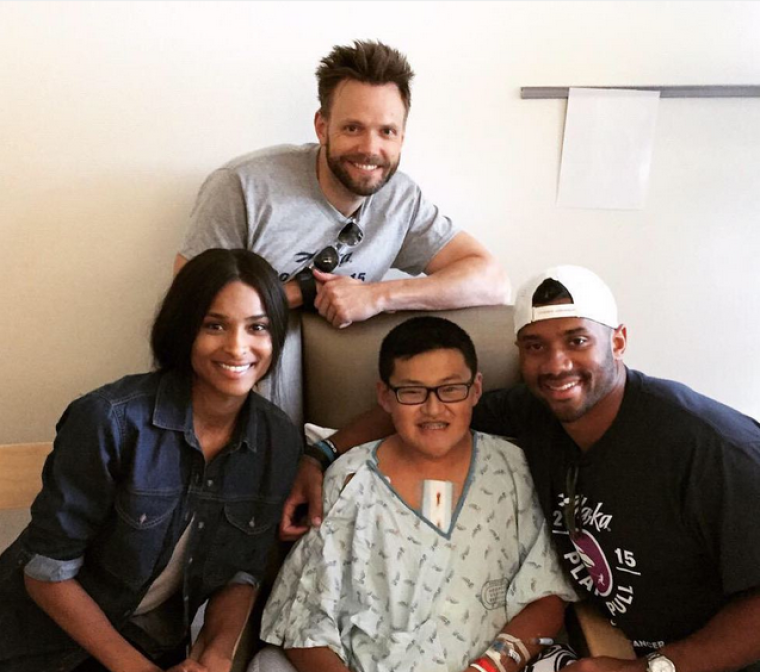 Seattle Seahawks quarterback Russell Wilson teamed up with comedian Joel McHale to raise $24,000 for children with cancer by towing a Boeing 737 airplane.
Wilson, the "team captain" in the initiative called "Strong Against Cancer" launched by the Seattle Children's Hospital and Research Foundation, competed against Seattle native McHale to tug a 92,000-pound Alaska Airlines 737-800 aircraft 25 feet.
Wilson and McHale, who grew up in Seattle, spent three weeks handpicking their teams out of members of Alaska's maintenance and engineering employees along with Washington residents on Alaska's Facebook page. Alaska's Mileage Plan members in the Seattle area purchased tickets to attend the event where they cheered on their celebrity team captains from the bleachers.
Fans voted for their favorite team by texting the words "TEAMJOEL" or "TEAMRUSSELL" to 501501 which would result in a $10 donation to Strong Against Cancer, according to Seattle Pi reports.
McHale, the 43-year-old who hosts the E! network show "The Soup," was able to get two chances to tug the airplane with the help of Wilson an his teammates which resulted in a time of 15.6 seconds during his second attempt. Wilson and his team, however, were able to successfully tug the airplane at a time of 16 seconds with one try and no extra help from McHale's team.
While Wilson was ultimately named the winner, the Seattle Children's Hospital ultimately came out of the competition with a $24,000 donation. Along with the money raised by both Washington celebrities, Alaska airlines also donated $175,000 to Strong Against Cancer.
Wilson was named Alaska Airline's Chief Football Officer in 2013 and has since teamed up with the airlines with community events and initiatives for Strong Against Cancer. On Tuesday, McHale also teamed up with Wilson and his singer girlfriend Ciara Harris to encourage children battling cancer at the Seattle Children's Hospital.
"So much fun visiting the tough and funny guy marques today @SeattleChildren Hospital With @DangeRusswilson and @JoelMcHale," Ciara shared on Instagram. "Together We're #StrongAgainstCancer. Let's Go!!"
Wilson also took to Instagram to share his experience at the hospital with his two fellow entertainers.
"Fun spending quality time with Jeremy @SeattleChildrens with Joel McHale," Wilson wrote.
Last year, the Seattle Children's Hospital and Research Foundation launched a $100 million initiative to support research aimed at curing childhood cancer. After Wilson signed on to be the "team captain" in the initiative, he explained why it was important for him to be involved in the effort.
"Annually, pediatric cancers receive less than 3 percent of the National Cancer Institute's budget, which is why it's so important for all of us to support initiatives like Strong Against Cancer," Wilson said last year. "The scientists working on immunotherapy have the treatment and the results to get us to a place where childhood cancer is no worse than a common virus. All that's needed now are the resources to bring it to every kid who needs it."