Russell Wilson Says He Trusted Call That Doomed Seahawks; Thanks God After Painful Super Bowl Loss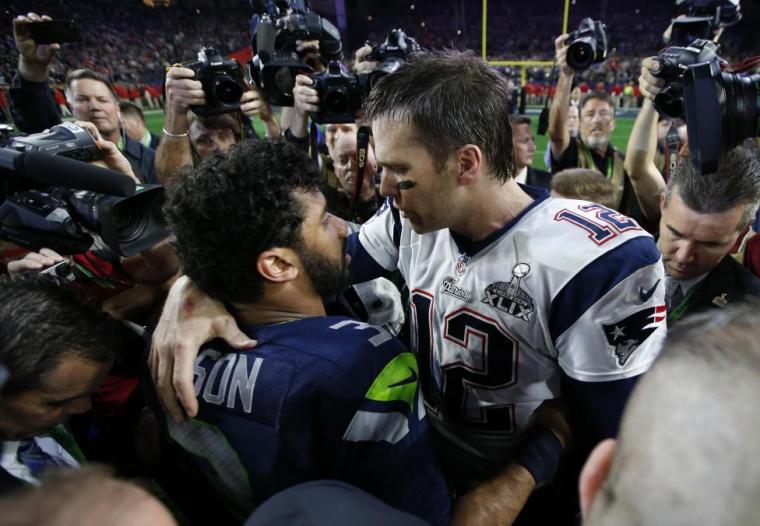 Seconds away from what would've been his second consecutive Super Bowl win Sunday, Christian Seattle Seahawks quarterback Russell Wilson made a play against the New England Patriots that Pro Football Hall of Famer Emmitt Smith thinks was triggered by "the worst play call I've seen in the history of football."
Just moments before, Seattle Seahawks wide receiver Jermaine Kearse had kept the team's championship hope alive with a spectacular catch that seemed to have made it their win to lose.
Everything unraveled painfully, however, when Wilson threw the ball from the doorstep of the goal line and instead of an expected run through, undrafted rookie Malcolm Butler, inspired by a "vision" of making a big play, picked the ball off and snuffed out all hope for the Seahawks, handing the New England Patriots a stunning 28-24 Super Bowl victory.
Football fans reacted in collective dismay embodied by Smith's social media comment in reaction to the Seahawks' decision to throw the ball in rather than running it through via running back Marshawn Lynch nicknamed "Beastmode" for his aggressive running style.
"That was the worst play call I've seen in the history of football," Smith noted in a Facebook post liked more than 100,000 times and shared nearly 9,000 times in just nine hours as of Monday morning.
Butler, whose dream-killing interception dejected Seahawks fans around the world said of the move: "I just had a vision that I was going to make a big play. And it came true and I'm just blessed. I can't explain it right now."
Wilson later told reporters that even though he's hurt by the loss and takes the blame for it, he trusted the play call that was made.
"I've watched a lot of games and been in a lot of games and it always hurts to lose no matter how you lose it. It doesn't matter how you win it. You just wanna score one more point than they do. There were so many things we could have done throughout the game I think just to solidify a potential win for us but it didn't happen for us," said Wilson.
"You could hand the ball to Marshawn, that's a great option. You can also throw it, which is a great option. We thought we had 'em. I thought I was going to make a touchdown when I threw it, when I let it go I thought it was gonna be game over. … When they called the call I just trusted it like I always do, and just trusted us, trust my instincts, trust the play and there wasn't really anything else that we could do," he added. "I put the blame on me. I'm the one that threw it. It's something you learn from, something you grow from."
Seattle Seahawks head coach Pete Carroll said of the loss: "That's a hard thing to take and I know that there's so many people on the outside, the 12s, the fans, the people that love us so much and follow us so closely. I hope they can only imagine how it hurts our players who have worked and put forth so much to be champions today. The coaches, the families and all that stuff. Everybody feels it."
In explaining what happened with the play he said: "All of the things that happened before [the play] are meaningless to you now. It's really what happened on this one sequence. We were gonna win the game. We have everything in mind. How we were gonna do it. We were gonna leave them no time and we had our players to do it."
Carroll added: "On second down we throw the ball really to kinda waste that play, if we score we do, if we don't then we'll run it in on third and fourth down. Really no second thoughts, no hesitation in that at all. Unfortunately, with the play that we tried to execute, that guy makes a great play and jumps in front and makes an incredible play that no one would think he could do. And unfortunately that changes the whole outcome."
On his Twitter page, Wilson quote Psalms and noted after the game: "Thank You God for the opportunity. We'll be back. ... I will never waiver on who He has called me to be. ... Thanks 12s #GoHawks."
On Monday morning he added: "Every setback has a major comeback. #GreaterIsComing."