Russell Wilson Uses His Baseball Talent to Help Kids Affected by Cancer, Domestic Violence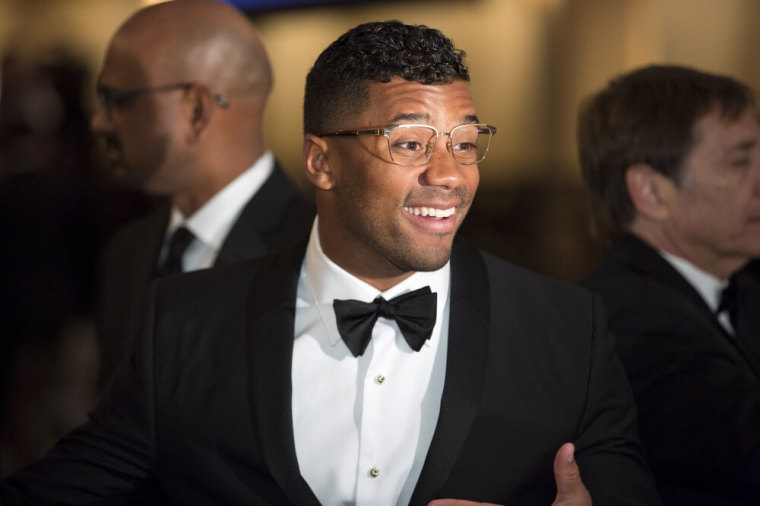 Russell Wilson is inviting his fans along for the ride as he combines two of his favorite pastimes – baseball and charity.
The Seattle Seahawks quarterback is throwing a pitch out at Seattle Mariners vs Los Angeles Angels game on September 2. The 27-year-old NFL star and philanthropist is urging people to buy a Mariners themed t-shirt for his Why Not You foundation.
"Join the Mariners and the Why Not You Foundation for Why Not You Night at Safeco Field," a statement on the Seattle Mariners website reads. "Purchase through this special offer and receive a Mariners Why Not You T-shirt and give $12 back to the Why Not You Foundation. Redeem your T-shirt (while supplies last) by bringing your ticket to Section 339 before the end of the 4th inning."
Wilson's Why Not You Foundation focuses on making changes in the lives of youth who may be affected by cancer or domestic violence situations. When speaking to journalist Maria Shriver about the charitable organization earlier this month, he explained his goal for the foundation.
"So many times we think about the big picture, but we miss the one individual," Wilson said on Shriver's blog. "If we can change one kid at a time, one heart at a time, one soul, one adult at a time, as a result of that, it ends up being a snowball effect."
While Wilson, a Super Bowl XLVIII champion, is known for his NFL accomplishments, his charitable work with the Mariners should come as no surprise to fans. The NFL star has an affinity for baseball after playing in college and being drafted by the Colorado Rockies in 2010, before playing in minor league affiliates of the team like the Asheville Tourists and Tri-City Dust Devils.
Wilson eventually decided to enter the NFL in 2012 but still never gave up on his baseball dreams, which was evident by him being acquired by the Texas Rangers in 2013 where he attended spring training.
The athlete previously revealed that he had a dream to play two sports.
"I've always had the dream of playing two sports. If somehow it was a miracle that it could work out, I'd consider it," he said in a Washington Times report. "At the same time, my focus is winning the championship with the Seattle Seahawks, and I hope to be playing for a long time."