Russians Protest Putin Ahead of Election; Opposition Leader Detained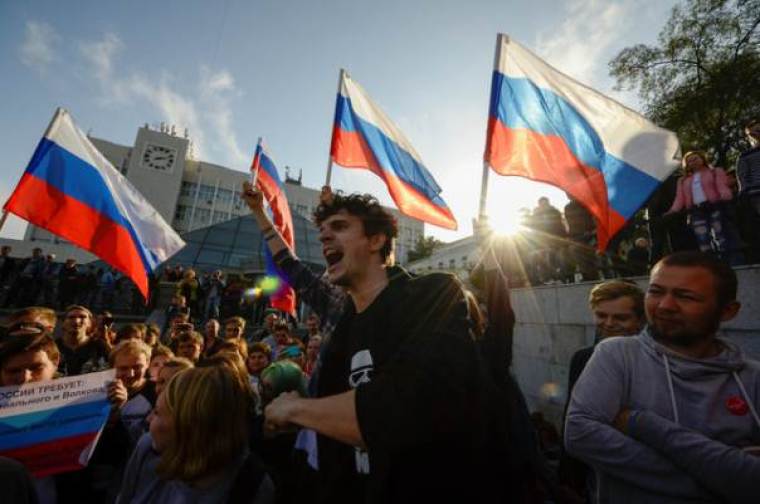 After several protest rallies were held across Russia, including in Moscow, against President Vladimir Putin to boycott presidential elections in March, authorities detained opposition leader Alexei Navalny and raided his property.
The protests were held in more than 100 cities across the country for a free and fair election and for an end to President Vladimir Putin's nearly two-decade-long rule, according to The Moscow Times.
Protesters in Moscow gathered on Sunday at Pushkinskaya Square in the city's center, which is close to the Kremlin.
The election is scheduled for March 18, and if Putin wins, which is expected, his presidency would be extended for another six years.
More than 180 people were detained across the country during the protests, according to BBC.
"I am ready to be shot if it comes to it," a 27-year-old protester was quoted as saying. "I understand the possible consequences … Governments only work for the people if they are held accountable."
"I don't see any other way to register my protest," another protester was quoted as saying by Bloomberg. "The elections aren't elections. That's what we came here to say."
Demonstrations were called by Navalny, who termed the protests as a "voters' strike." The opposition leader was detained as he was leaving for a demonstration, and later released.
"I've been detained. That doesn't matter. Come to Tverskaya. You're not coming out for me, but for yourself and your future," Navalny tweeted after his arrest.
Russian police also raided Navalny's anti-corruption organization in Moscow.
Russia's Central Election Commission last year voted to bar the opposition leader from contesting the election due to a criminal conviction, which he says is politically motivated. If allowed to run, he would beat Putin, his supporters believe.
"It's absolutely clear that the most important thing that any person can do now is to go and protest," Navalny wrote on his blog before Sunday's demonstration. "Because that's the only path open to us in Russia, where we're kept out of elections and the media and you can't win in court."
U.S. Sen. John McCain, a Republican from Arizona, responded to the protests in Russia.
"Inspiring to watch the Russian people stand up for their rights despite the odds. #Putin's dictatorship can run a sham election, but it can't silence the Russian people. #RussiaWillBeFree," he wrote on Twitter.
McCain also called for the release of Russia's opposition leader. "The Kremlin should immediately release Alexei Navalny, those arrested during the recent demonstrations, and all political prisoners. #Putin seeking 'reelection' like the dictator he is," he tweeted.