Saddleback Church to Celebrate 35 Years of Ministry at Angel Stadium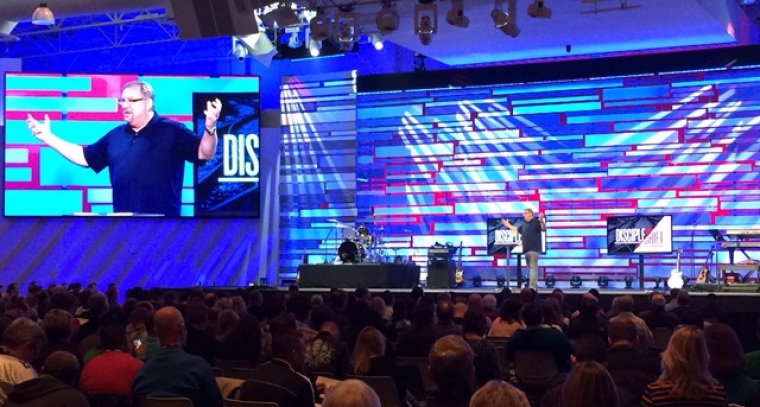 Pastor Rick Warren's multi-site megachurch will soon celebrate its 35th year of ministry at the Angel Stadium in Anaheim, California.
Saddleback Church, an influential congregation that boasts 14 campuses on five continents, will hold a community-wide service on Saturday celebrating the milestone.
In a statement released Wednesday, Pastor Warren said that he and his congregation "thank God for 35 years of blessing our church."
"Together we are going to remember how God has led us in the past and imagine how God will guide us in the future as we respond to His leading for our next season of ministry," stated Warren.
"The Bible says over and over again, we are to remember. The reason we remember the past is not to dwell on it, but to build our faith for the future."
David Chrzan, chief of staff at Saddleback, told The Christian Post that the service and the birthday for the ministry was "really exciting."
"We're thrilled that one we can celebrate 35 years of our church family, we get to celebrate the past, and see what God has done in our past," said Chrzan.
"We get to celebrate our present, that we're one big family and we get to celebrate and build an excitement about where we're going in the future."
This is the third time that the Angel Stadium located in Anaheim has been the site of a major gathering for the evangelical congregation.
Chrzan noted to CP that one of those occasions was Saddleback hitting the quarter century milestone for its ministry and impact on the broader community.
"We did it the first time at our 25th anniversary and it was at that point in time, which was ten years ago, that was the first time in over 20 years as a church where we were all in one place at one time," said Chrzan.
"The number of campuses that we have and the excitement that is building and the favor that we see God has placed on Rick and Saddleback; it's an opportunity for us to celebrate again and look forward to what's going to happen over the next decade."
When asked by CP about what it will take for Saddleback to be around for another 35 years or more, Chrzan replied that "we have to keep doing what were doing."
"That we would help them come to know Jesus and become a member in this church family, grow to Christ-like maturity, find a place of service in ministry, understand their purpose or mission in the world, and do that all to the glory of God," said Chrzan.
"That is our mission that has driven us. It's the process that we use and we just have to keep getting better at it."