Saddleback Pastor Rick Warren Visits Rwanda to Advance PEACE Plan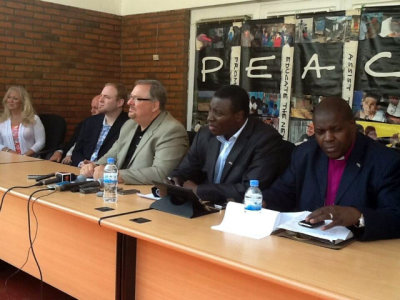 California megachurch Pastor Rick Warren was in Rwanda this week and encouraged residents of the Central-East African country "to be a nation of purpose, dignity and hope," as he met with local leaders helping to advance his PEACE Plan and Purpose Driven Church initiatives.
A website titled "PEACE in Rwanda," linked to Warren's The Peace Plan website, shared several images and updates regarding the Saddleback Church pastor's travels around the country that started on Tuesday, Aug. 27.
In addition to a rally held in Kayonza District that saw hundreds turn out, Pastor Warren joined more than 200 local ministry leaders in Musanze in the northern province to teach them "how to build a healthy church to change the community it serves," according to the Rwanda PEACE Team's updates. That region reportedly also saw 2,000-plus residents turn out for a separate community rally.
Warren's PEACE Plan was developed several years ago in an effort to encourage Christians worldwide to unite to combat what the Lake Forest, Calif., pastor and The Purpose-Driven Church author calls the five giant problems facing the globe: spiritual emptiness, self-serving leadership, poverty, disease, and illiteracy.
The PEACE Plan strategy is to equip and sustain networks of local churches and Christians to further: plant churches that promote reconciliation; equip servant leaders; assist the poor; care for the sick; and educate the next generation.
It was in 2005 that Warren was officially invited by the government of Rwanda to help the country in its efforts to become self-sufficient after years of genocide, according to a report from Time magazine. Since then, Warren and volunteers have been using his PEACE Plan and Purpose Driven Church ministry model to help fulfill that mission. The Purpose Driven Church model suggests that worship, fellowship, discipleship, ministry and mission should be the primary focus of Christian churches.
In Rwanda, Warren reportedly congratulated more than 200 local pastors for successfully completing a three-year training based on The Purpose Driven Church, as he spoke before hundreds more from various denominations.
As part of his PEACE Plan initiative, Warren and his team from Saddleback Church have focused on certain locations around the world to establish "12 global (Saddleback) churches to live out the Great Commandment and Commission in 12 key cities and all unreached people groups by 2020."
"We will plant a base church in each of these 12 cities which will resource PEACE teams from many churches over the next few years," according to a statement from The PEACE Plan website. Cities in Asia (Hong Kong, Bangalore), Europe (London, Moscow) and South America (Buenos Aires) were included on the list of "Gateway Cities." Saddleback Hong Kong appears to be the first of the 12 targeted cities that is set to officially launch, reportedly in early October.
The Christian Post was unable to gather further information from Warren's representatives, but a note from Rwanda's National Youth Council suggests that the megachurch pastor would be participating in a local youth conference being held on Aug. 31.
The "PEACE in Rwanda" website published a series of embeddable photos via its SmugMug page documenting Warren's travels through the country. Three of the images can be viewed below. The photos show Pastor Warren arriving to join hundreds of Rwandans at "the first nationwide rally in Kayonza District."