Safe Sex Guide Uses 'Front Hole' as Alternative to 'Vagina' to Not Offend Transgenders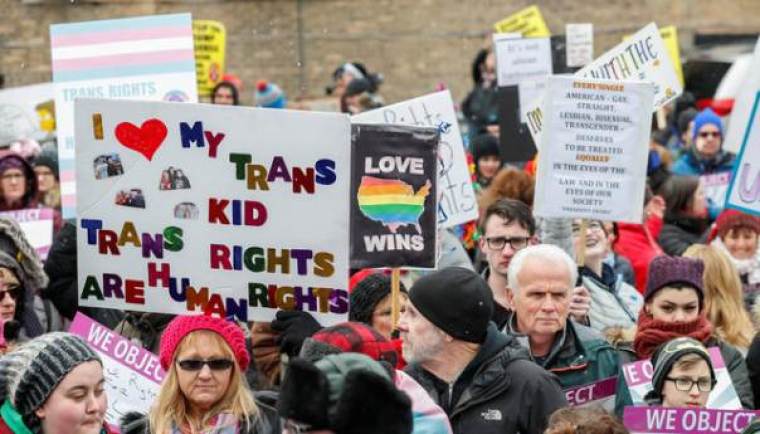 One of the nation's leading online health websites says while it's not replacing the word "vagina" with the term "front hole," it does recommend using the term as a way to not offend transgender people. 
Healthline, a popular San Francisco-based online competitor to WebMD, has received much media attention in recent days after it released an LGBTQIA Safe Sex Guide in partnership with the LGBT lobbying organization GLSEN and Advocates for Youth.
In many places the guide used the words front hole instead of vagina and presents it as an alternative term "for readers to use for their genitals."
The phrasing appeases some transgender men who prefer such language to refer to their biological anatomy and the guide notes that some transgender women prefer the terms "strapless" or "girl dick" for penis.
"This usage is meant for one-on-one communication with trusted persons, such as your doctor or partner, not for broad discussion," the guide explains.
On Tuesday, the organization posted a statement clarifying that the terminology found in the new guide doesn't mean that Healthline is now using the term front hole instead of vagina across its website.
"In the LGBTQIA Safe Sex Guide, we use both front hole and vagina," the statement reads.
The term front hole is mentioned 16 times in the guide while the word vagina is mentioned 17 times.
'"Front hole' is one of the numerous, accepted terms for genitalia we use specifically for certain members of the trans community who identify with it," the statement adds. "In no instance in this guide are we saying we want to replace the word vagina."
The statement justifies the use of front hole by stating that it's terminology accepted by the National Institutes of Health, LGBT advocacy group Human Rights Campaign, BMC Pregnancy and Childbirth journal and Fenway Health in collaboration with Harvard Medical School.
"In addition to scientific, clinical terminology, we also use unbiased, inclusive, and contemporary terms in order to best serve all our readers," the statement reads. "The LGBTQIA Safe Sex Guide was created for a specific audience. Nothing in the article indicates we're endorsing a change in verbiage."
"It's clear in its purpose to present unbiased, expert-backed content toward health seekers in the LGBTQIA community," it adds. "Simply put, our purpose in creating this guide was to provide safe sex information for those who are so often left out of this conversation."
Among other things, the guide criticizes the fact that sex education has historically focused on "puberty education for cisgender people, heterosexual sex, pregnancy prevention, and reduction of sexually transmitted infections (STIs)."
"This historical context and rampant homophobia and transphobia created a foundation where most sex education curricula didn't acknowledge the existence of LGBTQIA and nonbinary individuals," the guide states. "Sex education programs were, instead, developed based on the assumption that those receiving the information were solely heterosexual and cisgender."
The document argues that a "safer" safe-sex guide is needed because "traditional safe sex guides" presume that everyone's gender is the same "as the sex they were assigned at birth."
"These guides also often unnecessarily gender body parts as being 'male parts' and 'female parts' and refer to 'sex with women' or 'sex with men,' excluding those who identify as nonbinary," the guide asserts. "Many individuals don't see body parts as having a gender — people have a gender."
The Healthline guide decries the notion that a penis is "exclusively a male body part" and that a vulva is "exclusively a female body part," claiming that such a notion is "inaccurate."
"By using the word 'parts' to talk about genitals and using medical terms for anatomy without attaching a gender to it, we become much more able to effectively discuss safe sex in a way that's clear and inclusive," the guide stresses.
The guide comes as there has been a trend of trans-inclusive and gender-neutral terminology initiatives taking place across the medical and academic fields.
Last year, the British Medical Association released guidelines stating that doctors should avoid the word "mother" when referring to pregnant moms in labor and refer to the patients as "pregnant people."
The BMA document is called A Guide to Effective Communication: Inclusive Language in the Workplace.
"A large majority of people that have been pregnant or have given birth identify as women," the guide states. "We can include intersex men and transmen who may get pregnant by saying 'pregnant people' instead of 'expectant mothers."
In a Virginia school district in the suburbs of Washington, D.C., a school board voted to scrub the term "biological sex" from high school and middle school sex education curriculums and replace it with the term "sex assigned at birth."
Parents who spoke out about the proposal accused left-leaning lobbying groups of having too much influence with the left-leaning school board.
Even online, users of the world's largest social media site Facebook are presented with over 70 different options to choose from when it comes to selecting their gender.