Saint or 'Brutal Colonizer' of Native Americans? Catholics Debate Canonization of 'Flawed but Heroic' 18th Century Franciscan Friar Junipero Serra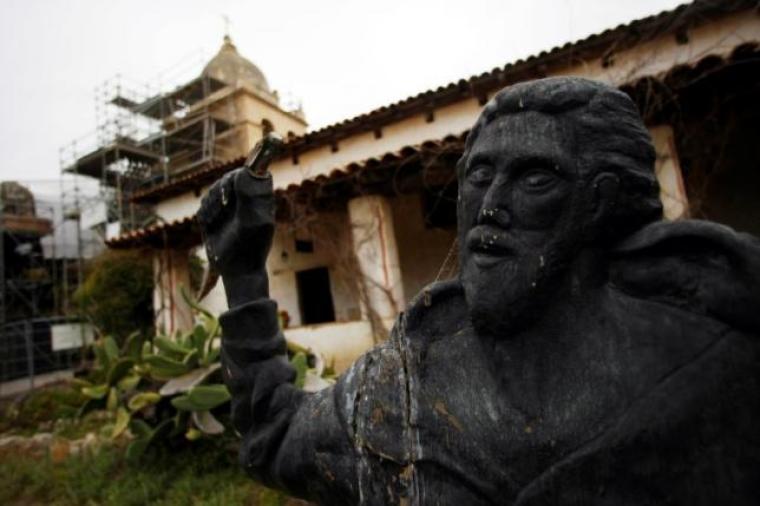 Roman Catholic clergy discussed at a panel earlier this week the upcoming canonization of 18th century Franciscan Friar Junipero Serra, with some of the panelists arguing that his depiction as a "brutal colonizer" by Native Americans should not discount the good work that he did.
"He made a lot of mistakes, but he was a man of his time. He was flawed but heroic," said Franciscan Father Joe Nangle, according to Catholic News Service.
Serra founded over 20 Spanish missions in California in the latter half of the 18th century, and focused his work on converting the natives and integrating them into Spanish society.
Some Native Americans have labeled Nangle as a "brutal colonizer" who suppressed the natives' culture, however, and have called on the Vatican to rethink his upcoming canonization.
Fox News Latino added that although the church has presented Serra as a great evangelizer and a model for today's Hispanics, many Native Americans say that the missionary's actions enslaved converts and brutally imposed Christianity on them.
Deborah A. Miranda, an Ohlone Costanoan Esselen Indian and an American literature professor at Washington and Lee University in Lexington, Virginia, told The New York Times in January that "Serra did not just bring us Christianity. He imposed it, giving us no choice in the matter. He did incalculable damage to a whole culture."
Nicole Lim, the executive director of the California Indian Museum and Cultural Center in Santa Rosa, added that if Serra is elevated to sainthood "then he should be held responsible for the brutal and deadly treatment of native people."
Pope Francis has given his backing to the canonization, however, and scheduled the ceremony for Sept. 23 at the lawn of the Basilica of the National Shrine of the Immaculate Conception in Washington. The pontiff has called Serra "the evangelizer of the West in the United States" and has praised his commitment to helping the poor.
Father Henry Sands, a member of the Ojibwe, Ottawa and Potawatomi tribes and head of the Native American efforts of the Secretariat of Cultural Diversity in the Church for the U.S. Conference of Catholic Bishops, acknowledged that many in the native community feel uneasy with Serra's scheduled sainthood.
Sands said that many in the community feel things "were not right" in the way Native Americans have been treated in the past, and see Serra as a representation of that mistreatment.
The priest asserted that some of the criticism of Serra "has been overblown," but also said the canonization should be an opportunity for Native Americans to express their frustration. He added that it also represents a chance for Christians to reflect on how to reach out to Native Americans.