Will Gov. Sam Brownback Leave Kansas for Trump State Dept. Religious Freedom Post?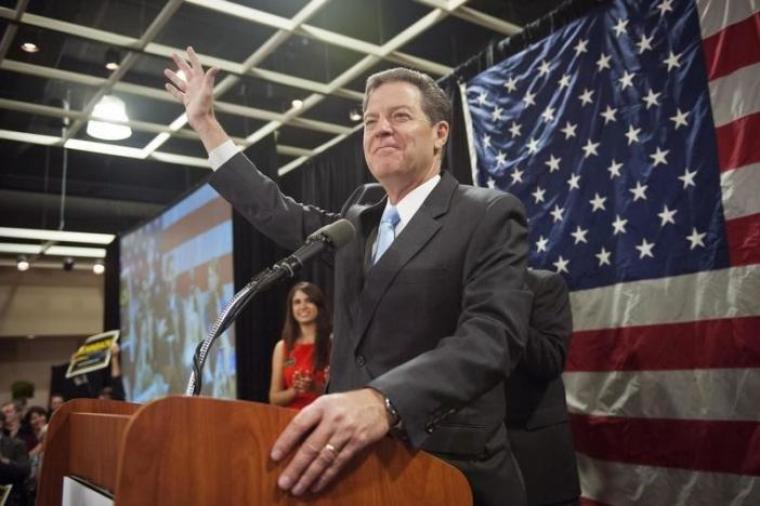 Kansas Gov. Sam Brownback didn't deny rumors on Thursday that he could to be nominated by President Donald Trump as the next ambassador for international religious freedom and wouldn't say whether he plans to complete his term as governor.
Reports and rumors have circulated for the past few months indicating that Brownback, a Republican and former U.S. senator, is in talks for some kind of job within the Trump administration even though his second term as governor doesn't end until January 2019.
In March, it was reported that he could possibly be nominated for the role of U.S. ambassador to the United Nations for food and agriculture in Rome.
But in early May, World magazine reported that advocates who follow the issue of international religious freedom were praising growing speculation that Brownback, a sitting governor, will become the next ambassador at-large for international religious freedom.
Johnnie Moore, a prominent religious freedom advocate and member of the Trump evangelical advisory board, told The Christian Post this week that he has also heard the rumors that Brownback will be tapped as the next ambassador, a job in which Moore is also reportedly being considered as a candidate.
"I have heard the same rumors. Rumors are rumors," said Moore, who's an advisor to CP. 
On Thursday, Brownback chose not to address the rumors of him possibly leaving the governor's mansion for a job in the Trump administration. He was pressed on the issue by a local NBC television news crew while he was participating in a ribbon-cutting ceremony for a new soccer complex in Kansas.
Brownback, a term-limited governor, was explicitly asked if he could promise the people of Kansas that he will finish his second term.
"I am not announcing anything one way or the other," he responded.
"I've not made any comments about anything regarding the administration," Brownback was quoted as saying earlier in the interview. "But [there have been] rumors and rumors and rumors for a long time, so I just haven't made any comments, not going to make any comments."
Thomas Farr, who used to serve as the director of the Office of International Religious Freedom and also spent 21 years in the U.S. Foreign Service, also weighed in on the speculation in an interview with The Wichita Eagle.
"It's not on everybody's lips: Who's going to be the next ambassador for religious freedom?" Farr, the president of the Washington-based Religious Freedom Institute, said. "But among that rarefied group that does talk about this, I've had people say, 'I hear it's going to be Gov. Brownback.' "
"I have heard his name. I've heard other names, too, though," he said.
Brownback's communications director, Melika Willoughby, told CP in a statement that "Governor Brownback is focused on his continued efforts to make Kansas the best state in America to raise a family and grow a business."
Already, leading religious freedom advocates have commented on the possibility that Brownback will be nominated for the position.
"As a U.S. senator, Gov. Brownback was second-to-none in advocacy for persecuted religious minorities in places such as Sudan," Russell Moore, president of the Southern Baptist Convention's Ethics & Religious Liberty Commission, said, according to World. "A Brownback ambassadorship would make clear that the United States government takes seriously religious persecution around the world."
Johnnie Moore told CP that Brownback was "a champion of religious liberty" when he served in Congress from 1995 until 2011 and was at the center of the discussion related to religious persecution.
"I think a lot of people would have confidence that he would not only be in the right place on the issues but is a very experienced political figure," Moore said. "He knows his way around Washington, D.C. and that matters a lot."
"I think Brownback, [if the rumors are true], would be supported," Moore added. "It would say [the Trump administration] is very serious about [religious freedom]. You take an extraordinarily experienced politician and you put him in a job like that, that says that you mean business and you want to get stuff done. That would be a very positive signal, for a sitting governor to move from his governorship to a role like this role, that would be a very, very big deal."
Considering that the position went unfulfilled for the first two years of President Barack Obama's presidency, Moore said he didn't know when to expect Trump to make a nomination for the international religious freedom ambassadorship, but added that it is a "very live conversation."