Same-Sex Parents Get Angry, Bothered by Their Kids More Than Opposite-Sex Parents, Study Finds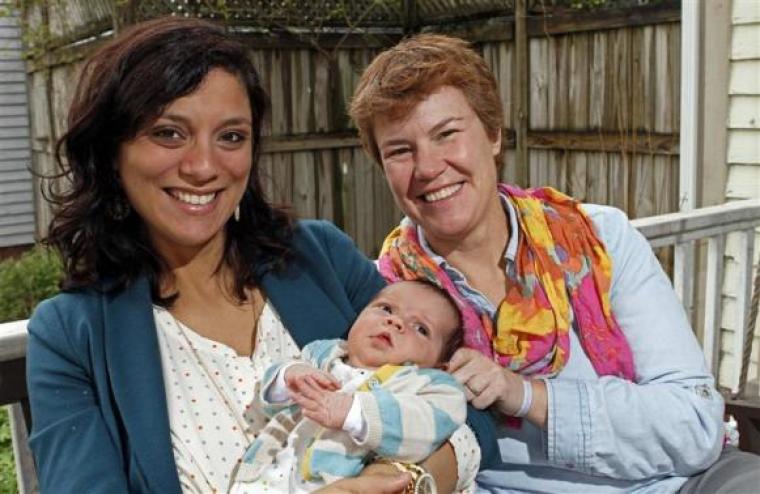 Mothers in same-sex parenting households are more likely to feel bothered by and angry at their children, and believe their children are harder to care for than most other children, according to an academic study.
"Same-Sex and Different-Sex Parent Households and Child Health Outcomes: Findings from the National Survey of Children's Health," was published in the April 2016 issue of the Journal of Developmental & Behavioral Pediatrics.
Based upon a survey using a nationally representative sample, the study compares 95 female same-sex parent households with 95 opposite-sex households. (That the same-sex parents are gay is assumed but was not confirmed by the authors.)
The parents were asked how often in the last month they, "Felt that their child is much harder to care for than most children his/her age," "Felt that their child does things that really bother you a lot," and "Felt angry with their child."
The same-sex parents were more likely to report such feelings, which the authors labeled "parenting stress," and the difference was statistically significant when controlling for other factors.
Despite that finding, the authors concluded that, "Children with female same-sex parents and different-sex parents demonstrated no differences in outcomes, despite female same-sex parents reporting more parenting stress."
But this conclusion is dubious, given the nature of the study, notes University of Texas associate professor of sociology Mark Regnerus.
There are three main problems with arguing that there are no differences between gay and straight parents based upon this study, Regnerus wrote for The Public Discourse: 1) the authors didn't look at many important measures related to child well-being (even though the measures were available), 2) the sample is too small to draw such a conclusion, and 3) the data is based on interviews with the parent rather than actual outcomes of the children.
First, the authors didn't include "school progress, problems in school, participation in sports and recreational activities, volunteering, sleep, exercise, media consumption, reading, depression, bullying behavior, and all but one of five different measures of flourishing," Regnerus wrote.
All of these measures were available to the authors and would have provided a fuller picture of the outcomes of the children.
Second, with only 95 same-sex parents in the study, any differences would be difficult to find in the first place.
One of the biggest problems of gay parenting studies to date is there are few gay parents. So, nationally representative samples don't find many same-sex parent households.
The survey upon which this study was based started with a sample of 96,000 respondents. Out of that, the researchers were only able to find the 95 continuously-coupled same-sex parents.
Third, the study measures child outcomes by interviewing the parents.
"I am a big fan of speaking to independent sources — that is, the children — and doing so anonymously," Regnerus wrote.
Parents often instinctively think the best of their children. Additionally, a belief that gay parents are just as good as opposite sex parents has been used to justify gay marriage, so gay parents may have an additional incentive to accentuate the positive when answering a survey about their children's well-being.
Regnerus says the study was "rushed to publication" and is part of an effort to convince the public that the children of gay parents do just as well, on average, as the children of heterosexual parents.
As liberals often do with other issues, such as climate change, the study is being used to declare that there can be no more debate on this issue. An article on the study at the liberal website Slate announced, "The Scientific Debate Over Same-Sex Parenting Is Over."
This attitude reflects a deep misunderstanding of statistics, science and epistemology.
It's difficult to say anything conclusive based upon a sample of 95 people. Indeed, when Regnerus published his own study showing negative outcomes for the children of gay parents, he received a storm of criticism. One of those critiques was that his sample size was too small — a sample of 248.
Unlike the Slate article, Regnerus agrees its difficult to draw definitive conclusions from a small sample. In science, researchers must go with the best data they can get at the time, then continue working for more and better data. But they don't (or shouldn't) conclude that the science is settled in the interim.
Humans don't accumulate knowledge by declaring "the debate is over." If Albert Einstein had believed that Isaac Newton had settled the science on gravity, he never would've discovered the Theory of General Relativity.
The science of gay parenting is inundated with political pressure. Studies claiming to find "no difference" will be rushed to publication. If a researcher finds anything else, there will be attempts to censor their research and drive them from the academy, as Regnerus discovered.
In February 2015, a group of six academic psychologists, none of whom are conservative, wrote a report describing the problems associated with the anti-conservative and anti-Christian biases within the social sciences. They cite the Regnerus witch hunt in their examples.
"Even worse, some areas [of research] become walled off, and inquisitive researchers risk ostracism if they venture in," they described.
Regnerus does praise the current study for doing some things well. It uses a nationally representative sample, unlike many previous studies that purported to show no difference using non-random samples. Plus, unlike his own study, it focused on comparing continuously coupled households, rather than including divorced and remarried parents.
Despite the air of political correctness and closed-mindedness enveloping the study of gay parenting, there have been numerous studies showing negative outcomes for the children of same-sex parents, or advantages for children raised by their married, biological parents.
For instance,
A 2013 study found that children of gay and lesbian couples are less likely to graduate from high school, even compared to the children of single parents.
A 2013 neurobiological study found that fatherlessness harms the brain.
A 2014 Centers for Disease Control report found that children raised by their biological mother and father are much less likely to experience traumatic events.
A 2014 American Enterprise Institute report found that children raised by their married, biological mother and father are more likely to enjoy economic success and personal well being.
A 2015 study found that children of same-sex parents experience more distress than children of opposite-sex parents.
"People think I have it in for the LGBT community(ies)," Regnerus concluded. "I do not. I have it in for a science that refuses to proceed honestly, and instead shelters privileged groups — as it currently is doing — with a protective shell of administrators, grant-makers, and editors. Hence the Regnerus bashing will continue until further notice. So be it. I may be unpopular — there are more important things in life than that — but about the comparative advantages of stably-married households with mom, dad, and children, I am not wrong. It will take more than smoke, mirrors, and shifty rhetoric to undo the robust empirical truth."