Samsung Galaxy S2 Ice Cream Sandwich Update Canceled?
The Android 4.0.4, Ice Cream Sandwich update might never make it to the Samsung Galaxy S2 I9100, according to YouMobile.org.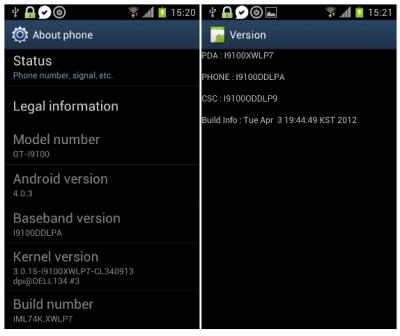 The site is reporting that its sources have revealed that Samsung plans to cancel the update for Galaxy S2 owners, but did not give a reason why they were doing this.
The upgrade has made its way to the S2 in many regions throughout the world and users have reported bugs in the system. And even though Samsung will not upgrade the smartphone to 4.0.4, the company still plans to fix these problems with Android 4.0.3.
YouMobile's sources also stated that Samsung plans to issue an OTA (over the air) update to fix some of the bugs on the device during the fourth quarter. But this update will not bring the software to any new build version such as Android 4.0.4, ICS or JellyBean 4.1.
This is somewhat disappointing, but makes sense if the company is trying to push consumers towards purchasing the new Samsung Galaxy S3 that comes with the software pre-installed.
The Galaxy S3 launched in the U.S. last week and in the rest of the world at the end of last month.
T-Mobile released the Android 4.0.3, update for the Galaxy S2 earlier this month.
The carrier launched the official ICS upgrade for the SGH-T989 model of the smartphone.
However, this is not an OTA update. Both Samsung and T-Mobilev require users to upgrade by using Kies software and a computer.
The Android 4.0.3 Sandwich update for the Samsung Galaxy S2 began rolling out in India at the end of last month.
No dates for the upgrade were confirmed for the U.S. But with T-Mobile finally releasing it, other carriers should be following suit in the near future.
Samsung Galaxy S3 Hands-On Video