Samuel Rodriguez reveals what convicted him as a pastor while making 'Breakthrough' movie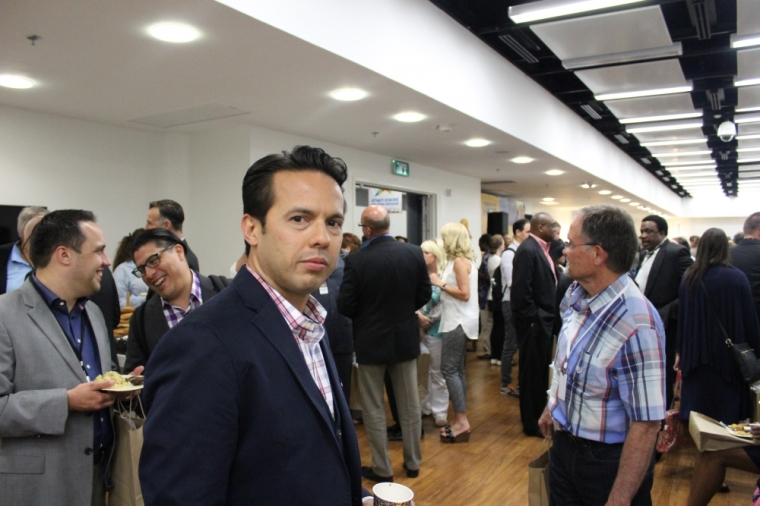 DALLAS – "Breakthrough" Executive Producer Samuel Rodriguez said the story behind the film greatly convicted him as a pastor.
"Breakthrough" came in at No. 3 at the box office Easter weekend with a faith-filled message about the power of community and prayer. Rodriguez, a faith adviser for President Donald Trump, is responsible for introducing filmmaker DeVon Franklin with the Smith family and Pastor Jason Noble, the real-life people behind the miraculous account shared in the movie.   
When discussing what he thought ministers could learn from the 20th Century Fox picture, Rodriguez admitted he himself was encouraged by pastor Jason Noble's commitment to the Smith family.
"The thing that really convicted me was Pastor Jason," Rodriguez told The Christian Post while at the Dallas premiere of "Breakthrough."  
"Breakthrough" tells the miraculous true story of Joyce and John Smith, a mother and son who rely on the power of prayer and the Holy Spirit following an accident in which John is pronounced dead by doctors at the hospital. After 45 minutes, his mother's desperate supplications to God bring him back to life after the doctors lost all hope.
Noble labored with the family until they saw their miracle come to pass.
"He walked Joyce through the process, so as a pastor this convicted me now. I'm full disclosure. I was convicted," Rodriguez said. "As a pastor, are we known more for our preaching or our service? Are we known more for what we do on stage or what we do when we're not on stage with families that are suffering very precarious moments? It convicted the living daylights out of me."
The president of the National Hispanic Christian Leadership Conference went on to say that a "true pastor" is not the person that holds a microphone on stage. Rodriguez called the aforementioned description a "preacher" and then went on to share what he believes a real shepherd is.
"A pastor is a person who's with that family in the very difficult moment of life and you walk them through. It's that hospital visit. It's that funeral home. Again, it convicted me, and I hope every pastor receives the same message," he told CP.
Named by Fox and CNN as the "Leader of the Hispanic Evangelical Movement," the minister also hopes pastors gain a deeper revelation of prayer because of "Breakthrough."
"What about we have a revival of prayer and awakening of prayer across America and the world for that matter? Just prayer, prayer changes everything. There are things that will not happen until we pray. And biblically speaking with sound theological substantiation, there are things that will not happen unless we pray. So prayer changes everything," he stated.
During the red carpet interview, the New Season leader said the film almost went overlooked.
"I felt the Holy Spirit tell me to do this, put it on the big screen. So I'm thinking how do I get it on the big screen? Coincidentally, one of my closest friends is a guy named Devon Franklin," he said.
Franklin ("Miracles from Heaven," "The Star") told Rodriguez that people are always sending him film ideas so he passed on the idea when it was first pitched. However, Rodriguez had another way to pitch the story to the popular filmmaker.
"I set it all up. I put him (Franklin) on my TV program and I put Jason (Noble), John and Joyce (Smith) in the green room and went, 'Meet DeVon' who they had never met before. I set it all up, walked away, had a latte in my hand and I went, 'Holy Spirit do your thing.' And the rest is history. Here we are," Rodriguez testified.
"Breakthrough" is now in theaters nationwide.