'Breakthrough' earns $11M Easter weekend, 3rd place at the box office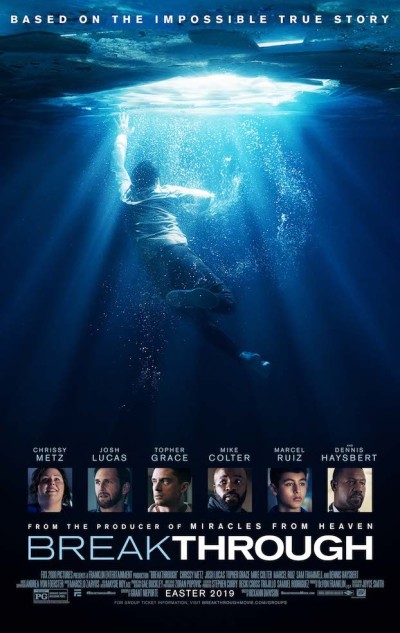 The faith-based film, "Breakthrough" had a successful debut this Easter weekend landing at No. 3 at the box office and earning $11 million.
"Breakthrough" came in third behind "Shazam!" and the horror film, "Curse of La Llorona." The impressive opening is the highest for a Christian movie since last year's hit, "I Can Only Imagine."
"Breakthrough" has earned $14.6M since its Wednesday opening in 2,824 theaters and $11M over the weekend. This marks DeVon Franklin's second movie that earned almost $15M opening week. "Miracles From Heaven" earned $14.8M upon its release. With an overall $14M production cost, "Breakthrough's" three-day take topped the Christian hits, "God's Not Dead," and "Fireproof."
"Breakthrough" tells the miraculous true story of Joyce and John Smith, a mother and son who rely on the power of prayer and the Holy Spirit following an accident in which John is pronounced deceased by doctors at the hospital. After 45 minutes, his mother's desperate supplications to God bring him back to life after the doctors lost all hope.
CinemaScore gave "Breakthrough" an "A" grade with audiences over Easter weekend. FOX reported that viewers were 48% Caucasian, 28% Hispanic, 15% African American, and 9% Asian/Other with 65% of moviegoers being female.
Next weekend, "Breakthrough" will be in theaters along with "Avengers: Endgame" which is already being named the biggest opening-weekend movie in crowds history. The superhero franchise might knock out the competition and position "Breakthrough" for another great weekend.
The 20th Century Fox movie is based on Joyce Smith's book, The Impossible, and was adapted for the screen by Grant Nieporte ("Seven Pounds").