Samuel Rodriguez: Trump, Democrats should make grand bargain on border wall, Dreamers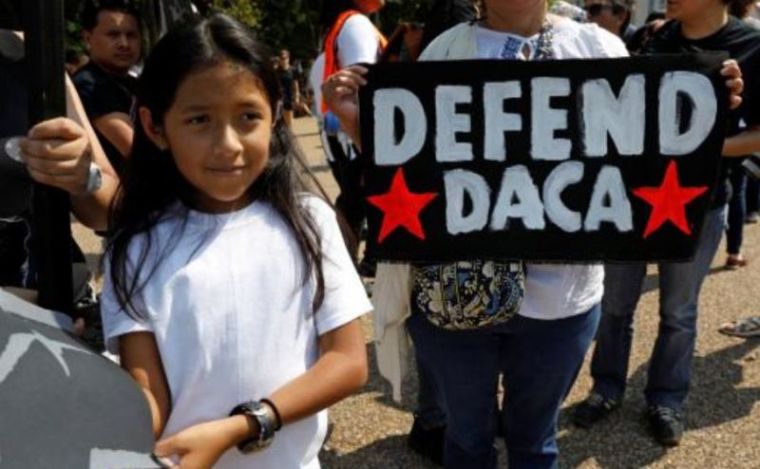 A prominent United States-based Latino evangelical coalition and its leader, Samuel Rodriguez, are calling for an end to the government shutdown that will see both funding for President Donald Trump's border wall and protection for Dreamers.
Rodriguez, president of the National Hispanic Christian Leadership Conference and pastor of New Season Church in Sacramento, issued a statement Monday night calling on members of Congress to "fund the wall" and "give us DACA [Deferred Action for Childhood Arrivals]."
DACA was an Obama-era program to give legal status to unauthorized immigrants who were brought to the United States as minors. 
Rodriguez's statement comes as several federal agencies are in a weeks long partial federal government shutdown that began on Dec. 22.
As Trump continues to holdout for additional border wall funding, some speculate that protections for certain immigrants brought into the United States illegally could be a potential "political tradeoff" that could end the shutdown.
"As week three of the current government shutdown drags on, we at the National Hispanic Christian Leadership Conference (NHCLC) believe now is the time to come together as a nation, and we must do so quickly," Rodriguez's statement reads.  "We can and we must seize upon one of the great debates of our time, and chisel from the hard stone of division just the sort of compromise which has built the foundations of our national unity so many times before."
Rodriguez is calling on Americans "stop oversimplifying" the immigration debate and to stop making it an issue of "right and wrong" and "us versus them."
"We are unified as a nation not when we agree on specific policies, but rather when we hold fast to the same civic rules on how to reach conclusions to our most difficult questions," Rodriguez asserted.
He added that people on both sides of the debate think they know what is best for the country.
"In that spirit, and in joining with millions of Hispanic Americans all across the country, the NHCLC urgently calls upon both Democrats and Republicans to end our current impasse," Rodriguez said.  "We urge Democrats to fund the president's calls for increased border security, and we likewise call on Republicans to provide a permanent solution for Dreamers."
The Washington Post reports that the Trump White House sent a letter Sunday maintaining its demand for upwards of $5.7 billion for the construction of about 234 miles of barriers on the southern border.
Russell T. Vought, acting director of the Office of Management and Budget, wrote in the letter that the barriers are "central to any strategy."
"During our meetings with congressional staff this weekend, we made it clear that we have a crisis on our southern border, and we outlined the president's plan to secure our border, build a wall, and protect the American people," Vice President Mike Pence said in a brief interview with The Washington Post. "It's time for the Democrats to start negotiating."
On Tuesday, the Trump White House issued a public statement laying out his funding demands in which he claimed the southern border has long been an "open wound." The statement argues that the White House has only requested a "modest amount" to address the problems of "illegal immigration, gang violence, crime, drugs, and human trafficking" on the Southern Border.
On top of the $5.7 billion for barrier construction, Trump is asking for "$4.2 billion to support 52,000 detention beds, personnel, alternatives to detention, and transportation to address the recent surge in illegal immigration across the Southern Border." The 4.2 billion is an increase of nearly $800 million from what is already laid out in legislation.
Despite Trump's call for a border wall, Associated Press data has found that GOP support among Latino voters is remaining steady as 32 percent of Latinos cast their votes for Republicans in the 2018 midterms. In 2016, exit polls showed that about 28 percent of Latino voters voted for Trump.
Other conservative evangelical leaders have also voiced support for border wall funding. Tony Perkins, president of the evangelical conservative lobbying group Family Research Council, praised Trump for "standing firm" on border wall funding with the threat of a veto.
"President Trump strongly believes, and I agree, that it's time to take our border security seriously because we care that American greatness can safely be offered to all who come here legally," Perkins stated in a statement. "What made America great? American values helped create a strong, stable nation that has been an attraction to the huddled masses yearning to be free. Among these values is the rule of law, which also includes our immigration policy."
Perkins warned that failure to preserve the rule of law results in the "loss of freedom and safety for Americans. "Building a wall to secure our nation's borders is a vital step toward keeping our nation safe and prosperous," Perkins concluded.
As the Public Religion Research Institute found last year, support for Trump's border wall among white evangelical Christians has increased by nine percentage points since Trump campaigned on the promise of a border wall in 2016. Sixty-seven percent say they favor a border wall and only 31 percent say they oppose a border wall.
Some left-leaning white evangelical leaders, such as Sojourners' President Jim Wallis, have long voiced their opposition to plans to build the border wall.
"Trump's wall has nothing to do with fixing a broken immigration system," Wallis wrote in an op-ed. "It will waste money and result in cuts to more effective and important programs. It's not about strengthening national security; it's about fueling national paranoia. And Christians must ensure that it doesn't move forward."
Richard Morales, policy and program director for LA RED, a campaign run by the left-leaning grassroots coalition Faith in Action dedicated to immigrant rights, also condemned Trump's border wall demands as the government shutdown is impacting over 800,000 employees. 
"Besides billions for an ineffective wall, the administration is asking for billions of dollars more to fund mass detention and deportation," Morales said in a statement shared with The Christian Post.
"The border wall harms border communities, devastates the environment and wildlife, and is deadly for migrants. We will continue to fight against border militarization that includes continued funding by both parties for more detention beds, more deportation agents and surveillance technology. The wall is immoral, as is the continued funding of family separation and violence towards immigrants."