Santa Fe Student Takes Bullet to Head, Survives by 'Grace of God'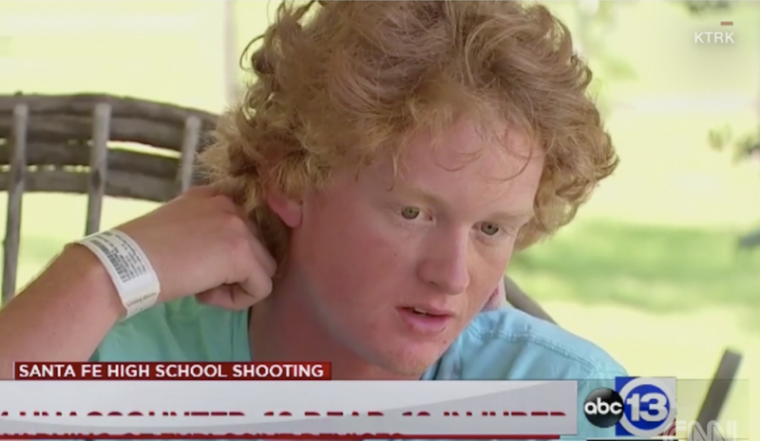 Rome Shubert, 16, believes the "grace of God" is the reason he survived a shot in the head during the school shooting in Santa Fe, Texas, on Friday.
Doctors told Shubert he had the "perfect scenario" after a bullet went through the back of his head. The horrific mass shooting left 10 people dead while injuring 10 others, including Shubert.
Miraculously, the Santa Fe High School sophomore walked away with just bandages.
Shubert told the media, he initially had no idea that he was shot. He recalled being in art class around 7:45 a.m. when he heard a loud bang and his ears began ringing. He hopped under a table for cover before running out of the back of the classroom.
A friend would be the one who told Shubert he was shot in the head.
"I was just scared for my life, and my adrenaline was so high I had no idea I was shot," Shubert told the Houston Chronicle.
"I was sitting doing my work, and he walked in, tossed something on the desks behind me," Shubert said of the shooter. "And then three loud pops, and I jumped under my table and flipped it in front of me, and I guess he ran out in the hall, and I took off out the back door, and when I was running, I realized I was shot in the back of my head."
When asked by CNN how he would explain the outcome for him, the teen gave the glory to God.
"Definitely grace of God, I had an angel on my shoulder and He's watching over me," Shubert maintained.
WSFA.com Montgomery Alabama news.
"I'm so greatful and blessed that God spared my life today. Today I was shot in the back of the head but I am completely okay and stable," Shubert said in a tweet just a few hours after the shooting.
"Thank you for all your prayers and the support. Prayers going out to all the others who are affected."
Although Shubert was one of nearly a dozen people who were wounded in the shooting, 17-year-old accused gunman Dimitrios Pagourtzis also fatally shot nine students and a teacher. 
Shubert told the Houston Chronicle that he's now recovering at home.
Shubert's mother, Sheri Shubert, told CNN affiliate KTRK that her son could have been a quadriplegic which would have ended his baseball playing as pitcher on the school's varsity team.