Sanya Richards-Ross Exclusive: Olympic Gold Medalist Leaning On God Following Two Surgeries
Sanya Richards-Ross seems like she has it all: gold medals, a happy marriage, her own television show and business all before the age of 30. However, the decorated Olympian will be the first to say that her journey has not been easy and after two recent surgeries she is relying on God to keep her on track for the 2016 Olympic Games.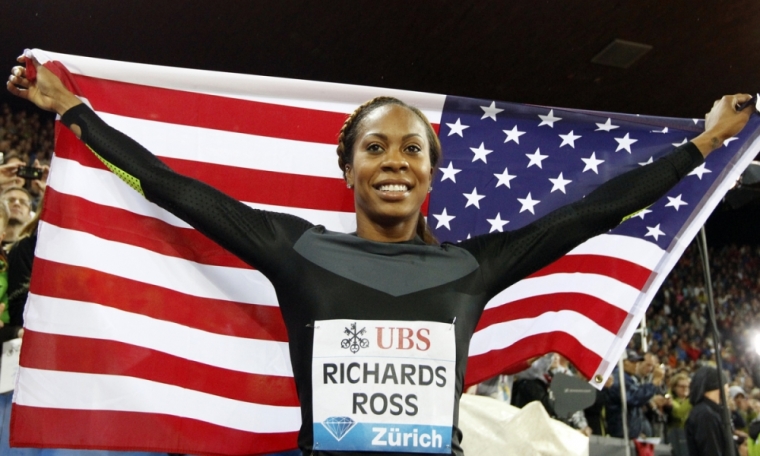 At only 28-years-old Sanya Richards-Ross is a track and field athlete with three Olympic Gold medals under her belt after participating in three consecutive Olympic Games where she ran the 400m and 4x100m relay. Although her team, skill and vigorous training played a major part in her earning two gold medals during the 2012 London Olympics, it is God whom she credits as the key to her success.
"I would say my faith plays the biggest role in my success," Richards-Ross told The Christian Post. "If I weren't an avid Christian and believed that God was always working in my life, I don't think I would have had that moment in 2012."
While Richards-Ross has become a worldwide threat on the track, the path to gold has been an uphill battle. Although she placed first in major competitions around the world for over 10 years, Richards-Ross has also been humbled by the taste of defeat and disappointment.
Although she was a favorite to win a gold medal in the 2008 Beijing Olympics for the 400m race, Richards-Ross came in third place. While it was not easy dealing with the loss at the Olympics after winning every other race that season, the track star was faced with even more adversity when injuries sidelined her during the 2010 season.
Still, Richards-Ross insists that God began molding her after the 2008 Olympic Games, when not coming in first place motivated her to overcome injuries and work through 2011 to strike gold in 2012.
"..I really believed I was going to win (the gold in 2008) and when I didn't it was a really hard time for me. God teaches us stuff through our successes and through our failures, and there was something that he wanted me to grow from in that moment," Richards-Ross told The Christian Post. "I felt that if I just kept believing and kept persevering I would have my moment. So it's 100 percent because of my faith that I was able to live that moment in 2012."
Richards-Ross grew up in Kingston, Jamaica to Rastafarian parents but fell in love with Jesus Christ after being inspired by her Christian aunt when she moved to South Florida. She found her foundation in God after making the decision to get baptized early in her teenage years when she began to attend church regularly.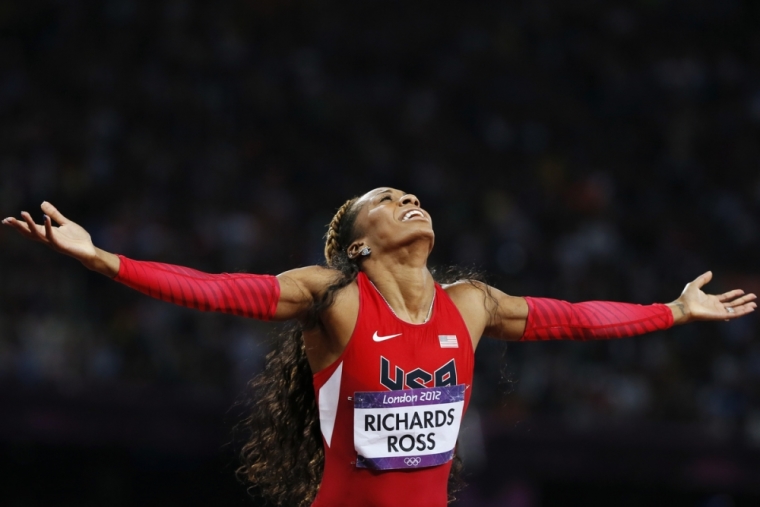 This same foundation is keeping her on track during an ongoing rehabilitation process that took place after her big win in 2012. After the London Olympic Games, Richards-Ross underwent surgery to correct an injury to her right big toe.
Although she bared through the pain of recovery to get back on the track, she may have pushed her body too far, resulting in her finishing sixth at the 2013 USA Track & Field Outdoor Championships. The result kept Richards-Ross from qualifying to run the 400m at the 2013 IAAF World Championships.
Even worse, Richards-Ross was forced to undergo a second surgery on her right foot due to a stress fracture caused by trauma. However, despite her problems the Olympian believes her injuries and defeat in 2008 have prepared her for the uphill battle on the way back to what she hopes will be a 2016 Olympic Gold medal in Brazil.
"When I trust in God he comes through. I just think as I've grown in my faith and grown in my trust in God every obstacle doesn't seem insurmountable," Richards-Ross told CP. "So He's helping me once again at an even higher level just to stay focused and stay positive and know that I'm going to make it through this as well."
While Richards-Ross' rehabilitation process may not allow her to get back on the track until November, she has been making a name for herself this summer by debuting her new WE tv reality television series, "Glam and Gold." After watching numerous reality television shows present negative content, Richards-Ross decided to bring her career and family to the forefront on small screens across America.
"(Reality television) has become negative over the years and I wanted to do something positive. I wanted to do something to inspire," Richards-Ross told CP. "My show, of course it had drama and real life issues. But the undercurrent of our show was to hopefully inspire people."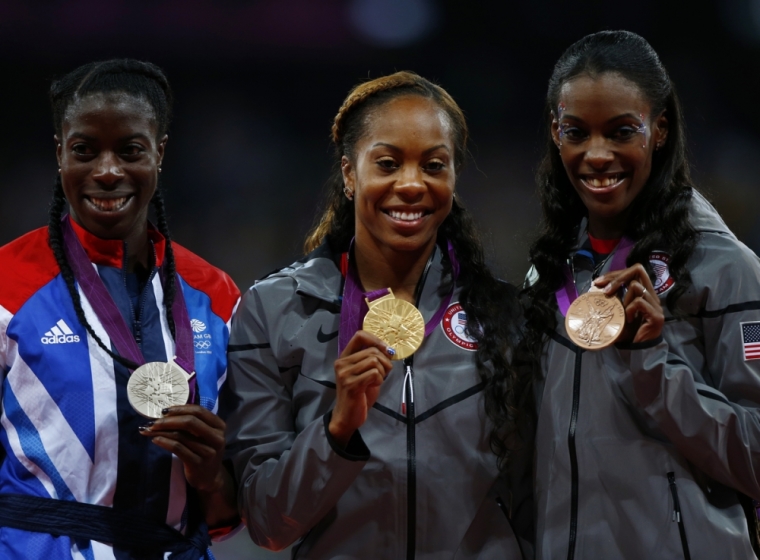 Aside from showcasing her bond with her trainer and manager father and mother, business partner sister and publicist cousin, Richards-Ross gave audiences a glimpse into her three year marriage to New York Giants cornerback Aaron Ross. While she admits that no marriage is perfect, the track star revealed that the couple's Christian foundation has kept them strong since their days of dating at the University of Texas.
"Our first date, we went to dinner and our second date was church. That's one thing that I fell in love with when I met him and his family, was they were avid Christians..his step dad is actually a deacon in a church," Richards-Ross revealed about her husband. "My husband is one of the most positive people I will ever meet and I couldn't imagine not being with a Christian so it's just been for us what I think is the rock in our relationship. Christ is in the middle of our marriage and he's going to see us through everything."
While "Glam and Gold" fans can witness Richards-Ross as a track star and family woman on the show, they will also see her develop a joint business venture with her sister in the form of an Austin Texas hair salon called "The Hair Clinic." Along with a line of hair extensions, the Olympic gold medalist promises there is more in store for her off-the-track, where she hopes to have three more good years to make a mark as a professional athlete.
Richards-Ross aspires to impact the world like media maven Oprah Winfrey or actress Angelina Jolie, whose philanthropic initiatives get just as much attention as their respective careers. Until then, the track star hopes to share her testimony and encourage Christians to never give up on their faith.
"I know sometimes it's not always easy being a Christian in life because sometimes people expect you to always be perfect, or they don't think that this is the place for prayer and all those things. But I would say to continue being a Christian and being encouraged and let them know that God is with us through all of our experiences both good and bad," Richards-Ross told CP. "He has a plan for your life. God saw me through one of my greatest dreams, it took a while but he was faithful. Any other Christian, he'll do the same thing for them."