Sarah Huckabee Sanders says she's not removing kids' sidewalk chalk cross at governor's mansion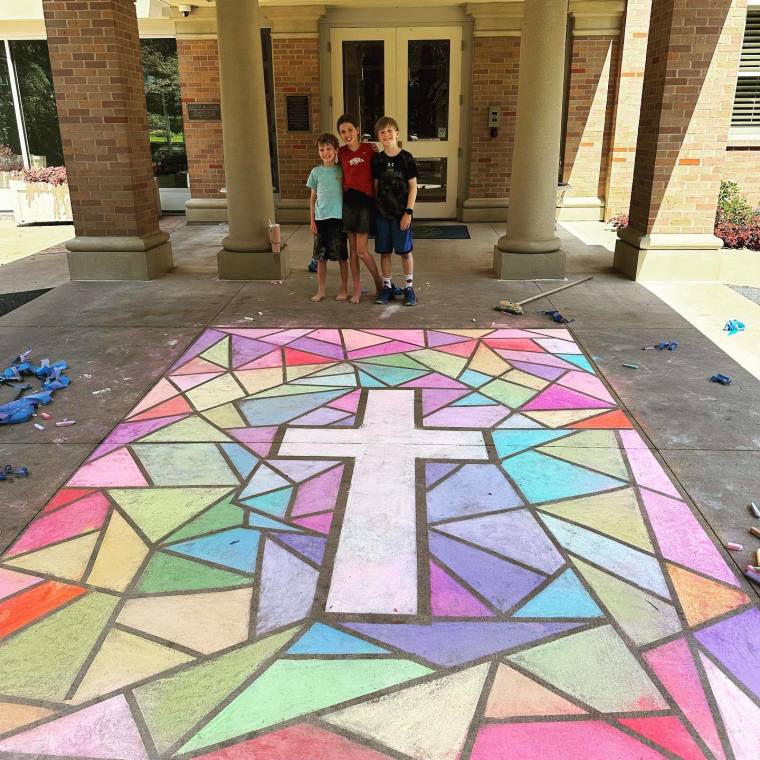 Arkansas Gov. Sarah Huckabee Sanders is standing her ground by refusing to remove a chalk-drawn cross from the entrance to the governor's mansion after Americans United for the Separation of Church and State demanded its removal, claiming it violates the U.S. Constitution.
The uproar began on Monday after Sanders shared a photograph of her three children standing behind a large image of a cross and stained glass they colored with sidewalk chalk. Captioning the image "New artwork to welcome people into the Governor's Mansion," she posted it on her Facebook page.
The post provoked a response from the secular Americans United, a nonprofit organization based in Washington, D.C. The group wrote a letter to the governor, arguing that the chalk artwork conveys an "impermissible message that those who do not share the favored faith are unwelcome and will be treated differently."
Americans United wrote on Twitter, "When fighting to defend church-state separation, we must always reject Christian nationalism. Two days ago, Sarah Huckabee Sanders posted a photo of a Latin cross at the entrance of the Arkansas Governor's Mansion. We sent her a letter to explain why this is a problem."
Citing multiple U.S. Supreme Court cases concerning the appropriateness of religious symbols on government property, the letter from Americans United highlighted that Sanders would be allowed to display the cross in private areas of her residence. However, a religious symbol at the mansion's entrance was seen as crossing the "constitutional line."
"The religious display at the entrance to the Arkansas Governor's Mansion violates the Establishment Clause because it sends a message that the Governor's office—and by extension, the state of Arkansas—favors one religion over others. Such favoritism is unconstitutional," the organization claimed in its letter. It added, "We therefore ask that you remove this display."
However, Sanders, a Christian, stood firm in her position.
Responding on Twitter, she said, "Dear @americansunited, I have received your letter and my answer is no. I will not erase the beautiful cross my kids drew in chalk on the driveway of the Governor's Mansion or remove my post on social media, and I will not now or ever hide that I am a Christian."
"I will not now or ever hide that I am a Christian, saved by Christ," Sanders wrote in a letter to American United. "In Arkansas, we stand up to bullying liberals. We won't let you power-wash our kids' chalk drawings off our front steps. We won't let you tear down Christmas decorations and stomp our tradition into the dirt. We don't live our lives in fear of strongly worded letters coming down from Washington."
As of now, the chalk cross remains intact, but so does the debate about religious expression and the separation of church and state in the public sphere.